Museumsquartier Vienna - Dragonfly (rendering representation)
media_content.tooltip.skipped
Rapid COVID-19 Test for Safe Events
Congresses, conferences and co. can take place again in Austria under strict safety regulations. The Austria Center Vienna (ACV) has tested an innovation that is to even further improve safety: a rapid COVID-19 test that displays results in just 15 minutes.
One particular challenge in times of the coronavirus is hosting events, which see large numbers of people coming together. Currently, indoor events of up to 1,500 people are permitted in Austria under compliance with strict safety measures. These include assigned seats and a minimum distance between individuals. From just 50 people the authorities must be presented with a prevention concept that regulates visitor flow, hygiene measures etc.
Conference at the MQ Libelle in Vienna

media_content.tooltip.skipped
Pilot Project: Rapid COVID-19 Test
The Austria Center Vienna (ACV) wanted to find out how to even further improve safety for events. In partnership with the Vienna University of Economics and Business (WU), the ACV conducted a pilot project in mid-September 2020 to make the attendance of larger congresses, trade fairs and other events easier and safer. 3,000 WU students were given a new COVID-19 rapid antigen test and a negative result was the "ticket" to their lecture at the ACV.
The pilot project saw medical experts taking throat swabs in "test lanes" in front of the ACV. Whilst regular PCR tests have so far required samples to be sent to the laboratory for analysis, which can take hours if not days, the new test is far quicker: the result is displayed within 15 minutes.
With this pilot project we hope to help enable future events to take place in Vienna with the highest possible safety standards.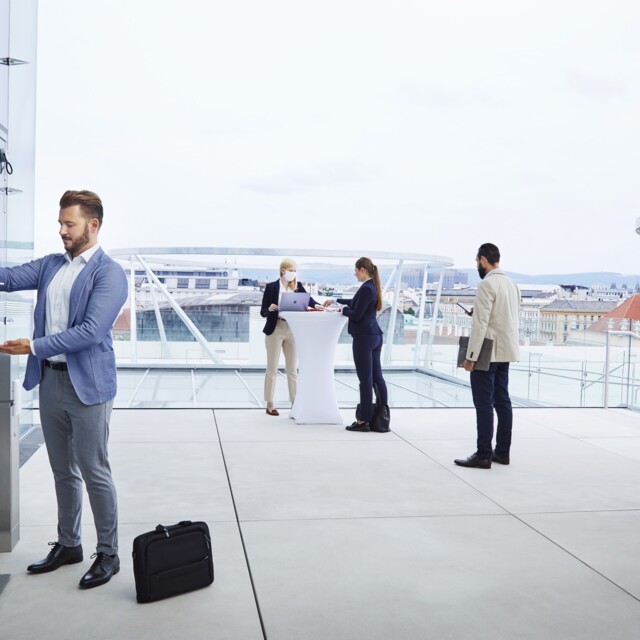 Conference at the MQ Libelle in Vienna
media_content.tooltip.skipped
The conference sector eagerly awaits the results and learnings of this pilot project. The broad use of these rapid tests could be a viable way to make conferences, congresses and co. even safer.
Conference at the MQ Libelle in Vienna

media_content.tooltip.skipped