media_content.tooltip.skipped
Astoria Resort*****s
Only 5-star superior hotel in Seefeld
Named best wellness hotel in Austria by Connoisseur Circle Magazine
Exclusive private SPA
Operated with a sustainable philosophy
Special amenities and play areas for dogs
New luxury suites – each with its own sauna!
Find out more on hygiene and safety standards here
Find information about free last minute cancellation here
media_content.tooltip.skipped

media_content.tooltip.skipped

media_content.tooltip.skipped

media_content.tooltip.skipped

media_content.tooltip.skipped

media_content.tooltip.skipped

media_content.tooltip.skipped

media_content.tooltip.skipped

media_content.tooltip.skipped

media_content.tooltip.skipped

media_content.tooltip.skipped

media_content.tooltip.skipped

media_content.tooltip.skipped

media_content.tooltip.skipped

media_content.tooltip.skipped

media_content.tooltip.skipped

media_content.tooltip.skipped

media_content.tooltip.skipped
About
Originally the 'Pension Britannia", the Hotel ASTORIA has a long history as the epitome of Alpine luxury. In the 1950's, the Alpine jet-set stayed here—the ladies enjoying five o'clock tea and the gentlemen their cigars. Now you can recapture that elegance at the Hotel ASTORIA, which is still family-run to this day. The Mauthner family deliberately opted for Seefeld and its mid-altitude location near Zurich, Munich, Vienna, and Salzburg. It was clear from the beginning that the ASTORIA should be a family owned five-star hotel run by directors - although today, the hotel is run by a member of the owner family: Elisabeth Gürtler. Innovations and expansions are always ongoing - the rooms and suites have been adapted to the highest standards from 2012 to 2015, while the outdoor area was last updated in 2016! Despite this long tradition of excellence, the Hotel ASTORIA is constantly changing and renovating to provide guests with the best experience. Enjoy Alpine-chic rooms, a private spa, and the award-winning resort cuisine, which uses regional ingredients.
Concierge Recommendation
Visit the afternoon cake buffet served in the ASTORIA Alpin Aktiv bar and hotel bar, which also serves a variety of teas on offer all day. Afterwards, experience a 7-course gourmet dinner accompanied by live piano music in the restaurant and bar.
media_content.tooltip.skipped

Special Offers

Find the best deals for your stay at the venerable ASTORIA!

View Offers
This is a wonderful and traditional hotel. The location, above the town of Seefeld, is very good. Everything reminds you of a mountain chalet and is very charming. The room I had overlooked the parking lot, unfortunately, but it was a sweetly decorated room, with many touches of the local area. The breakfast was great, as was dinner at the restaurant. Staff is obviously very well trained and we were warmly greeted wherever we went. If you want to hike in summer, you are right at the local trails. I enjoyed my stay.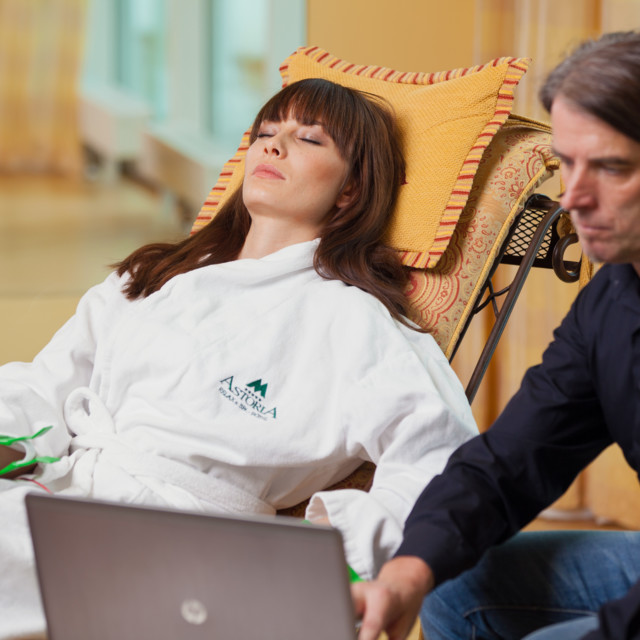 media_content.tooltip.skipped
Resort Astoria
media_content.tooltip.skipped
in-house bar, restaurant, lounge, café

ski & cross-country depot

vegetarian, gluten or lactose free food
Suites & Rooms
Double Room Karwendel de Luxe (35 m² / 377 sq-ft.)
Enjoy cosy moments of relaxation in the ASTORIA double room Karwendel designed with an Alpine Chic style. Thanks to natural materials, the room has a particularly warm and friendly feel.
from EUR 277,- per person per night
Junior Suite Grande de Luxe (50 m² / 538 sq-ft.)
In the luxurious junior suite with panoramic views, tradition and modernity merge perfectly. Alpine chic design and natural materials create a warm ambiance.
from EUR 403,- per person per night
Gschwandtkopf Suite (56 m² / 603 sq-ft.)
Natural materials and modern equipment for relaxing moments. In the cozy Gschwandtkopf Suite of our 5-star superior luxury hotel, you will feel particularly comfortable.
from EUR 476,- per person per night
ASTORIA Suite (90 m² / 970 sq-ft.)
The jewel of our 5-star superior wellness hotel leaves nothing to be desired for. Fantastic panoramic view of the Tyrolean mountains and comfort at the highest level guaranteed.
from EUR 561,- per person per night
Suite Grande de Luxe (100 m² / 1,076 sq-ft.)
Enjoy double comfort in our royal class of the suites. A separate living- and bedroom with each 50 m² and a furnished and spacious balcony provide your stay a unique luxury. This suite is only per e-mail or phone call bookable.
from EUR 599,- per person per night
media_content.tooltip.skipped
Nearby Attractions

Getting There
Top 3 Things to Do Nearby
Astoria Resort*****
Geigenbühelstraße 185
6100 Seefeld
Telephone:
---