media_content.tooltip.skipped
Hotel Goldener Hirsch
Located in the UNESCO Old Town of Salzburg and the most famous Getreidegasse street
One of Salzburg's most historic hotels
Perfect location for top sights and the Salzburg Festival
Hotel restaurant is one of the best in the city
Newly opened after extensive renovations
media_content.tooltip.skipped

media_content.tooltip.skipped

media_content.tooltip.skipped

Hotel Goldener Hirsch Salzburg

media_content.tooltip.skipped

Hotel Goldener Hirsch Salzburg

media_content.tooltip.skipped

Hotel Goldener Hirsch Salzburg

media_content.tooltip.skipped

Hotel Goldener Hirsch Salzburg

media_content.tooltip.skipped

Hotel Goldener Hirsch Salzburg

media_content.tooltip.skipped

Hotel Goldener Hirsch Salzburg

media_content.tooltip.skipped

Hotel Goldener Hirsch Salzburg

media_content.tooltip.skipped

Hotel Goldener Hirsch Salzburg

media_content.tooltip.skipped

Hotel Goldener Hirsch Salzburg

media_content.tooltip.skipped

Hotel Goldener Hirsch Salzburg

media_content.tooltip.skipped

Hotel Goldener Hirsch Salzburg

media_content.tooltip.skipped

Hotel Goldener Hirsch Salzburg

media_content.tooltip.skipped

Hotel Goldener Hirsch Salzburg

media_content.tooltip.skipped

Hotel Goldener Hirsch Salzburg

media_content.tooltip.skipped

Hotel Goldener Hirsch Salzburg

media_content.tooltip.skipped

Hotel Goldener Hirsch Salzburg

media_content.tooltip.skipped

Hotel Goldener Hirsch Salzburg

media_content.tooltip.skipped

Hotel Goldener Hirsch Salzburg

media_content.tooltip.skipped
About
Brimming with history and Austrian charm, Hotel Goldener Hirsch is a cherished symbol of exceptional hospitality and living Salzburgian tradition. The property dates back to 1407 and embodies an exciting symbiosis between the original country house and an urban luxury boutique hotel. It is a landmark of Salzburg's Old Town and steeped in local stories from centuries ago. The hotel's petite proportions might understate its cultural significance, but you can feel the hotels roots from the moment you check in!
Concierge Recommendation
Make a reservation at one of the hotel's two stand-out restaurants and find out how the signature Cocktail Susanne came to be.
"We have stayed at Hotel Goldener Hirsch numerous times over the past 16 years. It is our favourite hotel anywhere. Having been recently refurbished we were pleased to see that whilst providing modern facilities the historic features of the hotel that attract us have been tastefully retained. We can highly recommend the Goldener Hirsch where service and comfort is second to none."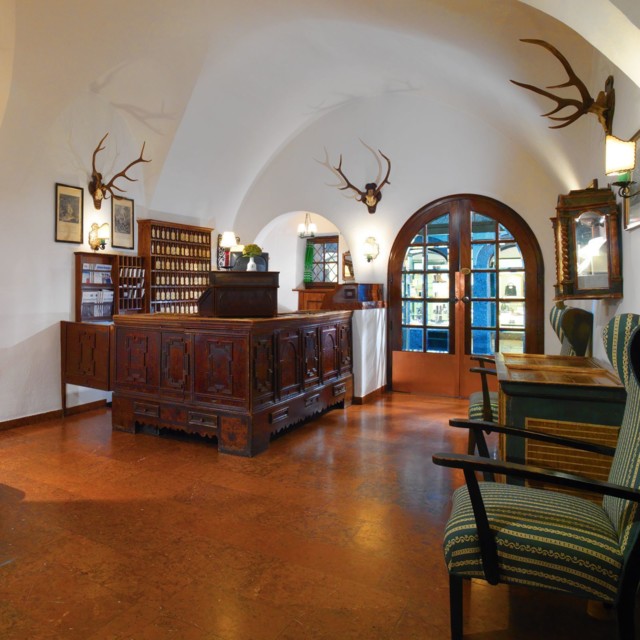 Lobby at the Hotel Goldener Hirsch Salzburg
media_content.tooltip.skipped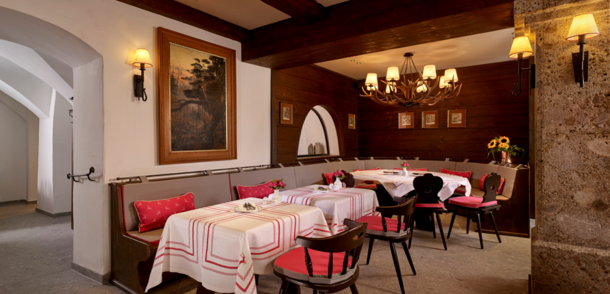 Hotel Amenities
Goldener Hirsch in Salzburg, Restaurant
media_content.tooltip.skipped
Mini bar & Illy coffee machine

24 h room service, concierge, laundry
Room types
Classic Room: 7 - 8 m2 / 79 – 88 sq-ft, Hand-crafted period furniture, paintings and handsome textiles such as traditional "Fleckerlteppich" rugs, create an atmosphere of noble comfort.
From € 350

Deluxe Room: 8.5 - 10 m2 / 92 – 105 sq-ft, A relaxing hour in an armchair banishes the stress of the day. The spacious rooms with a view onto Getreidegasse or the hotel's peaceful courtyard are decorated with precious antiques and enchanting Goldener Hirsch details.
From € 390

Junior Suite: 10 - 15 m2 / 108 – 157 sq-ft, Two armchairs, in some rooms a sofa, and an antique shoemaker's bench as table form an inviting reading corner.
From € 450

One Bedroom Suite: 13 - 20 m2 / 138 – 213 sq-ft, A magnificent living area and bedroom: every one-bedroom suite is individually decorated with antiques.
From € 850

Two Bedroom Suite: 24 - 18 m2 / 256 - 295 sq-ft, The Luxury Collection here achieves the most exquisite perfection. A living area decorated with carefully curated antiques, two bedrooms and two bathrooms
From € 1200

Closest Landmarks

Getting There
Top 3 Things to Do Nearby
Hotel Goldener Hirsch
Address Getreidegasse 37
5020 Salzburg
Telephone:
---