media_content.tooltip.skipped
Hotel Park Hyatt Vienna*****
Top location in the heart of the city, surrounded by a luxury shopping area
Walking distance to all main sights, monuments, and museums
Some of the largest rooms in the city
Royal Penthouse Suite (800 m2)
Large spa area (1,000 m2) with indoor pool, large gym, and indulgent spa treatments
Private spa experience: Indulge in a pleasant 60-minutes massage in your own private Spa Suite. The package includes a three-hour stay in the luxurious suite and a bottle of champagne.
Find COVID-19 measures here
Find cancellation policy here
including all taxes and charges
Book now
media_content.tooltip.skipped

media_content.tooltip.skipped

media_content.tooltip.skipped

media_content.tooltip.skipped

media_content.tooltip.skipped

media_content.tooltip.skipped

media_content.tooltip.skipped

media_content.tooltip.skipped

media_content.tooltip.skipped

media_content.tooltip.skipped

media_content.tooltip.skipped

media_content.tooltip.skipped

media_content.tooltip.skipped

media_content.tooltip.skipped

media_content.tooltip.skipped

media_content.tooltip.skipped

media_content.tooltip.skipped

media_content.tooltip.skipped

media_content.tooltip.skipped

media_content.tooltip.skipped

media_content.tooltip.skipped

media_content.tooltip.skipped

media_content.tooltip.skipped

media_content.tooltip.skipped

media_content.tooltip.skipped

media_content.tooltip.skipped

media_content.tooltip.skipped

media_content.tooltip.skipped

media_content.tooltip.skipped

media_content.tooltip.skipped

media_content.tooltip.skipped

media_content.tooltip.skipped

media_content.tooltip.skipped

media_content.tooltip.skipped

media_content.tooltip.skipped

media_content.tooltip.skipped

media_content.tooltip.skipped

media_content.tooltip.skipped

media_content.tooltip.skipped

media_content.tooltip.skipped

media_content.tooltip.skipped

media_content.tooltip.skipped

media_content.tooltip.skipped

media_content.tooltip.skipped
About
Everything about the Park Hyatt Vienna feels grand. No wonder: The city's newest luxury hotel is housed in the opulent former seat of the Bank of Austria. Imagine having your morning coffee in the grand marble counter hall, now the hotel restaurant and breakfast room, or taking a dip in a gilded swimming pool that used to be the bank's underground gold vault. Afterwards, take a seat at the bar and order an unusual cocktail or a local gin from a menu that looks like a savings book from the old days.
Concierge Recommendation
Step out of your room and find yourself in the midst of art: The Park Hyatt's close collaboration with the MAK (Museum of Applied Art) means there are stunning art nouveau artworks on display across the hotel's public areas.
media_content.tooltip.skipped

Special Offers

Find the latest offers from Park Hyatt Vienna here.

View Offers
"We came to Vienna to visit the Christmas markets. The Park Hyatt is excellently located in the old city, a few minutes' walk on a pedestrian mall to almost anywhere. The hotel itself is beautiful, the rooms well appointed and the staff most helpful. We will definitely be back."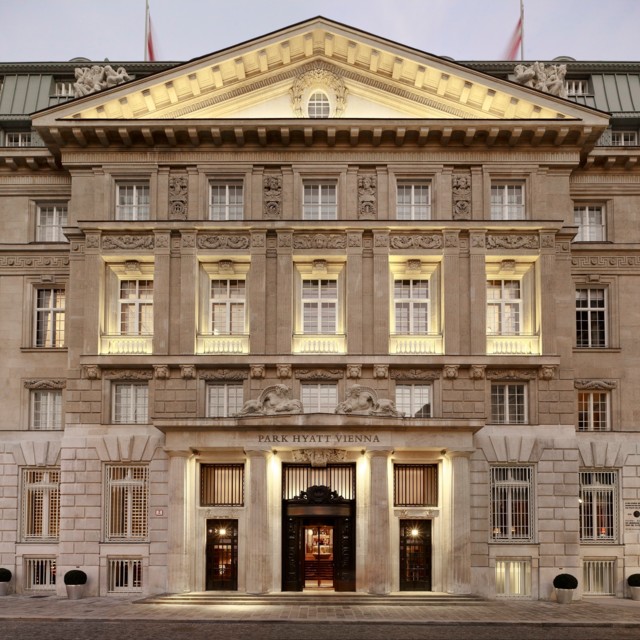 media_content.tooltip.skipped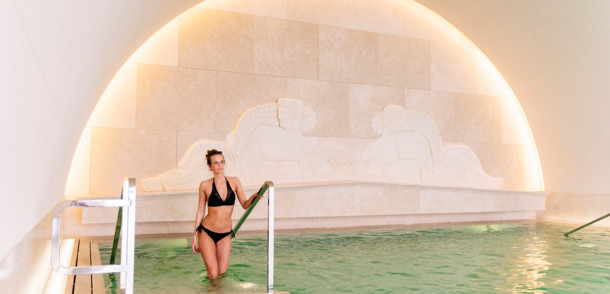 Hotel Amenities
media_content.tooltip.skipped
bathtub + separate rain shower, LCD TV

in-house bar, brasserie, lounge, café
Selected Suites & Rooms
Park King: View to the quiet courtyard or the lively city centre, king-sized bed, marble bathroom, comfortable sofa.
From € 400​​​​​​
Park View Deluxe King: Unique view of the historic city centre or the oldest square in town, king-sized bed, elegant features.
From € 500​​​​​​
Park Junior Suite: Overlooking the captivating historic city centre, combined sleeping and living area with comfortable king-sized bed.
From € 650​​​​​​​
Park Suite View: Stunning view of the Viennese city centre, spacious, luxurious suite, marble bathroom, exquisite decor.
From € 1,020​​​​​​​
Park Suite Deluxe: Separate bedroom with a big king-sized bed, spacious, luxurious room with artistic elements.
From € 1,120​​​​​
Ambassador Suite: View onto the oldest square in town, extensive space including sitting area, full-length windows, king-sized bed.
From € 2,750​​​​​​​
"The best hotel in Vienna"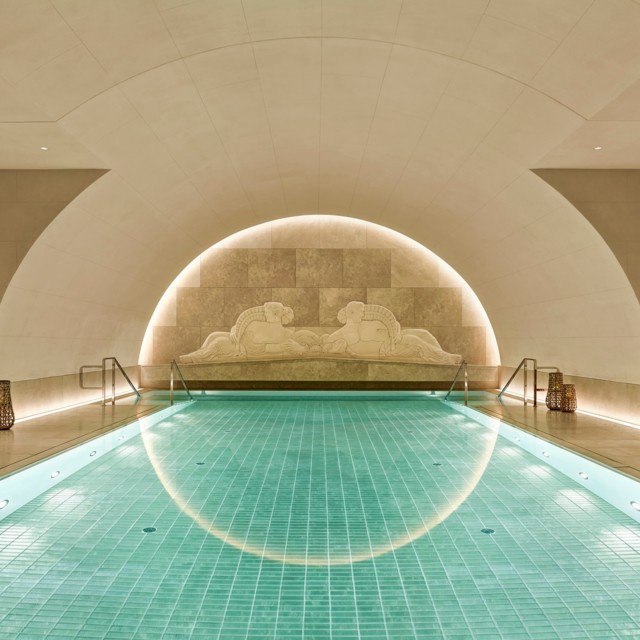 media_content.tooltip.skipped
Closest Landmarks

Getting There
Top 3 Things to Do Nearby
Park Hyatt Vienna
Am Hof 2
1010 Vienna
Telephone:
---