media_content.tooltip.skipped
Hotel Sacher Salzburg*****
Located in the heart of Salzburg, directly by the Salzach river, with walking distance to Salzburg's landmarks
Views of the river, old town, and Salzburg State Theatre
Privately owned and family-run
Each room is designed to be one-of-a-kind with timeless elegance
Personalised service at the highest level for all generations
Home of the world-famous Sacher Torte
Find COVID measures here
media_content.tooltip.skipped

media_content.tooltip.skipped

media_content.tooltip.skipped

media_content.tooltip.skipped

media_content.tooltip.skipped

media_content.tooltip.skipped

media_content.tooltip.skipped

media_content.tooltip.skipped

media_content.tooltip.skipped

media_content.tooltip.skipped

media_content.tooltip.skipped

media_content.tooltip.skipped

media_content.tooltip.skipped

media_content.tooltip.skipped

media_content.tooltip.skipped
About
Overlooking the magical scenery of Salzburg's old town, the Hotel Sacher Salzburg is the city's only grand hotel. Located directly on the banks of the Salzach River, the privately owned and family-run luxury hotel awaits its guests with living traditions, charming local flavours, and stunning views. Hotel Sacher is inspired by local aristocratic country residences and offers a remodelled collection of rooms and suites with a unique ambience. The in-house restaurants and bars, all having their own terraces, provide a real resort feel within the urban heart of Salzburg.
With two hotels in Vienna and Salzburg, coffee houses in Vienna, Salzburg, Graz and Innsbruck serving the Original Sacher-Torte, Sacher is one of the best-known family-run businesses. The "Leading Hotels of the World" are one of the very few privately owned five-star luxury hotels left. The Gürtler & Winkler family is passionate about maintaining the family tradition and welcoming their guests with the quality, style and comfort the Sacher name stands for. In 2016 the Hotel Sacher Salzburg celebrated its 150th anniversary!
Concierge Recommendation
Step outside the hotel doors, stroll through the beautiful old town and discover historical treasures such as Mozart's residence and the Hohensalzburg Fortress. We also recommend enjoying the breathtaking scenery around Salzburg and taking a drive through the lake and mountain region. The most popular tours are the Sound of Music and the Hallstatt tour.
"An outstanding experience! Everything was perfect. Hotel is situated at best location you can ask for - on river bank and few minutes walk to the old city. Room was extraordinary, real Austrian royal design. Staff was very polite and helpful. Surely we will stay at this hotel again."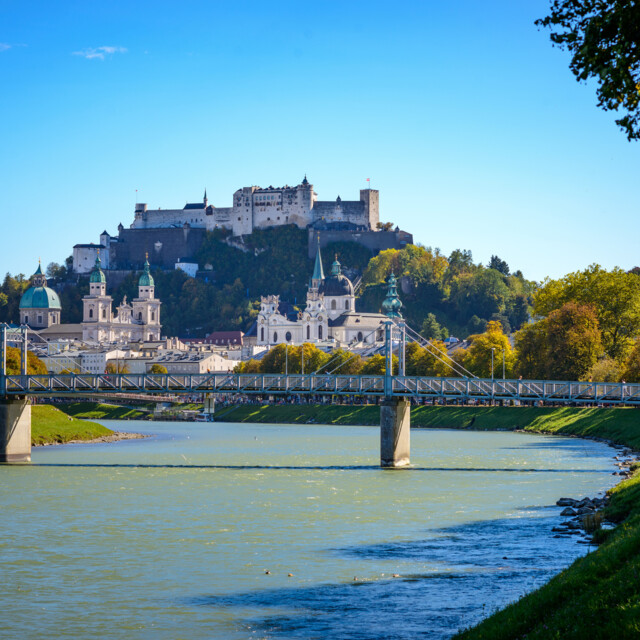 media_content.tooltip.skipped
Aleksandar M. / Tripadvisor
Hotel Amenities
media_content.tooltip.skipped
3 restaurants, bar, café on site offer terraces with stunning views

Authentic Salzburg experience at the fine-dining Restaurant Zirbelzimmer or mixture of traditional and modern Austrian cuisine at the newly renovated Sacher Grill

Modernised Café Sacher for the famous Original Sacher-Torte

historical paintings and antiques from the family's private art collection

newly renovated with walk-in rain-shower, separate bathtub, TV in the mirror

steam bath, sauna, treatment suite

Teddy Franz Sacher from the Petit Sacher Kids Program
Suites & Rooms
Deluxe Room (23-34 m2 / 260-380 sq-ft)
The elegant and individually designed rooms offer maximum comfort. Relax after a stroll through Salzburg's famous old town and enjoy luxury in the heart of the city. Views of Salzach River and Hohensalzburg Fortress on request from € 480.
From € 330

Junior Suite (35-39 m2 / 380-485 sq-ft)
Our stylishly equipped Junior Suite with selected seating furniture invites you to relax in a timelessly elegant ambience and reflects the Salzburg lifestyle. Views of Salzach River and Hohensalzburg Fortress on request from € 730.
From € 580

Signature Suite (40-55 m2 / 430-610 sq-ft)
Enjoy the unique ambience of this magnificent Signature Suite. Let yourself be enchanted by pure luxury and experience the true flair of Salzburg. Views of Salzach River and Hohensalzburg Fortress and private balcony on request from € 1,180 and from € 1,830.
From € 1,080
Presidential Suite (150 m2 / 1615 sq-ft)
With its unique flair and luxurious atmosphere this suite makes your wishes come true. The impressive appearance of the suite and its breathtaking view will make your stay unforgettable.
From € 4,800
Sacher Sky Suite (147 m2 / 1582 sq-ft)
From your private 517 sqft (48 m2) roof terrace and luxurious parlour, you can enjoy a unique view over Salzburg's Old Town, majestically framed by the local mountains and Hohensalzburg Fortress. The Sacher Sky Suite impresses with its stylish luxury, tasteful interior and the very finest materials.
From € 5,800
*All prices per night per room including all taxes and charges.
media_content.tooltip.skipped
Nearby Attractions

Getting There
Top 3 Things to Do Nearby
Hotel Sacher Salzburg
Schwarzstraße 5-7
5020 Salzburg
Telephone:
---