Hotel Sacher Hotel Sacher Vienna
media_content.tooltip.skipped
Hotel Sacher Vienna*****
Highly individualistic with timeless elegance
Each room is designed to be one-of-a-kind
Privately run five-star hotel
Personalised service at the highest level for all generations
Taste the Original Sacher-Torte at your hotel
Find COVID measures here
media_content.tooltip.skipped

Hotel Sacher Hotel Sacher Vienna

media_content.tooltip.skipped

media_content.tooltip.skipped

media_content.tooltip.skipped

media_content.tooltip.skipped

Hotel Sacher Hotel Sacher Vienna

media_content.tooltip.skipped

media_content.tooltip.skipped

media_content.tooltip.skipped

media_content.tooltip.skipped

Hotel Sacher Hotel Sacher Vienna

media_content.tooltip.skipped

Hotel Sacher Hotel Sacher Vienna

media_content.tooltip.skipped

media_content.tooltip.skipped

media_content.tooltip.skipped

media_content.tooltip.skipped

media_content.tooltip.skipped

media_content.tooltip.skipped

Hotel Sacher Hotel Sacher Vienna

media_content.tooltip.skipped

media_content.tooltip.skipped

media_content.tooltip.skipped

Hotel Sacher Hotel Sacher Vienna

media_content.tooltip.skipped
About
As the only privately owned and family-run luxury hotel in the city, the Hotel Sacher Wien is a Viennese institution, directly located opposite the Vienna State Opera. The unique balance of maintained traditions and contemporary elements provide the most authentic sense of place. All rooms feature individually collected antiques, making the hotel one of Austria's largest private art collections. Home of the Original Sacher-Torte, guests can experience a piece of history and Austrian identity at the famous in-house Café Sacher.
With two hotels in Vienna and Salzburg, coffee houses in Vienna, Salzburg, Graz and Innsbruck serving the original Sacher-Torte, Sacher is one of the best-known family-run businesses. The "Leading Hotels of the World" are one of the very few privately owned five-star luxury hotels left. Since 1934 the Gürtler & Winkler family is passionate about maintaining the family tradition and welcoming their guests with the quality, style and comfort the Sacher name stands for.
Concierge Recommendation

Visit the Spanish Riding School at the Imperial Palace for a unique performance of the famous white Lipizzan Stallions. In 2015, the world famous institution was added to UNESCO's list of intangible cultural heritage of humanity.
Sacher Hotel is the kind of hotel that ticks every possible box on any luxury traveller's list, but the real jewel of this legendary property are its people .... The staff in this hotel are some of the friendliest, most helpful and most caring you will ever deal with ...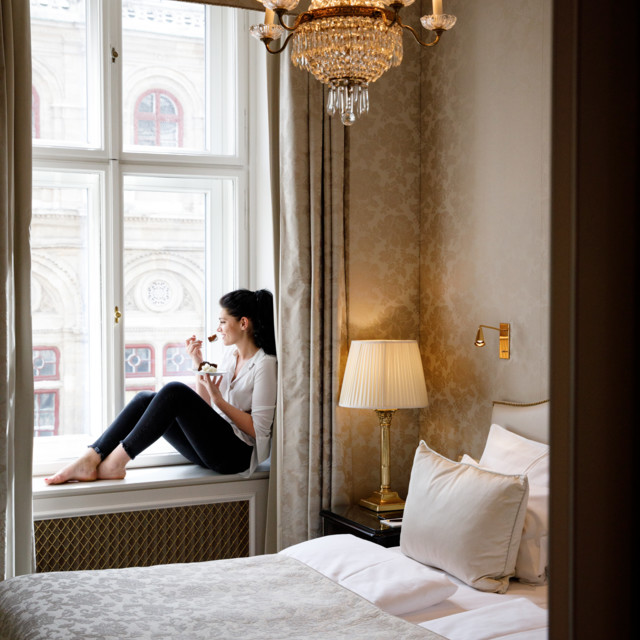 Hotel Sacher Hotel Sacher Vienna
media_content.tooltip.skipped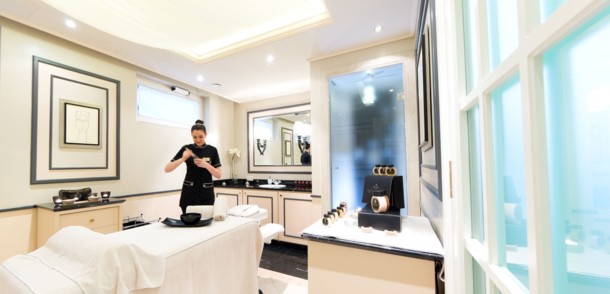 Hotel Amenities
media_content.tooltip.skipped
historical paintings and antiques from the family's private art collection

with walk-in rain-shower, separate bathtub, TV in the mirror

gym and Sacher Boutique Spa with own signature treatments "Time to Chocolate" and exclusive natural cosmetics by Ligne St. Barth

Authentic Viennese atmosphere at Restaurant Rote Bar; international haute cuisine at Restaurant Grüne Bar

Café Sacher or Sacher Eck for the famous Original Sacher-Torte

Teddy Franz Sacher from the Petit Sacher Kids Program
Suites & Rooms
Deluxe Room (27-39 m2 / 290-420 sq-ft)
Immerse yourself in classic style in this elegant and individually designed room. Discover how luxury is defined in Vienna, where spacious comfort and modern amenities are topped up with collectible art and furniture. Views of the State Opera, Albertina or Kärntner Strasse for a special touch upon request from € 580.
From € 490
Junior Suite (40-55 m2 / 430-485 sq-ft)
This spacious and quiet suite with a comfortable seating area invites you to relax in the timelessly elegant ambience of a historic Viennese inner city palace. Breathtaking views of the State Opera, Albertina or Kärntner Strasse on request from € 940.
From € 740
Signature Suite (50-65 m2 / 540-750 sq-ft)
Authentically Viennese elegance meets contemporary elements in a spacious surrounding. Combined or separate living and sleeping area. Opera, Albertina or Kärntner Straße views on request from € 1,440 or spacious private terrace to enjoy the peace and quiet in the heart of the city on request from € 2,490.
From € 1,240
Grand Signature Suite (95 m2 / 1020 sq-ft)
Reside majestically in the sumptuous Grand Signature Suite with unique décor and lavish furnishings. Enjoy an imperial attitude to life that will make your stay an unforgettable experience.
From € 2,490
Wiener Philharmoniker Suite (150 m2 / 1615 sq-ft)
This suite represents the classic Viennese style in all its glory. The signature red reflects the spirit of the city in luxury and comfort and offers our guests the chance to live like Vienna's former royals.
From € 7,650
Madame Butterfly Suite (180 m2 / 1938 sq-ft)
Prestige and size is everything in this stately suite with a splendid view of the Vienna Opera. This is the absolute crown jewel of Hotel Sacher's offering.
From € 9,900
*All prices per night per room including all taxes and charges.
Hotel Sacher Hotel Sacher Vienna

media_content.tooltip.skipped
Nearby Attractions

Getting There
Top 3 Things to Do Nearby
Hotel Sacher Vienna
Philharmonikerstraße 4
1010 Vienna
Telephone:
---