Hotel Stefanie****
Vienna's oldest hotel
Wonderful courtyard garden open all summer
Filled with priceless antiques alongside modern luxuries
In the heart of the bustling and historic 2nd district
Classic Viennese hospitality
About
With more than 400 years of history, Hotel Stefanie is Vienna's oldest hotel. It was extensively renovated, making it the perfect combination of traditional and new. The hotel's collection of antiques dating back to the 17th and 18th centuries conjures up the city's spirit of the past. Seeing things like the Habsburg Emperor's room key, or the precious collection of Meissen porcelain on display in the public areas, will give your stay a special touch. On-site restaurant 'Stefanie' is a prime example of Austrian hospitality: Viennese cuisine and wines are served in the Imperial ballroom, as well as in the courtyard garden during the summer season. Hotel Stefanie has been managed by the Schick family for more than 130 years. The current owner, Martin Schick, ensures that all guests are treated with Viennese hospitality and a personal touch.
City Historic Hotel Award 2020 - Hotel Stefanie is a worthy winner of the city historic hotel award, given out by "Historic Hotels of Europe"
Concierge Recommendation
Hotel Stefanie is located in the Jewish Quarter, a very trendy district of Vienna. Visit Vienna's Jewish Museum, which was officially opened in 1988, and the Holocaust Memorial which was revealed on Judenplatz square. Kosher breakfast is available at Hotel Stefanie (on request and with surcharge).
Hotel Stefanie is very nice and classic hotel and well located, 10 min max of Stephansplatz. However what amazed us the most is the staff: from the reception, to the bar and restaurant staff, they were very professional and friendly. From the minute we entered the hotel, they made us feel welcome and helped us with all the requests. High standard of service without making you feel uncomfortable. Unfortunately we didn't get the name of some of them, as they deserved to be praised personally.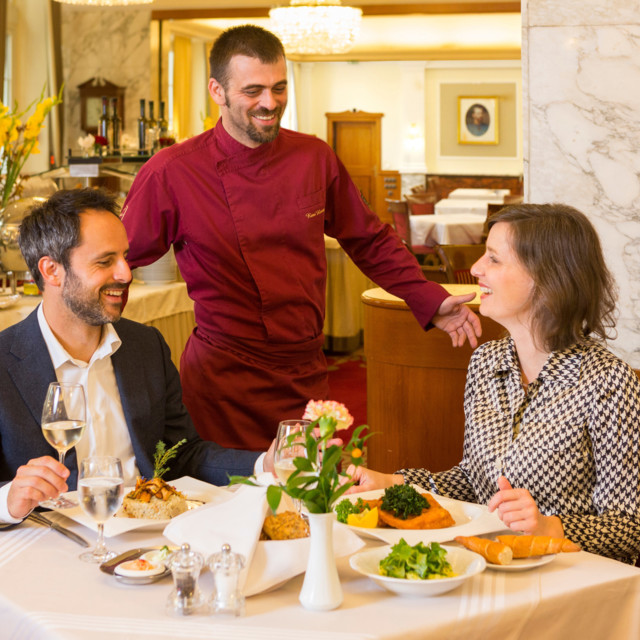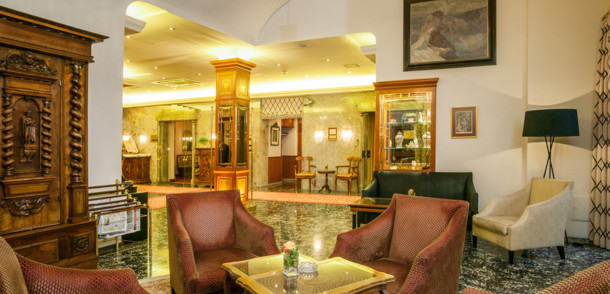 Hotel Amenities
hiqh quality box spring beds

Flat-screen TVs with free Sky programmes, Wi-Fi free of charge

Viennese Cuisine, special tasting menu - "A Taste of Imperial Vienna"

typical Viennese 'Melange' in the afternoon or cocktails in the evening and snacks

antiques around the hotel
Rooms & Suites
Classic Singles: 12-15 m2 / 129-161 sq-ft, classic Single rooms have a single bed and a desk.
From € 77
Classic Doubles: 18-22 m2 / 94-236 sq-ft, classic Double rooms face Taborstrasse and have a double bed for up to two people. Features sound insulating windows.
From € 106
Double Room Courtyard View: 18-22 m2 /194-236 sq-ft, double bed or twin beds, available for a maximum two people. Double Room Courtyard View rooms face the quiet patio, and many enjoy views over the 100-year old tree that provides shade in the courtyard garden.
From € 116
Superior Double Room: 23-30 m2 / 247-323 sq-ft, double bed or twin beds and a sofa, available for three people. Most Superior Double Rooms face the quiet patio, and the sofa can be turned into a third bed; additional beds and cots are available.
From € 122
Suites: 32-36 m2 / 344-387 sq-ft, two rooms with one double bed each, available for a maximum of 4 people.
From € 142
* All prices per night per room including all taxes and charges and breakfast buffet.
Top 3 Things to Do Nearby
Hotel Stefanie
Taborstraße 12
1020 Vienna
Telephone:
---