media_content.tooltip.skipped
Rafting in Austria
Austria is famously known for its culture, imperial architecture, rich history, excellent food, and breathtaking lakes and mountains landscapes. In the Alpine regions, the country shows off its rougher side, providing some pretty cool action on the most beautiful rivers, gushing down countless gorges and ravines.
Frequently Asked Questions
Where to go rafting in Austria?
media_content.tooltip.skipped

Rafting in Tirol

During the summer months, Tirol is one of Austria's hotspots for rafting and kayaking, thanks to its many rivers with white-water sections catering to everybody, from beginners to pros.

Rafting in Tirol
media_content.tooltip.skipped

Rafting in SalzburgerLand

SalzburgerLand offers beautiful shimmering lakes with crystal clear water for a relaxing summer holiday. For the adrenaline junkies, there are gushing white-water rivers - a true outdoor adventure.

Rafting in SalzburgerLand
Saalachtal Valley

The Saalach river links the villages of Unken, St. Martin and Weißbach. The emerald- green waters are a mix of raging waves and easier, peaceful passages, ideal for a rafting, kayaking or stand-up paddle adventure.

Rafting School/Provider:

Learn more

The Salzach River

The 227km-long Salzach River starts in Wald im Pinzgau, and unites with the Saalach river in Salzburg city, passing by the Hohe Tauern amongst other mountain ranges. There are countless rafting trips you can choose from for an action-packed adventure.

Rafting School/Provider:

Learn more

The River Lammer

Rafting on the river Lammer is not for the faint-hearted, due to the technically demanding white water. Discover the "Voglauer Schlucht" (Voglauer Gorge), a narrow and sporty section. The best season is spring when the snow melts – fantastic white water guaranteed!

Rafting School/Provider:

Learn more
media_content.tooltip.skipped

Rafting in Styria

Styria is most famous for being the green heart of Austria, but it also offers some amazing rivers rushing through nature and national parks.
Enns River

The Enns is an impressive white-water river that runs through the mountains of the Gesäuse National Park. It offers great rafting opportunities for beginners and advanced rafters alike.

Rafting School/Provider:

AOS Rafting – Gesäuse National Park in Styria and Salzburg

Learn more

Salza River

The Salza river is an eastern tributary of the Enns river, starting in Lower Austria, and a favourite with kayakers and rafters. Enjoy crystal clear water, a stunning scenery, jump spots and white water from easy to difficult levels.

Rafting School/Provider:

Learn more

Mur River

The Mur is the lifeline of the Mur Valley, and offers countless summer activities, rafting being only one of them. Enjoy a 15km paddling adventure en-route from Tamsweg to Predlitz.

Rafting School/Provider:

Learn more
media_content.tooltip.skipped

Rafting in Carinthia

Carinthia, Austria's most southern province, is the perfect location for keen swimmers and fans of other water sports, with beautiful lakes and rivers to discover. It also offers great rafting adventures for beginners and families.
River Möll

The glacier river Möll is the hotspot for rafting in Upper Carinthia. The waters are wild, but not too rough, and local providers offer guided tours for families, starting at numerous locations.

Rafting School/Provider:

Learn more

Wildwasserarena Mölltal

In Flattach in the Mölltal Valley, you'll find a whole area solely for watersport enthusiasts. Located on the river Möll, the so-called Wildwasserarena offers fun adventures on the water for the whole family.

Learn more
media_content.tooltip.skipped

Rafting in Vorarlberg

Vorarlberg is home to a wide range of water sports such as sailing, surfing, wakeboarding, stand-up-paddling. For some white water rafting, try the Bregenzerach river.
Bregenzerach River

Discover 30km of white water adventure on the Bregenzerach river in Vorarlberg. The fascinating riverine landscape is divided into several sections, and canoe and rafting tours are offered for all skill levels, from beginners to advanced.

Rafting School/Provider:

Learn more
My First Time Rafting
In general, I'm not the adrenaline-seeking type when it comes to my holiday choices. But on a recent trip I was given the opportunity to go white water rafting. I have never done it before, so I guess it's understandable that I was quite nervous – and very excited!
Austria's Rivers - Facts & Figures
media_content.tooltip.skipped
Number of rivers in Austria

Wild (unregulated) rivers in Austria

2 (the river Isel & the river Lech in Tirol)
After an introduction to the gear (short wetsuit, life jacket, helmet, paddle) we were told where to sit to balance the boat. And then we left the very calm shores of the kayaking and rafting school to start our adventure. It was a hot summer day, and the waters of the river were very cool against the skin, even with the wetsuit on. Our instructors showed us how to use the paddles in calm waters. When we came to the first (small) gushing sequences they told us when to paddle and in which direction, to keep the boat afloat – and us inside it! When we went through some rougher sections, we were all screaming at the top of our lungs out of sheer joy – we felt so alive and one with the nature surrounding us! After that first adrenaline rush we hit a quieter section and could take a breather. Wow – what an adventure! My heart was pumping like a hammer, cheeks blushing red, grinning from one ear to the other, hands shaking while holding the paddle. At one section we had to get the boat out of the water, as the upcoming passage was not suited for a boat – only a kayak could make it through.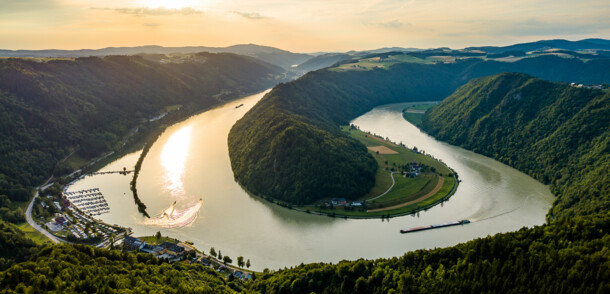 Austria's Longest Rivers
media_content.tooltip.skipped
350km (Upper & Lower Austria, Vienna)

280km (Tirol, Salzburg, Upper Austria)

261km (East Tirol, Carinthia, Styria)

254km (Salzburg, Styria, Upper & Lower Austria)

225km (Salzburg, Upper Austria)
When we sat the boat back into the river, our instructors warned us of the next part. If we wanted, we could get out here, as it was going to get very rough. I needed about three seconds to decide to stay on board. What did I get myself into? I would find out soon enough.
Splashing white waters all around us, we managed to steer the boat through some very challenging sections, having the time of our lives! Then the instructor told us that there was a "washing machine" (a huge whirl) up ahead, and he showed us how to get in and surf the waves – which we did three times. It was amazing. Until the boat became instable and we were all whirled around. The boat stood up - and turned around – and all of us fell into the gushing waters! That's why you are wearing life jackets. Hold on to the paddle, hold your breath, hands on the life jacket and wait – just wait, until the water spills you out on the other side.
When my head was above water again, I felt strong arms grabbing my shoulders and I was helped to haul myself back into the boat. We were all gasping for air, breathless, but so very happy! Later on, we encountered a very calm section and just went overboard – out of our own free will this time! – to cool down and swim around the crystal-clear water. Back on the boat, the tour ended ashore a few minutes later, were we got on a bus that took us back to the rafting school.
You do not have to go to faraway lands to get that experience yourself. Austria has some amazing white waters to offer, surrounded by breathtaking nature. Come, and see for yourself!
Author: Sandra Küchler
This Might Also Be Interesting For You