media_content.tooltip.skipped
Cross-Country Skiing for the First Time
Anybody donning cross-country skis for the first time first needs to learn how to transition from walking to running. If you adopt the right technique, you don't necessarily have to lurch across the track at breakneck speed. However, this can't be ruled out completely …

Admittedly, at first it was more like going for a stroll than a run. My friend Dieter, a cross-country skiing ace of the highest order, had persuaded me into trying my luck at last with the long, narrow boards. On the flat Moadörfl-Loipe trail at Wagrain – no strenuous climbs or daredevil descents – so ideal terrain for beginners like me. At the start I was clueless, but I made up for this by being fully motivated. Even at the ski hire it was clear that we were a perfect fit: me with my irrepressible desire to chalk up endless cross-country kilometres in the classic style over the next few days, and these long, narrow boards. I learn what waxless skis are. Skis that have nubby scales milled into the base, which are supposed to make the ascent easier, but otherwise make the skis considerably slower than other models. So-called beginner's skis. Thank you very much!
media_content.tooltip.skipped
From Walking to Gliding
I take my first unsteady steps on to the trail. The skis seem much too light for my heavy body. Dieter teaches me to adopt a posture – namely, the correct one. I should stand neither too far forward nor too far back on the skis. After all, cross-country skiing is a balance and coordination sport. Only those who distribute their weight correctly and properly coordinate use of the pole with a simultaneous push-off with the foot achieve the sliding phase – the real driving force behind this form of movement. Developing this flow requires more feeling than concentration. It's a bit like dancing. At first you count the beat, but it's only once the rhythm has become second nature that you start to move really well. The fantastic thing is that after only a few hundred metres, the flow sets in. I'm no longer walking; I'm gliding. It's a liberating feeling. The diagonal steps become increasingly springy, and the snow dusts off the poles at ever shorter intervals. Slowly, an incomparable feeling of well-being sets in and courses from my toes to my fingertips.
media_content.tooltip.skipped
"Tearing stars" on the descent
That said, we're striving – in the truest sense of the word – to reach new heights. In the afternoon we seek out a cross-country ski trail that offers ascents and descents. I take on the ascents effortlessly in my unwaxed skis on the Jägersee Loipe cross-country ski trail in Kleinarl. But on the descents, the speed that initially rendered me euphoric proves to be my downfall. Especially when I'm no longer able to brake whilst hurtling down an icy slope. I pull the emergency brake – by landing on my backside – and end up lying in the snow. Trying in vain to stand up using the long sticks, I feel like the pitiful beetle in Kafka's "Metamorphosis".
All the scrabbling around comes to an end when I open my bindings and find myself with both feet on solid ground, or rather, in the snow, again. Applause rings out ... I turn around and realise that from a nearby terrace a jolly group of assembled onlookers is mocking my fall, which was obviously worth seeing. "You've torn a beautiful star," I hear. In Alpine lingo, this is most likely the equivalent of a particularly spectacular fall. I hold my ski-cap bedecked head up high and see to it that I gain metres. Terrible crowd here.
media_content.tooltip.skipped
Technique and Training make the Master
Dieter knows a trick or two to save me from further humiliation in such situations. "Just take one ski out of the track and chisel it out," he says and shows me the half plough: an elegant way of taking the speed out of the descent in a controlled way. Dieter demonstrates it on the next descent, and I follow suit. Oh joy of joys, it works!

Once we arrive at Jägersee Lake, we treat ourselves to a hot cup of tea and enjoy the view over the frozen lake. I take a deep breath of the clear, fresh mountain air. Now I realise that cross-country skiing is the sport that I've always been looking for. It's a form of exercise that activates the whole body and brings you such an outstanding experience of nature that you forget dreary everyday life altogether.

media_content.tooltip.skipped
On the way back when we arrive at the peak where I previously tore the aforementioned star, I glide past the group on the terrace using the double poling technique. I take the descent in a half plough before turning with both skis into the track of the next bend. Applause rings out again. I turn around. What is it now? But this time I get several "thumbs-ups". Pleasant recognition of my obviously flawless downhill posture. The people here are actually rather wonderful ...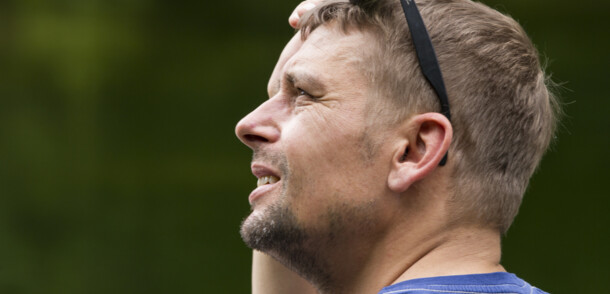 Martin Betz
media_content.tooltip.skipped
Martin Betz, author and director
Martin Betz, born and raised in Styria, lives and works in Vienna. Occasionally, however, he likes to travel far afield, preferably to the Austrian Alps. Sometimes he takes a camera there with him, because this hiker has many irons in the fire and often makes nature and Alpine documentaries for various TV stations in the German-speaking world.
media_content.tooltip.skipped

Cross-Country and Nordic Skiing

Looking for cross-country skiing tracks near to a hotel or resort in Austria? Here is a selection of classic tracks for cross-country skiers and skaters full of twists and turns.

Search tracks
This May Also Interest You
Winter Hiking in Austria

Winter hiking in Austria is a great way to enjoy nature and beautiful winter landscapes.

Discover more

media_content.tooltip.skipped

Skiing and Winter in Austria

Snow-capped peaks, legendary après-ski, and Austrian hospitality will make your winter break in Austria unforgettable.

Unrivalled winter breaks

media_content.tooltip.skipped