media_content.tooltip.skipped
Kayaking and Canoeing in Winter
Winter paddling? But kayaking and canoeing are summer sports, aren't they? That's right, but even if the icy temperatures may be off-putting: those who have gained experience in summer are sure to be enchanted by these sports in the cold season too.
It's a surprising perspective: you know the landscape from a lilo in summer, but now it's winter and covered in snow. It's quiet. There's nothing but you and nature. This is your well-deserved break; from work, from everyday life, from the dripping tap you've wanted to fix for some time now. This hour in a kayak or canoe on the lake belongs to you – and an idyllic adventure awaits. The best place for it? The Austrian lakes, of course! Read on to find out which equipment you need for your tour, where you can try your hand at winter paddling in Austria, and what fellow Brit Elly has to say about her first winter kayaking experience.
media_content.tooltip.skipped
Non-Essential Information About Winter Paddling, but It Can't Hurt to Know
First of all: canoes and kayaks are versatile and have been helping mankind to cross bodies of water for centuries. They originated in Central America and Greenland. In Austria, you can winter paddle on rivers and lakes, and it is recommended for those who have already gained some experience in summer. If you're in the mood for action and adrenaline, you can race down the rapids. For an idyllic alternative, head to the lake. No matter which option you choose, beginners should always be accompanied by an experienced guide!
media_content.tooltip.skipped
media_content.tooltip.skipped

media_content.tooltip.skipped

media_content.tooltip.skipped

media_content.tooltip.skipped

media_content.tooltip.skipped

media_content.tooltip.skipped
Three Reasons Why You Shouldn't Try Winter Paddling
Team Summer

You love summer and are adamant not to give the winter edition a chance? Fair enough. Then it's time to curl up indoors and look forward to warmer times.

Too Much Nature

Outdoor exercise is not your thing. Pollen makes you sneeze, and the blood-sucking insects are annoying. Oh yes, you don't get either in winter. Well then …

"What, Without Me?"

How are you meant to explain to your friends at home that you experienced this adventure amidst an amazing landscape without them? You wouldn't be able to keep it to yourself.
Well Equipped: What You Need for Your Winter Paddling Tour
media_content.tooltip.skipped
Cool Tours in Austria
Pssst! Now we have some real insider tips for you. Even if you should be able to winter paddle on all of Austria's freely accessible public lakes, not all of them have their own kayak or canoe school. What's more, not all schools offer these sports in winter. Don't let that spoil the fun! Experienced winter paddlers, who may even have the necessary equipment, don't rely on the schools, and as a beginner it's always worth asking them to take you out. Who knows, you might just find yourself crossing a remote mountain lake – a truly magical experience.
Three Unique Winter Paddling Tours
"What's special is the silence in the middle of the lake. It feels like you're all alone with nature and the elements."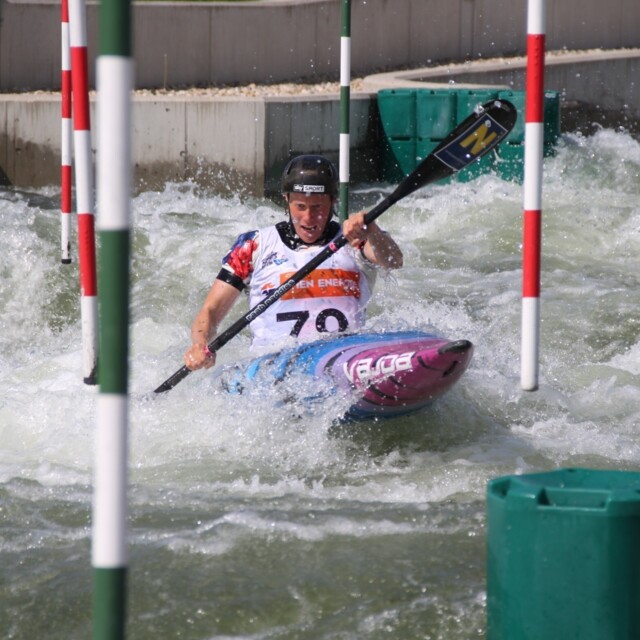 media_content.tooltip.skipped
Elly from Great Britain embarks on a winter kayak adventure whilst on holiday in Austria. She tells us about her personal challenge.
"You go kayaking in winter? Here?", I heard myself ask, my mind jumping to images of shivering fingers around paddle bars and teeth chattering under frosty helmets. "Sure! Why not?" came the reply. I was sat snug on a chairlift during my winter holiday to Austria, chatting with my ski instructor about how she liked to spend her days off in her picturesque home province of Tirol.
Kayaking in Winter?
"You don't get cold?" As a girl growing up in Yorkshire, I'd had the chance to go kayaking a fair few times. Our conversation was bringing back memories of sunny afternoons spent on the River Ouse during Girlguiding camps, and of school trips to Semerwater, where alongside my classmates I'd learned about different paddle strokes and how to roll safely. Decades later during summer holidays to the Lake District, I'd raced down to the shores of Lake Windermere and Ullswater, eager to spend a few hours out on the water. But even in England, I'd always seen kayaking as a strictly summertime sport.
The Cold as a New Challenge
"No, not really", she answered cheerfully as we lifted the lift's safety bar, getting ready to disembark. "You wear your gear – your drysuit, your gloves and layers – so you stay pretty warm. You should try it! Cold weather doesn't stop you from having fun; it just helps you find new adventures." I shifted from my seat, my skis touching down on the snow. As I felt that familiar start-of-the-slopes thrill, I couldn't help but think she had a point.
media_content.tooltip.skipped
A Winter Kayak Trip
"So, you've been kayaking before?", my guide for the day enquired. Inspired by my chairlift chat, I'd arranged to go kayaking on Lake Achensee. "Yes, but never in Austria – and definitely never in winter!", I replied.
Smiling, my guide told me I was in for a treat. I checked the zip on my drysuit, my hands sheathed in neoprene gloves, and buckled my helmet. As I was led through the safety procedures by my friendly coach, my fears of freezing water and unnavigable ice started to melt away, a sense of pure excitement and curiosity taking their place.
The View of the Lake Took My Breath Away
The view of the lake took my breath away. It was an oasis of calm. Our kayaks' bows set off gentle ripples as we started on our journey, reaching out towards the edges of lake where the mountain panorama was reflected in the still, clear water. The only sounds I could hear were distant birdsong and the gentle splash of our paddles as we propelled ourselves forward. I was completely without distractions out on the lake, free from the urge to quickly check my emails or cast an eye over my Instagram feed. The water's tranquillity was inviting me to break from the intrusions of everyday life and enjoy a moment to myself in nature's calm. I wholeheartedly accepted the offer.
Lake Achensee in Tirol
At over 9km long, the Achensee is Tirol's largest lake, and I was ready to explore it. We set off from the little ski village of Achenkirch on the northern shore, where snow kiters glided across the frozen surface, reminiscent of the kiteboarders one might expect in summer. Glancing back, I could still see their colourful kites dancing against the clear blue sky, and it occurred to me that cold weather kayaking wasn't the only way in which people enjoyed a summertime sport during winter.
media_content.tooltip.skipped
We kept a good pace, heading in the direction Maurach on the southern bank, and after a while my guide pointed out Pertisau on the land to our right. I peered across the lake's glassy surface, a soft mist hovering above the water, and enjoyed the sight of the charming alpine village. Its quaint wooden buildings lay sleeping under a blanket of snow, near to which groups of winter hikers could be seen making tracks on lakeshore trails.
Unforgettable Experience
I spent plenty of time absorbing the views of the mountains and meadows from my unique vantage point, before turning my full attention back to the lake. Small glistening blocks of ice floated beside us as graceful as swans, and I took great pleasure in my paddle breaking through thinner frozen patches with a satisfying crack. When it came time to head back, my fabricated fears of treacherous bergs felt like distant memories, and I couldn't help but feel proud of myself. I'd taken the plunge, said yes to a new challenge, and had been rewarded with an experience that I'd never forget.
More Summer Sports in Winter
That evening, I re-joined my holiday group in a cosy mountain hut for dinner. My friends bombarded me with questions – were you freezing? Did you have to submerge? Was the ice hard to break through? – while our ski instructor beamed at me from across the table. Hers was the question I answered first: "Did you have a good time?"
"Absolutely", I confirmed. "I can't wait to do it again. River kayaking on the Lech in winter is next on my list."
media_content.tooltip.skipped
"Sure, that's a great choice for skiing and kayaking both. You can go ice climbing there in winter too, on the frozen waterfalls."
"Yes, I've heard of that!", our group's most avid rock climber, a friend seated to my left, interjected. "I'd love to give it a go."
I smiled. Something told me that my winter holiday adventures with supposed summer sports had only just begun . . .
Author: Eleanor Moody
This Might Also Be of Interest