media_content.tooltip.skipped
Hiking on Dachstein Mountain
An ancient glacier shrouds the Dachstein in blue permafrost. On Dachstein-Krippenstein, one of Austria's most impressive massifs, five places give a taste of high Alpine adventure.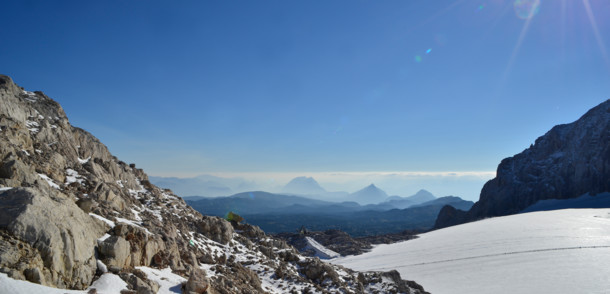 The Dachstein Massif in Numbers
media_content.tooltip.skipped
Elevation "High Dachstein"

Elevation "Lower Dachstein"

Drop under suspension bridge
Dachstein-Krippenstein, one of Austria's most dramatic mountain massifs, is covered in a cap of light blue permafrost. A dramatic glacier glistens high above Hallstättersee lake and draws visitors up into Alpine terrain. Lucky for you, it doesn't take crampons to experience the Dachstein's immaculate beauty - above and below ground!
Why Visit the Dachstein?
Stunning ice caves
Giant karst caves
Incredible views
Austria's highest suspension bridge
One of Austria's best sky walks
media_content.tooltip.skipped
Must Dos:
5 Thrilling Ways to Explore Dachstein Mountain
media_content.tooltip.skipped
1) Enjoy a Gondola Ride up Krippenstein Mountain
If you want stunning views of the Dachstein, your best address is neighbouring Krippenstein mountain, a 2,108-metre (6,916 ft) elevation with lots of picture-perfect lookouts over the Dachstein massif. Take the cable cars up from lakeside village Obertraun and marvel as Hallstättersee lake becomes smaller and smaller beneath you. Once you arrive at the top of the second leg, the mystical world of Austria's Alps stretches out towards all sides.
Learn more
media_content.tooltip.skipped
2) Walk Out on the Five Fingers Viewing Platform
Once you're up on the mountain, head straight to one of the Krippenstein's highlights: the lofty Five Fingers viewing platform. It reaches out over the lake and the surrounding Salzkammergut region like a metal hand. Walk down along all five "fingers" for slightly different vantage points. One platform even features an ornate picture frame through which you can admire the museum-worthy setting.
Learn more
media_content.tooltip.skipped
3) Dig Deep Into the Mountain Inside Dachstein Giant Ice Cave
For a different type of spectacular view, look inward. Deep beneath the Dachstein's rockface slumbers a world of fables, brilliant colours, and ice. The Dachstein Giant Ice Cave invites you inside the mountain for a tour of its towering stalactites, shimmering ice shapes, and an immersive light and music experience. Nearby you also find the Mammoth Cave, one of the largest karst caves in the world. Wander the miles and miles of shadowy tunnels on a 50-minute guided tour.
Learn more
media_content.tooltip.skipped
4) Fight Vertigo at the World Heritage Spiral
Another unconventional viewing platform waits for you near the second cable car's mountain station. A metal spiral with a generous walkway twists in the air at 2,100 metres (6,890 ft) - perfect for visitors who want to gain an extra bit of elevation. Snake up to the top of the World Heritage Spiral for a photo, then relax on one of the undulating wooden loungers next to the futuristic construction.
Learn more
media_content.tooltip.skipped
5) Get Pre-Historic Inside a Panoramic Shark
That's right, in pre-historic times, the Dachstein massif was covered by primordial ocean. Sharks and other ancient fish used to roam the Dachstein's waters and eventually fossilized. You can still find evidence of this today: the "Dachstein shark" is a quirky sculpture perched along Heilbronn Circular Trail. The 8-metre (26 ft) long shark sculpture is large enough to climb inside and tilts precariously over the walking trail. Make your way up to the head: the shark's jaws are open to provide views with a little bit of bite.
Learn more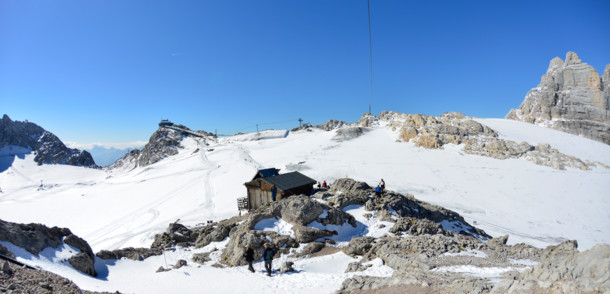 Useful Links
media_content.tooltip.skipped
Getting There
The closest airports are:
Salzburg (100 km, 62 mi)
Linz (175 km, 109 mi)
Graz (180 km, 112 mi)
Munich, Germany (218 km, 135 mi)
Dachstein Gletscherbahn Ramsau
Schildlehen 79
8972 Ramsau am Dachstein
Österreich
Telephone:

Fax:
---