media_content.tooltip.skipped
AQUA DOME - Tirol Therme Längenfeld****s
Tirol's biggest spa and wellness area
Stunning mountain views
Dedicated water and spa area for families, family rooms, and suites
Natural thermal water with numerous health benefits
Combined ski & spa holidays
Named World's Best Mineral & Hot Springs Spa 2018 at the World Spa Awards
media_content.tooltip.skipped

thermal spa Aqua Dome in Längenfeld

media_content.tooltip.skipped

media_content.tooltip.skipped

Aqua Dome SPA 3000 Terrace

media_content.tooltip.skipped

media_content.tooltip.skipped

media_content.tooltip.skipped

Aqua Dome Panorama Balcony

media_content.tooltip.skipped

Wellness Holidays at the Aqua Dome

media_content.tooltip.skipped

Aqua Dome SPA 3000 floating beds

media_content.tooltip.skipped

media_content.tooltip.skipped

media_content.tooltip.skipped

media_content.tooltip.skipped

media_content.tooltip.skipped

media_content.tooltip.skipped

media_content.tooltip.skipped

media_content.tooltip.skipped

media_content.tooltip.skipped

media_content.tooltip.skipped

media_content.tooltip.skipped

media_content.tooltip.skipped

media_content.tooltip.skipped

Aqua Dome - Spa 3000 around the fire

media_content.tooltip.skipped

media_content.tooltip.skipped

media_content.tooltip.skipped

media_content.tooltip.skipped

media_content.tooltip.skipped

media_content.tooltip.skipped

media_content.tooltip.skipped
About
Imagine floating weightlessly in a large outdoor pool with a view of the sun setting behind the snowy mountain peaks...
In the heart of Tirol's Ötztal valley sits the AQUA DOME, a glittering wellness oasis featuring spacious indoor and outdoor pools, 14 different saunas, and a spa treatment world. Tirol's biggest spa prides itself on its three futuristic floating bowl pools, each of which offers a special highlight: Whether you prefer the invigorating massage bowl, the soothing sulphur bowl, or the brine bowl with underwater music and light effects, you'll find your favourite relaxation spot here.
The priceless combination of the state-of-the-art spa and the breathtaking Alpine landscape makes the AQUA DOME perfect for a romantic getaway or a relaxed family holiday. There is no shortage of Tirolean charm and Gemütlichkeit at the AQUA DOME, where guests have access to a private spa, and can taste the excellent local cuisine in one of the hotel's own restaurants or bars.
Concierge Recommendation
Take part in one of the hotel's daily guided hikes and explore the surrounding mountains.
"Brilliant experience. We were greeted by friendly staff. Breathtaking views. Must do the outdoor pools. Live plants everywhere. A daily newspaper printed in both English and German language. We were celebrating my partner's birthday and couldn't be more impressed by the hospitality of the staff."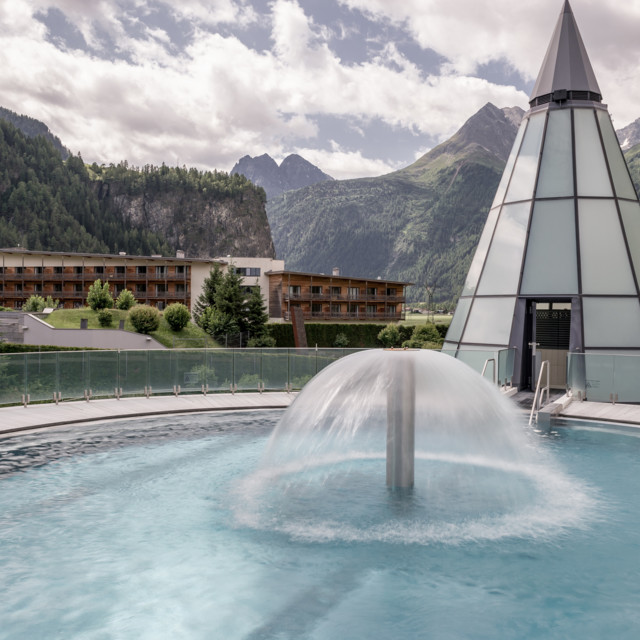 media_content.tooltip.skipped
Amanda D., London / Tripadvisor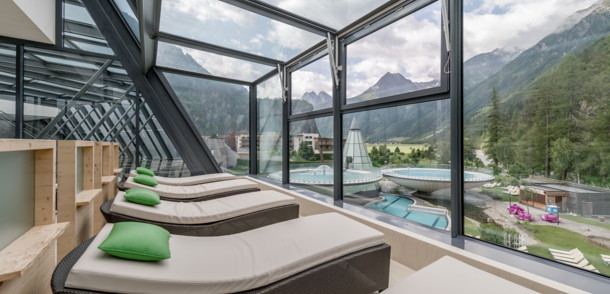 Hotel Amenities
media_content.tooltip.skipped
massages, facials, mani-pedis, and more

hiking tours, skiing adventures, indoor activities
Suites & Rooms
Double Room: 33 - 35 m2 / 355 - 376 sq-ft. Traditional or Alpine styles, bathtub or shower, balcony or panorama terrace, small sitting area, space for 3 people max with extra bed.
From € 144
Junior Suite: 68 m2 / 732 sq-ft. For 3-4 people, sitting lounge, balcony or panorama terrace, bathtub and shower, with or without fireplace.
From € 156
Family Room: 66 - 70 m2 / 710 - 753 sq-ft. For 4-6 people with two extra beds, two double bedrooms with connecting doors, bathtub and shower, balcony or panorama terrace, small sitting areas.
From € 191
Family Suite: 85 m2 / 915 sq-ft. For 4-5 people, shower and bathtub, two bathrooms, two separate bedrooms, one living room, balcony or panorama terrace.
From € 241
Suite "Wohntraum": 90 m2 / 969 sq-ft. For 2-4 people, fireplace, infrared cabin, natural latex mattress by Luxury M, sitting lounge, shower and bathtub, panorama terrace.
From € 241
media_content.tooltip.skipped
Getting There

Nearby Attractions
Top 3 Things to Do Nearby
AQUA DOME Tirol Therme Längenfeld
Oberlängenfeld 140
6444 Längenfeld
Telephone:
---