media_content.tooltip.skipped
Naturhotel Forsthofgut*****
Located in the middle of the Alps with direct access to skiing area
Europe's first forest SPA, measuring 5,700 m2 / 61,354 sq-ft
Cuisine at the highest level with a regional focus
5 generations of family management
Emphasis on sustainability and a connection to nature
Find COVID-19 measures here
media_content.tooltip.skipped

media_content.tooltip.skipped

media_content.tooltip.skipped

media_content.tooltip.skipped

media_content.tooltip.skipped

media_content.tooltip.skipped

media_content.tooltip.skipped

media_content.tooltip.skipped

media_content.tooltip.skipped

media_content.tooltip.skipped

media_content.tooltip.skipped

media_content.tooltip.skipped

media_content.tooltip.skipped

media_content.tooltip.skipped

media_content.tooltip.skipped

media_content.tooltip.skipped

media_content.tooltip.skipped

media_content.tooltip.skipped

media_content.tooltip.skipped

media_content.tooltip.skipped
About
The history of the Forsthof estate goes back 400 years: In 1617 the Forsthof wasn't yet a five star hotel, but a simple forestry business and farm. Today, Christoph Schmuck runs the hotel in the fifth generation. Together with his wife Christina, his family and the entire team, Christoph works tirelessly to make the Forsthof estate a special destination for every guest. The hotel's philosophy stems from the Schmucks' childhood on a family farm: nature and its healing qualities guide the daily operations at Forsthof. The incredible surroundings of Leogang in SalzburgerLand are more than appropriate for the self-proclaimed "Nature Hotel." Whether it's in the depths of winter, or during the balmy summer months, Leogang is a playground for outdoorsy guests of all activity levels. Everything, from the hotel's decor to the in-house cuisine, has a connection with these pristine surroundings and the efforts in sustainability that are close to the Schmuck family's hearts.
The new waldSPA Lakehouse is a haven, natural light and pale woods creating a warm and calm ambience. The adults-only sanctuary, linked to the hotel and its original waldSPA via an underground passage, overlooks the expanded natural swimming lake. Three new treatment rooms, a stylish relaxation lounge with cosy fireplace, and 50 new recliners including waterbeds are perfectly positioned for optimum views. A standout feature is the new onsen-style pool (42°C) complemented by an authentic onsen washing area where traditional cleansing rituals are observed.
Concierge Tip
Take part in a special project run by the hotel and plant a tree on the expansive grounds. Choose the perfect place for your tree yourself and dig the hole in the ground. Don't forget to take a photo with your new "family member"! At the end, each sponsor receives a special certificate as a souvenir and a small thank you.
"Good evening, I just wanted to say a huge THANK YOU!!!!! We honestly had the best holiday ever, it was so special to stay in your amazing, warm and friendly hotel. We were a bit nervous about taking a 1 & 3 year old away skiing but we just had the most amazing time. The hotel you have built is amazing... not only the architecture and interior but also the wonderful culture you have created. We will remember our stay for ever and are already saving up to come back. Thank you so much from the bottom of our hearts!"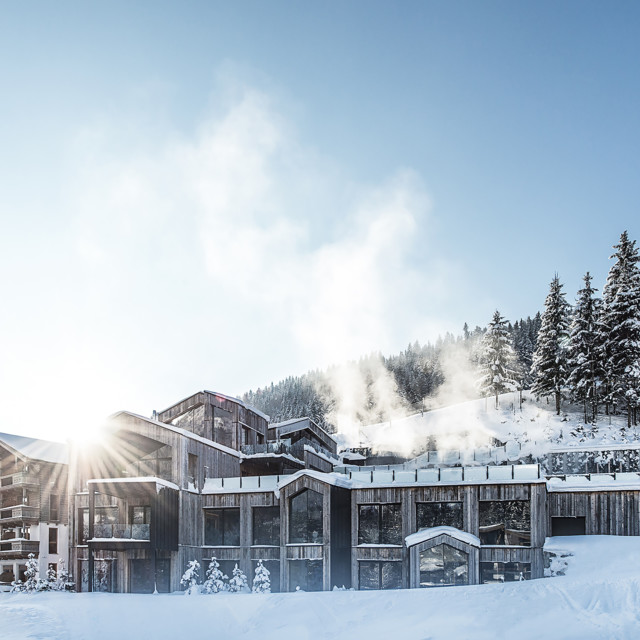 media_content.tooltip.skipped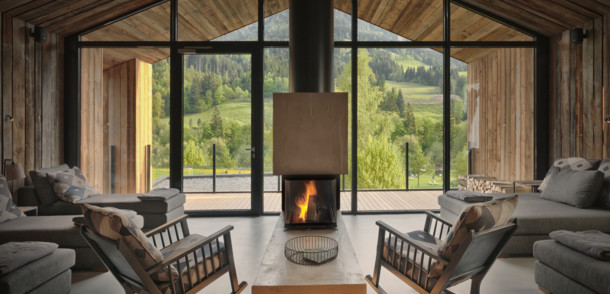 Amenities
media_content.tooltip.skipped
Ticket service and ski rental

Bicycles, walking sticks and rucksacks

Underground car park, car wash and e-charging stations

Game enclosure with guided wild animal feeding

Forsthofgut riding stable with comprehensive range of offers

Daily childcare from 2 years in Rocky's Kidsclub

Children's farm miniGUT with forest playground
Suites & Rooms
Nature room "Berglust": 30 m2 / 344 sq-ft, a living dream for rural minimalists. "Berglust" captivates with high-quality box-spring beds for best sleep quality and a noble oak wood floor. The reduced Alpine style with straight forms and the soft colours make this double room something special.
From € 240
Nature suite "Lebensquell": 39 m2 / 419 sq-ft, arrive and marvel at the mountains. Furnished with natural, local materials, this suite offers the perfect place to regenerate and recharge your batteries. Soothing box-spring beds and a spacious bathroom with an unobstructed view into the bedroom complete the rural-modern style.
From € 275
Family suite "Bergbalance": 52 m2 / 559 sq-ft, the family suite with separate children's room offers enough space for a stay with your loved ones. Warm colours, soft loden and wood from the hotel's own forests create a calming and cosy atmosphere.
From € 285
Luxury suite "Garden Loft": 140 m2 / 1,507 sq-ft, extraordinary luxury in the lakehouse. This loft with two floors and magnificent view of the Leogang mountains is perfect for a relaxing holiday. The highlight is the private loggia with sauna. Exceptional design, fine materials and a fireplace create a calming and cosy atmosphere.
From € 1,800
Luxury chalet suite "Landleben": 145 m2 / 1,560 sq-ft, enjoy country life in its most exclusive form. Guests in this suite enjoy 2 master bedrooms, a cosy living room with open fireplace, as well as a roof terrace with its own sauna. In addition to the fantastic view of the mountain world, local materials such as old wood and loden provide a special flair.
From € 1,900
media_content.tooltip.skipped
Getting There

Nearby Attractions
Top 3 Things to Do Nearby
Naturhotel Forsthofgut
Hütten 2
5771 Leogang
Telephone:
---