media_content.tooltip.skipped
Romantik Hotel Im Weissen Rössl****
Lakeside spa with heated lake lido and the world's first floating jacuzzi
Beautiful views of Lake Wolfgang and the surrounding mountains from your room
Award-winning fine dining on site
Try the local, freshly smoked Rössl char in our fish lodge on Tuesdays and Saturdays
Each room is uniquely and elegantly furnished
New Spa Suite with lakeside veranda and an 81 m² (870 sq ft) wellness oasis featuring a sauna, steam bath, infrared booth, and whirlpool
Find hygiene measures here
Find cancellation policy here
media_content.tooltip.skipped

media_content.tooltip.skipped

media_content.tooltip.skipped

media_content.tooltip.skipped

media_content.tooltip.skipped

media_content.tooltip.skipped

Romantik Hotel im Weissen Rössl

media_content.tooltip.skipped

Romantik Hotel im Weissen Rössl

media_content.tooltip.skipped

media_content.tooltip.skipped

Romantik Hotel im Weissen Rössl

media_content.tooltip.skipped
About
Take a dip in the lake right after waking up or relax in the lake jacuzzi with beautiful mountain views: The Romantik Hotel Im Weissen Rössl is nothing short of iconic. For over 500 years, the house has welcomed guests to the calm banks of St. Wolfgang and since 1878, it carries its current name, the "White Horse Inn". The setting in the stunning Salzkammergut lake region lets you explore Austria's picturesque Alpine lakes and nearby Salzburg, Hallstatt, and Bad Ischl. The Romantik Hotel Im Weissen Rössl found world-wide fame when the eponymous 1930 operetta and the 1960 musical film. Memorabilia from the movie set are on display all around the property. Today, the hotel is just as elegant, but a heated lake pool, an extensive lakeside spa, and an award-winning restaurant provide state-of-the-art comfort.
Concierge Recommendation
Try a smoked Rössl char from the hotel's own fish farm, a local delicacy on Wolfgangsee lake. You can enjoy it in the typically Austrian atmosphere of the property's fish lodge.
"Excellent experience, cleanliness is second to none, hotel staff are so polite, helpful and professional. They speak perfect English as well as German. The spa is perfection, outside heated pool, and heated jacuzzi are amazing. The hotel is perfectly situated in an outstanding area at Wolfgangsee, with a panoramic view of the mountains and the lake. Cuisine experience is a winner, fresh ingredients and professional chefs, made the whole experience unforgettable."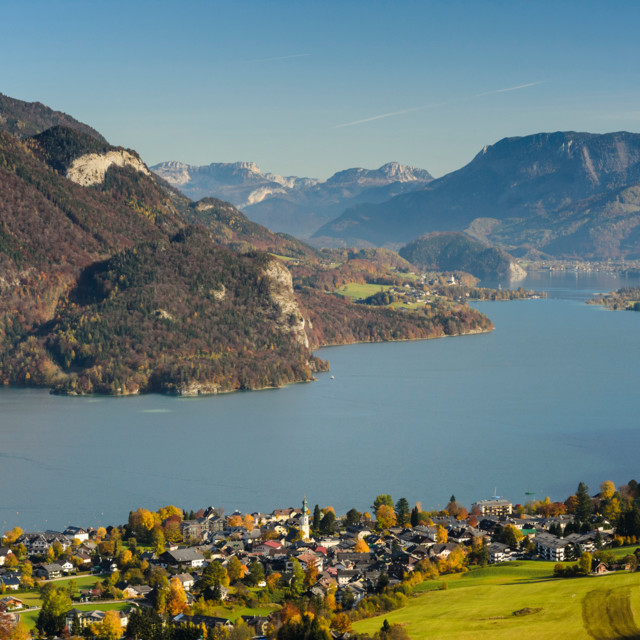 media_content.tooltip.skipped
Safari78171 / Tripadvisor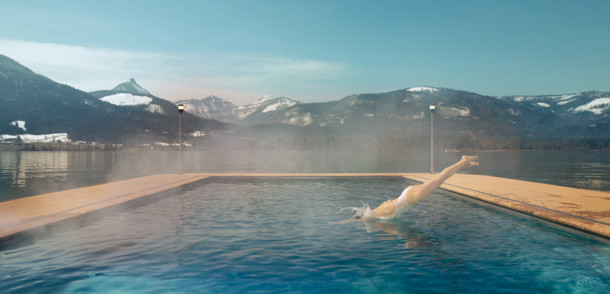 Hotel Amenities
media_content.tooltip.skipped
year-round temperature of 30°C / 86°F

temperature of 37°C / 98°F

Romantik Restaurant Kaiserterrasse, lake restaurant, fireside bar

toboggan rental in winter, paddleboat and bike rental in summer
Rooms
Single Rooms: 20-24 m² / 215-258 sq-ft, bathtub, shower, balcony.
From € 155
Double Rooms: 25-32 m² / 269-344 sq-ft, bathtub or shower, balcony with mountain view or balcony with partial lake view.
From € 105
Rössl Rooms: 35-45 m² / 376-484 sq-ft, bathtub, shower, lakeside balcony or mountain view balcony.
From € 150
Emperor Rooms: 36-40 m² / 387-430 sq-ft, bathtub, shower, 2 lakeside balconies, antique furniture.
From € 150
Rössl Suites: 64 m² / 688 sq-ft, bathtub, shower, lakeside balcony.
From € 220
Spa Suites: 81 m² / 871 sq-ft, own wellness area consisting of sauna, steam bath, infra-red cabin and whirlpool.
From € 225
Prices include breakfast, use of all hotel amenities, and special cocktail and aperitif events
media_content.tooltip.skipped
"I recently spent a most enjoyable 10 days in St Wolfgang, and stayed at this lovely hotel situated right on the shores of the Wolfgangsee. It is one of the best hotels I have ever stayed in and I look forward to a return visit at some point. I had a beautiful room with a balcony overlooking the lake. The staff were fantastic and the food was excellent, with a good choice of vegetarian dishes. There is also a lovely spa with a good range of treatments available. A fantastic hotel in all respects and I would thoroughly recommend it."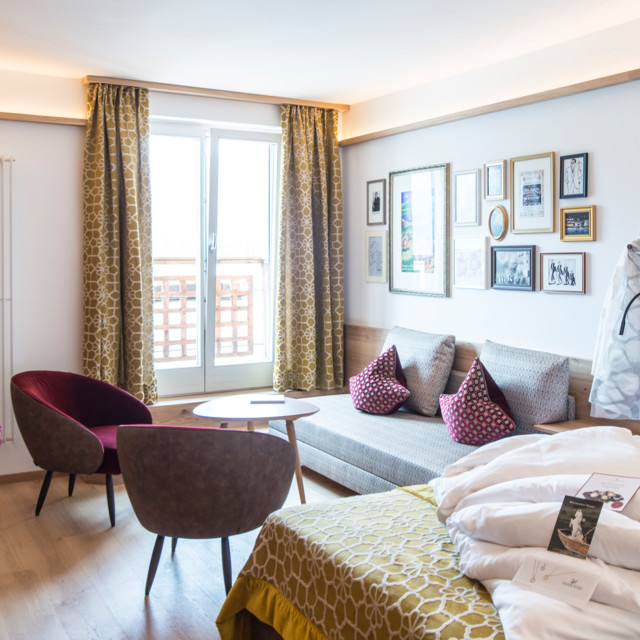 media_content.tooltip.skipped
Nearby Attractions

Getting There
Top 3 Things to Do Nearby
Romantik Hotel Im Weissen Rössl
Markt 74
5360 St. Wolfgang
Telephone:
---