media_content.tooltip.skipped
Stanglwirt***** Green Spa Resort
Organic farm with luxury 5* hotel
Stanglwirt's own Lipizzaner stud
Tennis, golf, and ski school
Natural swimming lake
Incredible spa world with water slide for families
media_content.tooltip.skipped

media_content.tooltip.skipped

media_content.tooltip.skipped

media_content.tooltip.skipped
About
The legendary Tirolean hospitality is inextricable from the history of Hotel Stanglwirt, which was first recorded as an inn over 400 years ago. The comfort and wellbeing of guests has been in the hands of the Hauser family since 1722 - although the former rustic inn has since been transformed into a luxurious hotel complex that meets the highest international standards. Not only is Stanglwirt family-run, it also fits into the natural surroundings of mountainous Tirol: the Wilder Kaiser mountain range provide a dramatic backdrop to the exclusive property. Excellent service is a given, the wealth of nearby outdoor activities is a plus.
Concierge Tip
Even though the Stanglwirt is such a paradise in itself, the magnificent mountain scenery still tempts adventurous guests into the great outdoors. You can hike, jog or ride to your heart's content, or even explore the region at the foot of the Wilder Kaiser with golf bag in tow.
The motto "at home" at the Stanglwirt is completely fulfilled. Despite the numerous guests, you feel very individually looked after and simply taken care of. I can and will highly recommend a stay with the hotel to everyone. Hospitality, organic quality, sustainability, friendliness, personal care, wonderful dishes, a top wellness area, and of course the Wild Kaiser as a mountain backdrop is a dream.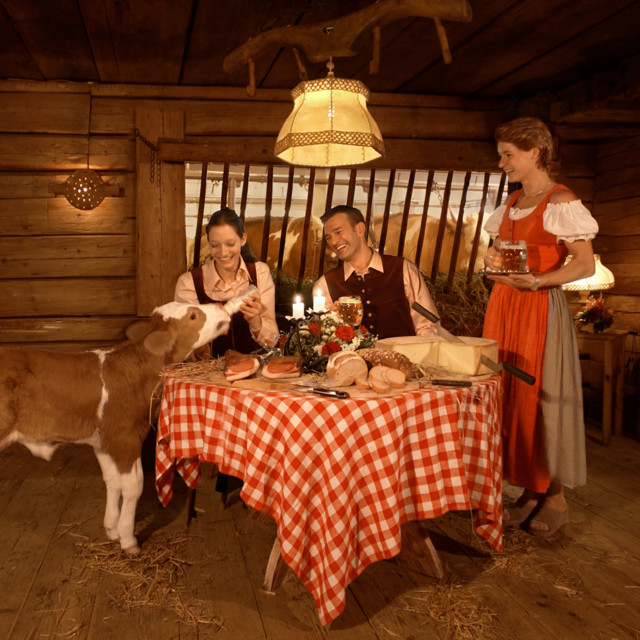 Dining in Stanglwirt's cow stable
media_content.tooltip.skipped
media_content.tooltip.skipped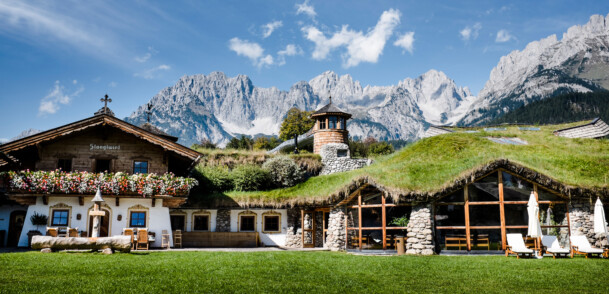 Hotel Amenities
media_content.tooltip.skipped
Several in-house eateries with Austrian fair

Pools, natural bathing pond, Ayurveda, saunas, treatments

Tennis, horse riding, yoga, hunting, golf etc

Children's farm, children's water world, bowling alley etc

Welcome drink at reception
Comfort Double Room: 25 - 30m² / 270 - 322 sq-ft, Double room with Swiss stone pine furniture, shower, or bath/WC, desk and/or cosy seating area, telephone, Wi-Fi, minibar, safe, flatscreen TV, balcony or terrace, most have a view on the "Wilder Kaiser" mountain.
From € 338
Biohotel Studio: 40m² / 430 sq-ft, Comfortable combined bedroom and living space with high-quality furniture and wood panelling made from Swiss stone pine, most with centrally heated tiled stove, walk-in wardrobe, bathroom with double washbasin, bathtub or generous rain shower, WC, lounge to relax, phone, Wi-Fi, mini-bar, safe, flatscreen TV, balcony or terrace - view on the "Wilder Kaiser" mountain or to the Lipizzaner stud.
From € 422
Kaiserbogen Sports Studio: 35m² / 376 sq-ft Spacious double room with Swiss stone pine furniture, shower, WC, cosy seating area, telephone, Wi-Fi, mini-bar, safe, flatscreen TV, terrace or balcony - most have view on the "Wilder Kaiser" mountain.
From € 404
Kaiserbogen Junior Suite: Living room with cosy lounge area, most have an open fireplace, bedroom with Swiss stone pine double bed, spacious bathroom with double washbasin, bathtub and shower, separate WC, walk-in wardrobe, telephone, Wi-Fi, minibar, safe, each room has a flatscreen TV, coffee station, large balcony or terrace with view on the "Wilder Kaiser" mountain.
From € 580
Stammhaus Family Nest: Cosy family room with Swiss stone pine furniture, big (living-)bed-room, separate children's bedroom with bunk beds or twin-beds, bathroom with bath tub or shower, cosy seating area, telephone, Wi-Fi, minibar, safe, flatscreen TV, balcony.
From €479
*per night and room incl. breakfast
Getting there

Nearby attractions
Top 3 Things to Do Nearby
*****Stanglwirt Green Spa Resort
Kaiserweg 1
6353 Going am Wilden Kaiser
Telephone:
---