media_content.tooltip.skipped
Hotel Altstadt Vienna****
Spacious, historic building in a vibrant neighbourhood
Privately owned & family-run
62 unique art-filled rooms that might inspire you to redecorate your home
Owner-curated art collection of over 350 pieces displayed throughout the hotel
Collaborations with neighbouring entrepreneurs
Rooftop garden - a relaxing, green oasis
Find COVID-19 measures here
Hotel Altstadt Vienna facade

media_content.tooltip.skipped

media_content.tooltip.skipped

Josef Frank Suite Living Room at Hotel Altstadt, Vienna

media_content.tooltip.skipped

media_content.tooltip.skipped

media_content.tooltip.skipped

Seehof Suite at the Hotel Altstadt Vienna

media_content.tooltip.skipped

Otto Wiesenthal, owner of the Hotel Altstadt Vienna

media_content.tooltip.skipped

Hotel Altstadt Vienna entrance hall

media_content.tooltip.skipped

media_content.tooltip.skipped

media_content.tooltip.skipped

Opera Suite with art by Elisa Alberti

media_content.tooltip.skipped

Lisa's Salon / The Red Salon

media_content.tooltip.skipped

media_content.tooltip.skipped

media_content.tooltip.skipped
About
Altstadt Vienna's recipe for success is creativity combined with the Viennese approach to life. Now as before, this historical building, in which guests and Viennese live door-by-door, is rich in character with a casual atmosphere. A carefully restored 19th-century patrician house, the Altstadt Vienna is a meeting place for lovers of art - a haven for travellers seeking a hotel with character.
All 59 rooms and suites are individually designed, many by renowned designers such as Matteo Thun, Lena Hoschek, Gregor Eichinger, Lilli Hollein, or Andi Lackner. Personal service, combined with bold innovation has made the Altstadt Vienna what it is today: an epicentre of fine living.
The hotel is located in the revitalized Spittelberg artist district. Here, you'll find great restaurants that range from comfortable, no-frills Viennese "Beisl" pubs, to modern international cuisine, raw super foods, and award-winning eateries.

Concierge Recommendation
The hotel is surrounded by independent Austrian boutiques and restaurants. Take a stroll and discover charming souvenirs, have lunch, and chat with locals.
"The Altstadt is the kind of hotel we dream about but hardly ever encounter. The best point is that it feels like staying in your own very comfortable, serviced apartment rather than in an impersonal hotel. The breakfast was absolutely outstanding. This is a far, far nicer place to stay than any other hotel we have ever stayed in, at any price level. We have stayed in historic hotels all over Europe, Asia and the US, and the Altstadt beats them all. We cannot recommend it highly enough."
GoPlaces01377522706 / Tripadvisor
Opera Suite with art by Elisa Alberti

media_content.tooltip.skipped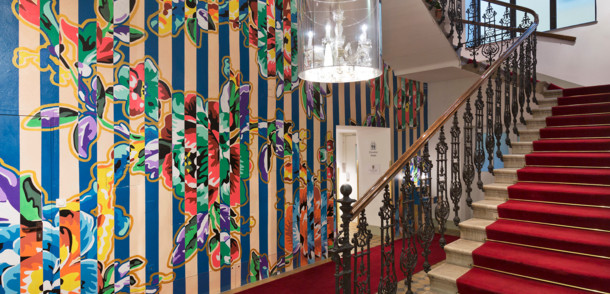 Hotel Amenities
Hotel Altstadt Vienna entrance hall
media_content.tooltip.skipped
fireplace, snacks, drinks, complimentary afternoon tea

box spring mattresses by French manufacturer TRECA
Suites & Rooms
Double Room Regular: Classic or contemporary design, approx. 20 m² / 220 sq-ft. Each room is unique and was specially designed by creatives from all over the world.
From € 164
Double Room Medium: Classic or contemporary design, approx. 25 m² / 270 sq-ft. Designed by creatives like Gabriel Kacerovsky and Dietrich Untertrifaller.
From € 174
Double Room Large: Classic or contemporary design, approx. 30 m² / 325 sq-ft. Designed by creatives like Gregor Eichinger and Atil Kutoglu.
From € 194
Suite M: Approx. 40 m² / 430 sq-ft, bold but harmonious colour palette.
From € 229
Suite L: 50 m² / 540 sq-ft; separate sitting areas.
From € 259
Suite XL: A 55 m² / 600 sq-ft living/bathroom featuring a Boesendorfer grand piano, or an apartment with kitchenette.
From € 309
Suite XXL Lena Hoschek: Two bedrooms + shared living room. Intimate vintage style by fashion designer Lena Hoschek, with a view of the most beautifully weathered church tower in Vienna.
From € 399
Suite XXL United Nations: On 110 m² / 1,185 sq-ft with 2 bedrooms, 2 bathrooms, and a joint living room, you experience encounters with remarkable creatives like John Lennon, Roland Rainer, Yoko Ono, and Le Corbusier.
From € 539
Nearby Attractions

Getting There
Top 3 Things to Do Nearby
Hotel Altstadt Vienna
Kirchengasse 41
1070 Vienna
Telephone:
---