Classic Room, Hotel Ambassador Vienna
media_content.tooltip.skipped
Hotel Ambassador
Unique location between St. Stephen's Cathedral and State Opera
One of the most historic hotels in the city
Traditional ambience with a modern spirit
Generously sized and individually designed rooms and apartments
Top floor apartments offer an impressive view over the city centre
media_content.tooltip.skipped

media_content.tooltip.skipped

Classic Room Ambassador Hotel Vienna

media_content.tooltip.skipped

Junior Suite, Hotel Ambassador

media_content.tooltip.skipped

Junior Suite, Hotel Ambassador Vienna

media_content.tooltip.skipped

Apartment 602 Bathroom, Hotel Ambassador Vienna

media_content.tooltip.skipped

Themed Room, Hotel Ambassador Vienna

media_content.tooltip.skipped

Themed Room, Hotel Ambassador Vienna

media_content.tooltip.skipped

Apartment 602, Hotel Ambassador Vienna

media_content.tooltip.skipped

Apartment 604, Hotel Ambassador Vienna

media_content.tooltip.skipped

Hotel Ambassador Business Class Room

media_content.tooltip.skipped

Apartment 604 with a view at the Stephansdom, Hotel Ambassador Vienna

media_content.tooltip.skipped

media_content.tooltip.skipped

media_content.tooltip.skipped

Business Class Room, Hotel Ambassador

media_content.tooltip.skipped

media_content.tooltip.skipped

media_content.tooltip.skipped

media_content.tooltip.skipped
About
Opened in 1898, the Ambassador's history reflects the parallel and urban evolution of downtown Vienna. With its more than 100 year old history, it counts among the most tradition-filled buildings in the city. The surroundings of the hotel are equal parts Imperial time capsule and modern metropolis: Vienna's most popular shopping streets are just steps away! Since opening its doors, the Ambassador was home to personalities from the world of music, art and culture. Today, the unique symbiosis of the traditional and the modern, the past and the present, gives the Ambassador its special flair. 85 spacious, lovingly designed rooms and 4 apartments offer a harmonious blend of 19th century elements and cutting-edge amenities. Downstairs, a restaurant and bar provide the perfect place to unwind after a day of sightseeing and exploring - maybe with a Viennese coffee and cake, or Austrian wines?
Concierge Tip
Take advantage of the Ambassador's fantastic location in the historic city centre, directly on shopping street Kärntner Straße and in walking distance to the main sights. Explore the elegant first district with grand buildings like the Imperial Palace or Vienna City Hall, and picturesque narrow streets around the hotel.
Hotel Amenities
Historical features and memories

Bathrobe, slippers, safe, air-conditioning, minibar, cosmetic products, cosmetic mirror and hairdryer

Unique view over the historic city centre

Winter garden restaurant with Viennese specialties and seasonal cuisine

Atriumbar - open daily until midnight
Suites & Rooms
Vienna Classic: 20 - 24 m² / 215 - 258 sq-ft, standard rooms "Vienna Classic" reflect the charm and style of a traditional Viennese hotel. Flatscreen TV and air conditioning.
From € 200
Themed Room: 27 - 29 m², 290 - 312 sq-ft, several "Themed Rooms", have been dedicated to personalities from the world of politics, art, and culture who have been guests at the Ambassador. They are equipped with select antiques and the precious Viennese Lobmeyr chandeliers. Flatscreen TV and air conditioning.
From € 250
Business Class: 29 - 32 m², 312 - 344 sq-ft, special design and generously proportioned workspace, some rooms have their own balcony, meet all the demands of the modern business traveller. Flatscreen TV and air conditioning.
From € 300
Junior Suite: 32 - 40 m², 344 - 430 sq-ft, spacious one-bedroom "Junior Suites" feature a visually separated living and sleeping area. They are delightfully furnished and decorated with restored antiques, individually chosen for each guest room. Flatscreen TV and air conditioning.
From € 350
Apartment: 40 - 60 m², 430 - 646 sq-ft, on the top floors of the building, the 4 apartments are designed for those with the highest requirements. Flatscreen TV and air conditioning. They offer privacy, luxurious furnishings, and utmost comfort. In addition to the standard facilities, they provide a fully equipped kitchenette.
From € 400
The location of this hotel is fantastic! Walking distance from cafes, restaurants and shops! The service was great! Everybody was friendly and helpful. The room was also good. Sleeping quality was very good. Overall experience was fantastic. Highly recommended!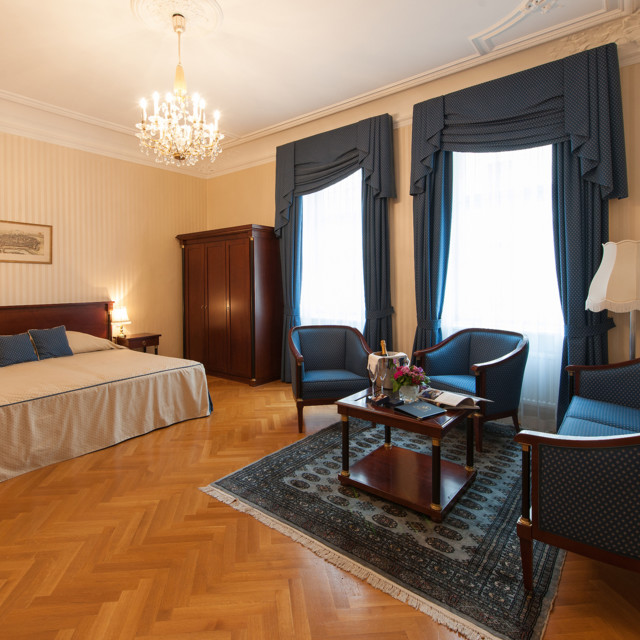 Classic Room, Hotel Ambassador Vienna
media_content.tooltip.skipped
Hingdranata N / Tripadvisor
media_content.tooltip.skipped
Nearby Attractions

Getting There
Top 3 Things to Do Nearby
Hotel Ambassador Betriebsgesellschaft mbH
Kärntner Straße 22
1010 Vienna
Telephone:
---