media_content.tooltip.skipped
Arthotel Blaue Gans Salzburg****
Prime location in the heart of Salzburg's old town, across from Festspielhaus (Grand Festival Hall)
Lovingly decorated with more than 120 original artworks
Housed in a 14th-century building filled with character
Custom furniture crafted locally from natural materials
In-house restaurant serving contemporary cuisine with a mediterranean touch
media_content.tooltip.skipped

media_content.tooltip.skipped

media_content.tooltip.skipped

media_content.tooltip.skipped

media_content.tooltip.skipped

media_content.tooltip.skipped

media_content.tooltip.skipped

media_content.tooltip.skipped

media_content.tooltip.skipped

media_content.tooltip.skipped

media_content.tooltip.skipped
About
What if a hotel gave you more than a roof over your head? Arthotel Blaue Gans (Blue Goose), a stylish mix of modern design, contemporary art, and Austrian tradition, inspires unforgettable experiences. Located close to Mozart's birthplace and opposite the Festival Halls, it also houses Salzburg's oldest inn which opened in 1350. The restaurant sports vaulted ceilings and dark wooden beams and offers Austrian cuisine with a Mediterranean touch. Chef Michael Scheiber is famous for creating unique dishes out of top-notch products. In the mood for a Campari? You are at the right place. Celebrating the centuries-old trade routes between Salzburg and Venice, it is served throughout the hotel. Enjoy cool drinks and jazzy music in a relaxed atmosphere - the perfect way to end your sightseeing day!
Concierge Recommendation

Salzburg is ideal to be explored by bike. Our city bikes are just waiting to accompany you on an exciting city tour or idyllic ride into the countryside. We have great local tips to help you get to know the real Salzburg, away from the clichés and crowds. We will be happy to show you the city's hotspots.
As an art hotel and restaurant, the Blaue Gans is an ideal gastronomic partner: Like the Salzburg Festival, it is both a guardian of tradition and a trendsetter. The wonderful old vault, surrounded by contemporary art, or the inviting garden are great settings to enjoy their homemade food. I have long been addicted to the Schotter-Schnitzel, a Wiener Schnitzel cut into strips.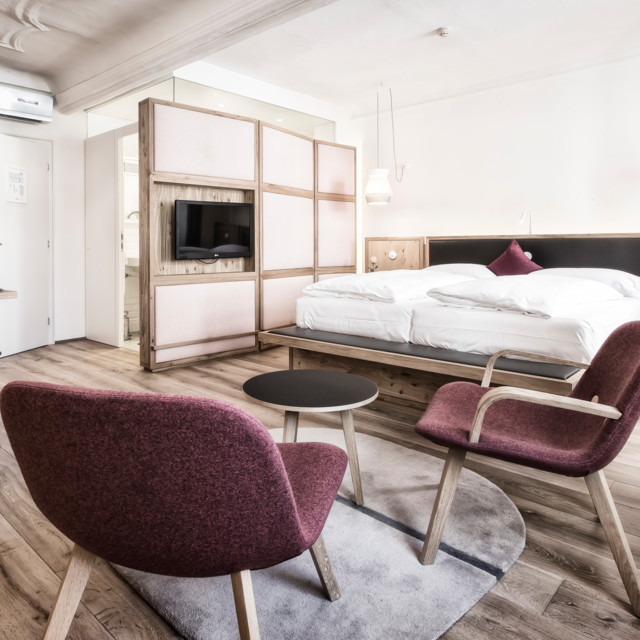 media_content.tooltip.skipped
Helga Rabl-Stadler / Former President of the Salzburg Festival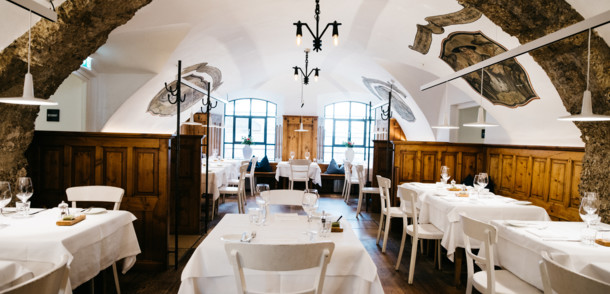 Amenities
media_content.tooltip.skipped
individually decorated, with flat-screen & AC

one of Salzburg's oldest inns dating back to 1350

more than 120 original artworks

available for small donation
Suites & Rooms
Double Rooms (18-30 m² / 193-322 sq-ft)
Functionally and individually furnished. Bathroom with shower or bathtub.
From € 179
Double Room Large (40 m² / 430 sq-ft)
Also called "Junior Suites", but quite grown-up. With stucco ceilings, wooden beam ceilings, a vault, or directly under the roof. Bathroom with shower or bathtub.
From € 279
Suite/Cityflat (approx. 80 m² / 860 sq-ft)
Perfect for a longer stay or families. Bedroom and living room separated by a spectacular glass/metal construction. Enjoy the view of Salzburg's Festival Hall and the horse pond. Bureau, bathroom with bathtub, separate toilet.
From € 399
Suite Maisonette (approx. 115 m² / 1.237 sq-ft)
Divided over two floors. Living room with a sofa bed for two people and a small kitchen, sleeping room, bathroom with free-standing shower and bathtub, separate toilet, changing room, old wooden floors.
From € 399
*All prices per night per room
Nearby Attractions

Getting There
Top 3 Things to Do Nearby
Arthotel Blaue Gans
Getreidegasse 41- 43
5020 Salzburg
Telephone:
---