media_content.tooltip.skipped
The Harmonie Vienna****
Stylish rooms by unique interior designers
Regional & organic products for breakfast
Personalized service for every guest - it's your home away from home
Located in the historic Serviten neighbourhood - off the beaten path, yet just a few minutes' walk from Ringstraße
Sustainable philosophy - regional organic breakfast, certified allergy-free rooms, proximity to public transport
Ample vegan breakfast options (including hot breakfast and several different dairy alternatives)
Find health and safety measures here
media_content.tooltip.skipped

media_content.tooltip.skipped

media_content.tooltip.skipped

media_content.tooltip.skipped

media_content.tooltip.skipped

media_content.tooltip.skipped

media_content.tooltip.skipped

media_content.tooltip.skipped

media_content.tooltip.skipped

media_content.tooltip.skipped

media_content.tooltip.skipped

media_content.tooltip.skipped

media_content.tooltip.skipped

media_content.tooltip.skipped

media_content.tooltip.skipped

media_content.tooltip.skipped
About
The Harmonie Vienna's name goes back to the former Harmonie Theatre, which stood just a stone's throw from the hotel. It's no surprise, then, that owner Sonja Wimmer picked an artistic concept for her city hotel. The Harmonie Vienna was designed by Peruvian artist Luis Casanova Sorrola, who took inspiration from dance and performance art. Soloists from the Vienna State Opera's ballet created many of the Harmonie's design elements by moving across a canvas with colour pigment. This energy is tangible and transforms each of the 66 comfortable rooms into a unique art experience. The Harmonie Vienna is also one of the first hotels in the city to hold three certificates for sustainability, allergy-friendliness, and organic products. Personal service makes the hotel a favourite for returning guests, who see it as their home base in Vienna. The hotel is located in Vienna's trendy Servite neighbourhood, which is dotted with cafes and some of the city's buzziest restaurants.
What's New?
Having been one of the first hotels to offer a wide variety of vegetarian breakfast options, the Harmonie Vienna has now introduced a vegan breakfast range, including scrambled tofu, chickpea omelettes, and vegan pastries.
In summer 2020, the Harmonie Vienna introduced an e-concierge service, making a wide variety of hotel services available for contactless use. In order to allow guests to enjoy the unique flair of Vienna's most famous sights even before arriving, the Harmonie's hotel app also features links to virtual tours and exhibitions.
Concierge Recommendation
media_content.tooltip.skipped
"Everything was perfect! From the beds to the decoration, the quietness, the best breakfast and the location, this is a hotel I would love to go back to! Not to mention the friendly staff! The tea time and cakes, the facade of the hotel, a perfect boutique hotel!"
media_content.tooltip.skipped
Dancing Through the Harmonie
media_content.tooltip.skipped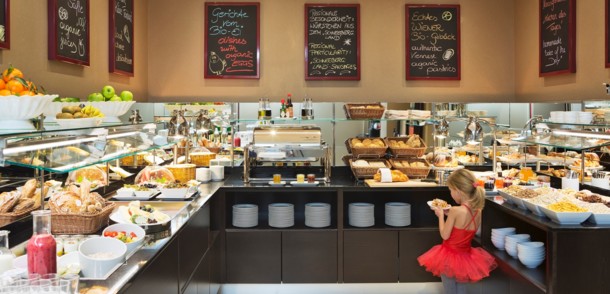 Hotel Amenities
media_content.tooltip.skipped
regional and organic products, Nordic, Styrian, American, Hungarian, or Japanese breakfast, many vegan options

organic products, allergy-friendliness, sustainability

small dishes, open 12 am to 10 pm
Suites & Rooms
Classic Rooms: 20 m² / 215 sq-ft, individually furnished, featuring either two single beds or one large double bed.
From € 155
Comfort Rooms: 25 m² / 270 sq-ft, airy and spacious, can be expanded to three beds.
From € 170
Superior Rooms: 30 m² / 325 sq-ft, airy and spacious, elegantly designed in traditional Viennese style with a comfortable lounge area, suitable for families.
From € 185
Suites: 35 m² / 377 sq-ft, featuring a living room and a bedroom, each with a TV, perfect for up to 2 people.
From € 200
Nearby Attractions

Getting There
Top 3 Things to Do Nearby
Boutique Hotel The Harmonie Vienna
Harmoniegasse 5-7
1090 Vienna
Telephone:
---