media_content.tooltip.skipped
Nala Individuell Hotel****
Uniquely designed rooms
Committed to sustainability and green initiatives
Beautiful roof-top terrace and garden
Dog-friendly
Stunning mountain view of Innsbruck
Find COVID-19 measures here
media_content.tooltip.skipped

media_content.tooltip.skipped

media_content.tooltip.skipped

media_content.tooltip.skipped

media_content.tooltip.skipped

media_content.tooltip.skipped

media_content.tooltip.skipped

media_content.tooltip.skipped

media_content.tooltip.skipped

media_content.tooltip.skipped

media_content.tooltip.skipped

media_content.tooltip.skipped

media_content.tooltip.skipped

media_content.tooltip.skipped

media_content.tooltip.skipped

media_content.tooltip.skipped

media_content.tooltip.skipped

media_content.tooltip.skipped

media_content.tooltip.skipped

media_content.tooltip.skipped

media_content.tooltip.skipped

media_content.tooltip.skipped

media_content.tooltip.skipped

media_content.tooltip.skipped

media_content.tooltip.skipped

media_content.tooltip.skipped

media_content.tooltip.skipped

media_content.tooltip.skipped

media_content.tooltip.skipped

media_content.tooltip.skipped

media_content.tooltip.skipped

media_content.tooltip.skipped

media_content.tooltip.skipped

media_content.tooltip.skipped

media_content.tooltip.skipped

media_content.tooltip.skipped

media_content.tooltip.skipped

media_content.tooltip.skipped

media_content.tooltip.skipped

media_content.tooltip.skipped

media_content.tooltip.skipped

media_content.tooltip.skipped

media_content.tooltip.skipped

media_content.tooltip.skipped

media_content.tooltip.skipped

media_content.tooltip.skipped

media_content.tooltip.skipped

media_content.tooltip.skipped

media_content.tooltip.skipped

media_content.tooltip.skipped

media_content.tooltip.skipped

media_content.tooltip.skipped

media_content.tooltip.skipped

media_content.tooltip.skipped

media_content.tooltip.skipped

media_content.tooltip.skipped

media_content.tooltip.skipped

media_content.tooltip.skipped

media_content.tooltip.skipped
About
The NALA was once an enchanting 50s hotel in Innsbruck. With great attention to detail, it has been transformed into a trendsetting city hotel. From the outside, visitors see a calm façade in a pleasant, quiet location in the heart of the city. But on the inside, the NALA is bursting with unique flair: surprising colour combinations, quirky details, and an underlying elegance create the perfect environment. Hospitality takes centre stage here; to the dedicated staff of the NALA, guests' needs are paramount. Stay here to enjoy the off-beat side of Innsbruck in perfect comfort!
Concierge Recommendation
No centrally located hotel in Innsbruck has a quieter neighbourhood. NALA is situated in the cozy Wilten district where you only hear the fountain in the park, birds chirping, and your own thoughts. Take time to enjoy this picturesque setting.
The outside of this hotel is modest. But the moment you step through door you're entering a magic place. Every corner, every wall, every detail is designed with great love to detail. Every room has it's own design. The garden has it's own kind of magic. During the day and especially during the night. The receptionists are incredibly helpful and friendly.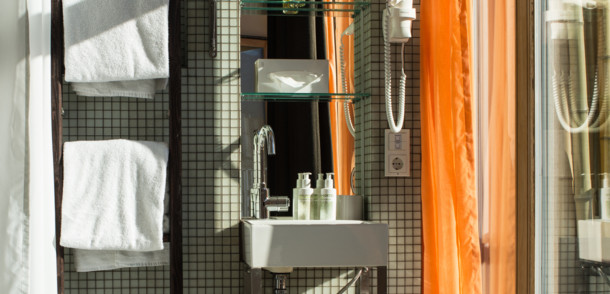 Hotel Amenities
media_content.tooltip.skipped
garden and roof-top terrace

special Sunday breakfast, late service

hip neighbourhood bar inside hotel

Choose your favourite pillow

lactose and gluten free options
Suites & Rooms
The 57 guestrooms at NALA are so very unique that it is hard to categorize them. Tell the attentive staff what you need, and they will find the right room to fit your stay.
They offer a variety of creative accommodations ranging from € 108 per night to € 315 per night. Explore the 20 different room types here.
Room "Bergisel" offers views of the famous Zaha Hadid ski jump. "Zen" is all about finding your centre while exploring Innsbruck! Room "Suite Pan Oh Rama Family" is ideal for families and groups with two bathrooms. There is a room type for everyone at NALA: even solo travellers can book their own "Mini Single Suite." For those who want direct access to the hotel's stunning garden, the 'Garden Apartment" is a must!
A perk you get with every room:
All Yogis and relaxation seekers may visit Lucas and Kira at the Yoga Shala. You can take the courses without advance reservation. More detailed information and the current course schedule is available here. The studio is around the corner!
Closest Landmarks

Getting There
Top 3 Things to Do Nearby
Nala Individuell Hotel
Muellerstrasse 15
6020 Innsbruck
Telephone:
---