media_content.tooltip.skipped
Hotel Sans Souci Vienna*****
Top rated hotel in Vienna on Tripadvisor
Complimentary champagne breakfast at the hotel's Veranda restaurant
Largest hotel pool in Vienna
Perfect for champagne lovers: More than 60 different bottles and eight selections; champagne tasting on the first Thursday of each month
Green Globe certification for environmental awareness, social responsibility, and economic viability
Find COVID-19 measures here
media_content.tooltip.skipped

media_content.tooltip.skipped

media_content.tooltip.skipped

media_content.tooltip.skipped

media_content.tooltip.skipped

media_content.tooltip.skipped

media_content.tooltip.skipped

media_content.tooltip.skipped

media_content.tooltip.skipped

media_content.tooltip.skipped

media_content.tooltip.skipped

media_content.tooltip.skipped
About
A day strolling through Vienna's history-infused streets, a 3-course Austrian dinner in the in-house restaurant, a swim in Vienna's biggest hotel pool underneath a glittering chandelier: If you want to have a quintessential Vienna experience, consider the Sans Souci for your stay - after all, it is the top-rated hotel among hundreds of accommodations in Vienna.
A prime location combined with contemporary interiors gives the Sans Souci hotel a flair of exclusivity. Its 63 rooms and suites have been individually designed in subtle luxury by design studio YOO, ensuring a comfortable, relaxed stay. Two long-stay apartments add a great option and best comfort for an extended stay in Vienna. The same charming spirit adds a special touch to the Veranda restaurant, as well as Le Bar, Le Salon, and the Sans Souci Spa. All of these touches make the Hotel Sans Souci a luxury retreat in the heart of Vienna.
Concierge Recommendation
Explore Vienna's hip 7th district and the charming pedestrian area, "Spittelberg", just a two-minute walk from the hotel. You'll find up-and-coming design shops, cosy cafés, and unusual restaurants.
media_content.tooltip.skipped

Offers & Packages

Find offers and packages for your stay at Hotel Sans Souci Vienna.

View more & book
"We chose this hotel because of its location and you could not get more central. The hotel itself, the staff, the food, the bar altogether - this is a must-stay. We will be back and my advice is to make this your first choice when visiting Vienna."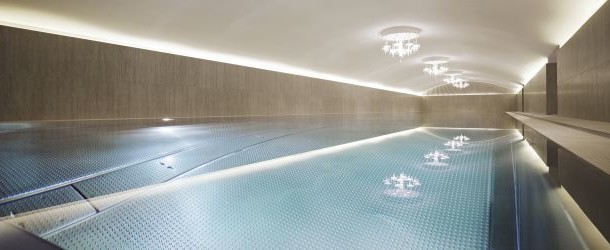 Hotel Amenities
media_content.tooltip.skipped
sports pool, three saunas, steam bath, relaxation room, treatments & more

regional, seasonal and organic modern Austrian cuisine

60 different kinds of champagne
Suites & Rooms
Superior Rooms: 25 m² / 270 sq-ft, spacious double rooms with mirror TV screens and golden murals, two wheelchair-accessible rooms.
From € 269
Luxury and Luxury Extended Rooms: 30 m² / 320 sq-ft, large double rooms with mirror TV screens, equipped with four-poster bed and balcony (Luxury Extended).
From € 289
Junior Suites: 40 m² / 430 sq-ft, spacious living rooms with designer furniture, art by Roy Lichtenstein, large bathroom with freestanding tub and separate shower.
From € 369
Master Suites: 70 m² / 755 sq-ft, separate living and sleeping space, Vi-Spring bed, walk-in closet, originals by Roy Lichtenstein, bathroom with marble floors and large, freestanding, round tub.
From € 640
Apartments for Extended Stays: 65 m² or 80 m² / 700 sq-ft or 860 sq-ft, parquet floors, flat-screen TV, bathroom with shower and washing machine, kitchen; exclusive interior design.
From € 390
media_content.tooltip.skipped
"We found the Sans Souci hotel very elegant with excellent service. I wish we could've stayed longer as our room was wonderful, kind of "glitzy" with long mirrors and golden four poster bed, super comfortable with nice linens. We had a little balcony which was so nice to enjoy some wine, looking out to ivy laden courtyard. The location is excellent, walking distance to the museums and park, shopping, etc."
Nearby Attractions

Getting There
Top 3 Things to Do Nearby
Hotel Sans Souci Wien
Burggasse 2
1070 Wien
Österreich
Telephone:
---