media_content.tooltip.skipped
Henriette Stadthotel Vienna****
Eat better: homemade, regional, organic, fair-trade – the breakfast you usually don't have time for
Sleep better: 100% natural, organic materials & exclusive linen bedding
Experience authentic Vienna with personally curated products & tips
Centrally located between Stephansplatz and Prater
Breathe easy: 100% clean without chemicals
Enjoy extra space: rooms from 25 m2 / 269 sq-ft, many with a balcony
Sustainable & personal
media_content.tooltip.skipped

media_content.tooltip.skipped

media_content.tooltip.skipped

media_content.tooltip.skipped

media_content.tooltip.skipped

media_content.tooltip.skipped

media_content.tooltip.skipped

media_content.tooltip.skipped

media_content.tooltip.skipped

media_content.tooltip.skipped

media_content.tooltip.skipped

media_content.tooltip.skipped

media_content.tooltip.skipped
About
Henriette Stadthotel Vienna is much more than just a 4-star sustainable hotel in a prime location. It's your special small luxury home away from home and your entry ticket to authentic Vienna, starting right in the heart of the vibrant 2nd district – the home of Waltz King Johann Strauß, his wife Henriette, and the world-famous Blue Danube Waltz.
Georg and Verena Pastuszyn are the 2nd generation to run the family-owned Henriette Stadthotel Vienna. They have made it their goal to treat people from all over the world to the good life in Vienna and to create a place of respectful relationships. Their focus on quality, sustainability and individuality is reflected in the ethical economic model of the Economy for the Common Good which they have chosen as a framework for working at and with Henriette – a first for a hotel in Vienna: "No, we're not trying to change the whole world. But our little piece of it? Definitely."
And you can feel this change first-hand: While eating better at breakfast with homemade, organic products, sleeping better in plastic-free, organic bedding and discovering authentic Vienna with personally selected recommendations. After all, Henriette's guests appreciate this uniqueness by lovingly rating Henriette among the top hotels in Vienna.
Concierge Tip
Your true Vienna experience starts right at Henriette's doorstep: dive into Vienna's 2nd district, the Leopoldstadt, with authentic Viennese handicrafts, markets and restaurants where also the locals meet. To end a perfect day take a short 10-minute walk to the Prater and take a ride on the Giant Ferris Wheel for one of the best views over Vienna.
Outstanding breakfast from Steffi and her crew that all breakfasts will be judged against from now on. Homemade is the default position. As we left very early in the morning, we were offered a breakfast bag that almost made us turn around and go back. Thank you to everyone for making our stay in Vienna so special.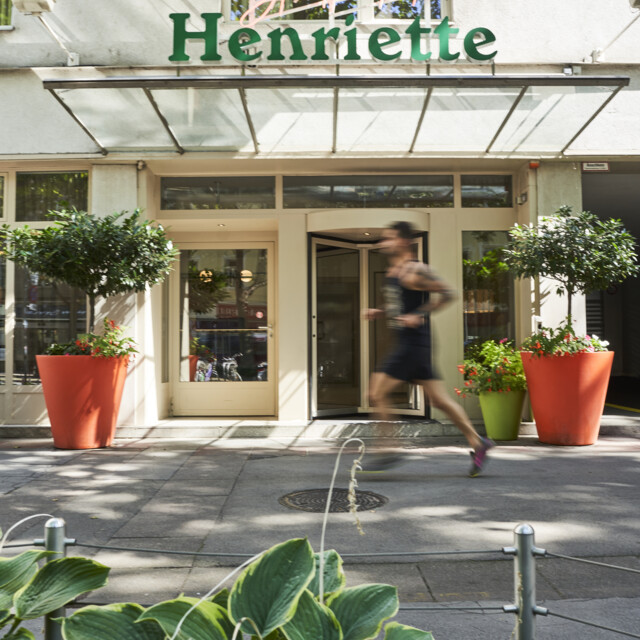 media_content.tooltip.skipped
Martin S, London / Tripadvisor
Amenities
media_content.tooltip.skipped
Natural beddings with organic linen or cotton sheets, maize quilts, sheep wool and down pillows etc.

Extra thick, metal-free, natural latex mattresses in selected rooms

Homemade and organic Viennese breakfast buffet with fair trade coffee, vegetarian and vegan options

Lactose and gluten free menu options

100% chemical-free room cleaning

Ultra HD Smart TVs in all rooms
Suites & Rooms
Standard Rooms with/without balcony (25 – 33 m² / 269 – 355 sq-ft)
View over tree-lined Praterstrasse, private living space, room with a double bed/twin beds, natural bedding, furnished balcony (opt.), and a bathroom with a shower/tub.
From € 125,- per night and room, incl. breakfast

Superior Rooms (approx. 28 m² / 301 sq-ft)
Colourful, spacious rooms face the inner courtyard for quiet nights, with double bed/twin beds, natural bedding, bathroom with a tub.
From € 145 per night and room, incl. breakfast

Superior Rooms with balcony (approx. 28 m² / 301 sq-ft)
Balcony overlooking the courtyard, rooms offer a double bed/twin beds, natural organic bedding (EXTRA: pure linen bedding, natural rubber mattresses), bathroom with a shower.
From € 175 per night and room, incl. breakfast

Friends & Family Rooms (approx. 33 m² / 355 sq-ft)
Comfortable for up to 4 guests, king-size bed plus a pull-out sofa bed, natural bedding, bathroom with a tub.
From € 200 per night and room (3 guests), incl. breakfast

Friends & Family Suites (approx. 55 m² / 592 sq-ft)
Two separate bedrooms with king-size bed and two single beds for up to 4 guests, balcony facing quiet courtyard, exclusive organic linen bedding, extra thick mattresses (EXTRA: pure linen bedding in the master bedroom, natural rubber mattresses), bathroom with a shower/tub.
From € 280 per night and room (3 guests), incl. breakfast
Getting There

Nearby Attractions

Restaurant Recommendations
Top 3 Things to Do Nearby
Henriette Stadthotel Vienna
Praterstrasse 44-46
1020 Vienna
Austria
Telephone:
---