media_content.tooltip.skipped
Franz Klammer - The Ski Kaiser of Austria
Franz Klammer, one of skiing's greatest, is lauded in a new 5.5 million Euro film, Chasing the Line—a tension-fuelled celebration of his triumph at the 1976 Innsbruck Winter Olympics.
Klammer, On Course
Each sport has its icon—skiing has The Kaiser (the emperor). In a long glittering career throughout the 1970s and '80s, Austria's Franz Klammer totalled 25 Downhill wins and five World Cup Downhill titles. No ski event is bathed in such glamour and mortal danger as the Downhill. Jumps up to 80 metres. Gradients of 85 percent. Speeds averaging over 100 km/h (62,14 mi/h). It's Hollywood, Formula 1, and the circus all in one.
Known for his wild and aggressive style, the line for the young Austrian farm boy was as thin as it was dangerous. On that day in February 1976, when he pulled bib number 15 over his trademark yellow catsuit at the top of the Olympic Patscherkofel course, the cowbells and the cheers were deafening.
"I always had this feeling in the starting gate, I knew I would do it," Klammer explained. "I was full of confidence and knew I could pull it off. Just concentrate on your race, you, and the mountain, not thinking about anybody else."
But no one becomes a hero overnight.
media_content.tooltip.skipped
Hard Work, Cows, and Determination
In the tiny Austrian village of Mooswald, Carinthia (about 20 min away from Villach), growing up amongst fewer than a dozen neighbour houses meant livestock outnumbered people. Cows were milked by hand, and there were no chairlifts for young Franzi. The Kaiser's first turns were earned the hard way, hiking up the pasture behind his house to ski down in leather boots and wooden skis. He left school at 14, worked summers on the family farm and ski raced in the winter. But even as he began ascending the podiums, beginning with his first medal in 1973, the Alpine icon of charm never lost his passion for skiing or for the mountains he grew up in.
media_content.tooltip.skipped
For the Love of Skiing
Klammer soon earned his reputation for risky lines and being in near-constant recovery mode. "Speed is freedom. Downhill racing is freedom," Franz said. His life-long passion for skiing made him happy—and that happiness was contagious.
At his Olympic debut Klammer had the eyes of 60,000 spectators, the whole of Austria and the world on him. Fellow competitor Bernhard Russi described it: "The whole mountain was shaking when Franz came down".
"I new I had to risk everything, then halfway down," he recalled, "I was looking at the crowd and wanted to do something for them." So, he changed his line completely, risked it all, and crossed the line for gold.
media_content.tooltip.skipped
Taking Care of Those in Need
In 1977, after his third straight Hahnenkamm win, Klammer's family life was changed forever. During a junior race, his 16-year-old brother Klaus suffered a terrible crash and was paralysed from the waist down. After working diligently to help with his brother's recovery, the Franz Klammer Foundation was established to aid other seriously injured athletes. Over decades, Franz and his Foundation have helped many athletes on their journey of recovery.
And sharing his Love of the Sport
To this day, no one loves to share a laugh on skis more than Franz. Every winter, visitors can join him for Early Morning Skiing at his home resort of Bad Kleinkirchheim. He leads small exclusive groups of early risers around his favourite mountain slopes and down the World Cup run named in his honour.
No one's better qualified to share a few insider tips than The Kaiser. "Initiate the turn early," he advises. "I was carving the ski even before we had carving skis. I was very proud of that. I was probably the first carver in the world." After a morning on the slopes, regional delicacies await at Klammerstub'n at Bergrestaurant Kaiserburg. Book in advance, because skiing with The Kaiser is akin to tea with the Queen or a private audience with the Pope: Time with Klammer is a rare privilege reserved for a special few…but just like Franz's attitude to life itself, he makes it a whole lot more fun.
Learn more about early morning skiing with Franz Klammer
media_content.tooltip.skipped
I always had this feeling in the starting gate, I knew I would do it. I was full of confidence and knew I could pull it off. Just concentrate on your race, you, and the mountain, not thinking about anybody else.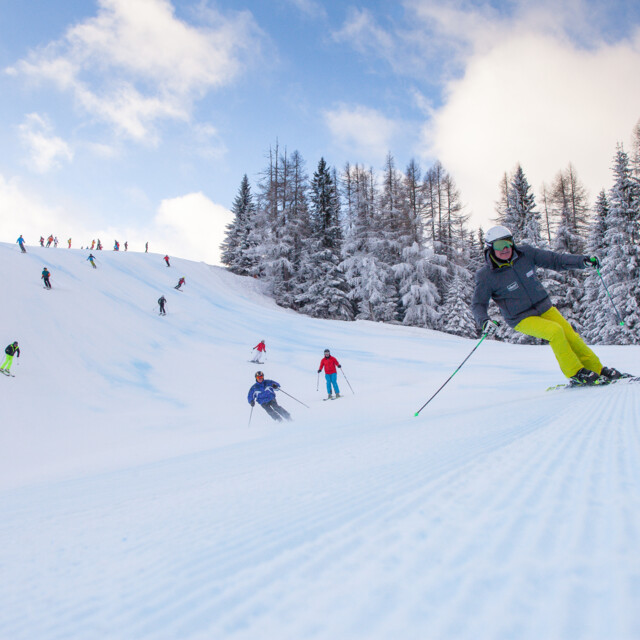 media_content.tooltip.skipped
About the Author: Leslie Woit
Leslie Woit is a freelance writer and editor with bylines in The Telegraph, The Independent, The Observer, The Guardian, The Globe and Mail, United Airlines Hemispheres, Ski Canada, and Air Canada En Route, among others. She is also the European Editor at luxury SNOW magazine, a mountain lifestyle publication with a trendy edge. Leslie taught skiing in Switzerland, was Marketing Manager of a glittering Canadian heliskiing operation, a milkmaid and a master scooper at the world's prettiest ice cream shack.
media_content.tooltip.skipped