media_content.tooltip.skipped
Friedensreich Hundertwasser, Famous Austrian Artist (1928 - 2000)
Friedensreich Hundertwasser was one of Austria's most famous avant-garde artists. His artworks reflect his philosophy, which is based on a harmonious interaction between nature and man.
Hundertwasser was born in Vienna on 15 December 1928 as Friedrich Stowasser. In 1951, aged 23, he was admitted to the Art Club of Vienna, and four years later he began his lifelong foreign travel, at first to locations where his work was exhibited, later to destinations in Africa, Tahiti, Asia, and the Pacific.
In 1959, together with the painters Arnulf Rainer and Ernst Fuchs, he developed a new programme for artists called "Das Pintorarium". At the Seckau monastery in Styria, Hundertwasser presented his "Moldiness Manifesto", a document that enjoyed great popularity during the heyday of the counter-culture. In his "Los von Loos" (Break away from Loos, 1968) manifesto he denounced the aridity and rigid aesthetics in art, and provocatively demanded more beauty and more kitsch.
Hundertwasser also spoke up for general issues and concerns such as the preservation of the Hainburg marshlands near Vienna (1984), and campaigned against nuclear power plants. He later demonstrated for having Austria's car number plates independently designed, and in 1993, he protested against Austria's planned accession to the EC. He always advocated strong, autonomous, authentic, headstrong, and green views.
In 1959, Hundertwasser lectured at the Academy of Arts in Hamburg, Germany. From 1981, he held a master class at the Academy of Fine Arts in Vienna. In addition to his splendid atelier in Vienna, Hundertwasser had workshops and homes in a remote mill in Lower Austria, in the Normandy, at Guidecca in Venice and, in his last decades, in Kanui / Bay of Islands in New Zealand.
Hundertwasser died of a heart attack on 19 February 2000 on board the Queen Elizabeth II. As requested he was buried in harmony with nature on his land in New Zealand, in the Garden of the Happy Deads, under a tulip tree.
media_content.tooltip.skipped

media_content.tooltip.skipped

media_content.tooltip.skipped

media_content.tooltip.skipped

media_content.tooltip.skipped
Hundertwasser's Work
Hundertwasser can be considered a "colourist" painter, as colour is an essential - if not overriding - element of all his work. He used highly saturated colours regardless of subject matter. He often painted while "on the road", using a pocket watercolour box or powdered pigments. He also frequently employed egg tempera, adding metallic dust, cloth or paper fragments, soil, ground glass, or pottery, and finishing the piece with a thin glaze of oil.
The wide range of objects Hundertwasser designed, including wall calendars, editions of the bible and the Brockhaus encyclopaedia, wrist watches, china, and writing paper, made him an omnipresent representative of applied arts in the truest sense. Hundertwasser's works were influenced by the English "Arts and Crafts Movement" of the 19th century, as well as the Jugendstil style of the "Wiener Werkstätten" at the beginning of the 20th century.
"A world full of colour" he said, "is synonymous with paradise", a maxim that characterised the whole of the artist's architectural work. Hundertwasser's revolutionary architectural ideas include topping buildings with trees and areas where animals can graze, and creating floor surfaces that are unlevel. Hundertwasser designed many buildings across Austria including museums, schools, churches, and the Rogner Bad Blumau hotel and spa.
Hundertwasser's ideas were rooted in ecological views long before they were generally acknowledged. The artist always stood for organic ways of living, with colours and shapes tuned to the natural and the human.
What a wonderfully relaxing experience wandering through the Hundertwasser House Vienna. Before you even enter the house you will be absolutely blown away by the exterior. Hundertwasser was the Gaudi of Austria.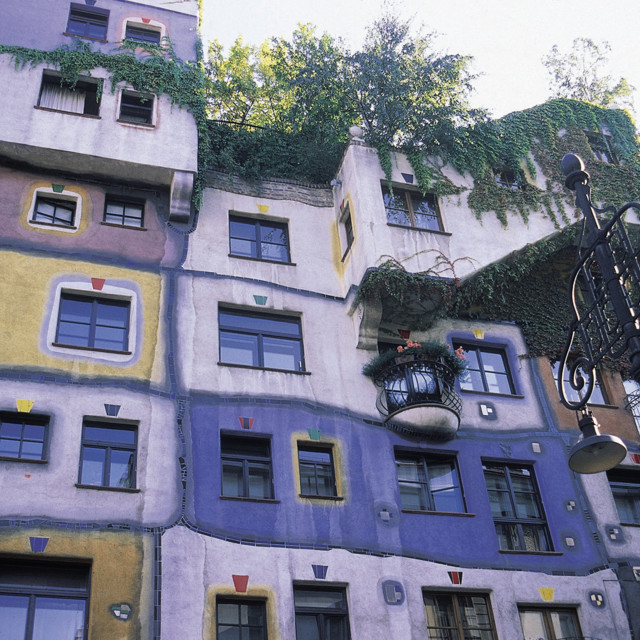 media_content.tooltip.skipped