media_content.tooltip.skipped
The Cheese Road in Vorarlberg
Follow the Cheese Road in the gently undulating Bregenzerwald for the perfect combination of natural beauty and unparallled taste.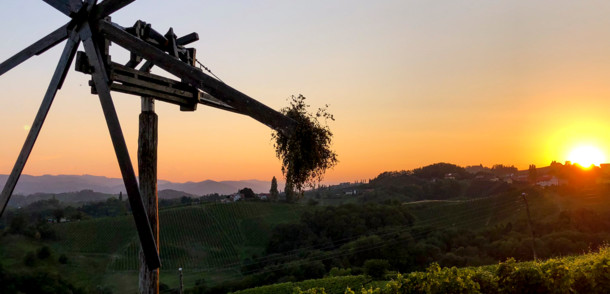 Culinary Trails in Austria
media_content.tooltip.skipped
The Cheese Road: 17 Valley Dairies and 90 Alpine Farmsteads
Thomas is stooped over an old copper pot, holding two tips of a large cloth with his hands and a third between his teeth. He slowly lifts the cloth, separating tiny cheese curds from the liquid whey. Seated around him, a group of rosy-cheeked visitors is in high spirits - not just thanks to the welcome Schnaps, a regional fruity spirit, but because watching Thomas make cheese is exciting. Almost as exciting as sampling the Käsehaus dairy farm's finished specialties during the show.
After witnessing how much effort goes into making Vorarlberg cheese, you will enjoy it even more - if that's at all possible. People like Thomas still make their living from cheese all over the Bregenzerwald, a region in Austria's westernmost province. The Bregenzerwald's Cheese Road, a union of 107 cheese producers, lets you experience their delicious work in all stages. If you want to try your own hand at cheese making, visit dairying school Metzler in Egg, where groups of at least eight can take up the cheese cloth for a few hours.
media_content.tooltip.skipped
media_content.tooltip.skipped
Visiting the Cheese Trail
The Cheese Trail is a unique Bregenzerwald attraction. It isn't a street or a road in the usual sense, but rather a union of experts from various disciplines. Throughout the whole year, the members organize events, invite people to tasting sessions, and initiate guests into the secrets of cheese production.
Any cheese producer in Bregenzerwald will tell you about the strange conventions that surround Vorarlberg cheese. For example, the so-called mountain cheese is actually made down in the valley. Alp cheese, however, is manufactured on alpine farmsteads, traditionally by hand, and only in summer when the cows graze on the alpine pastures.
media_content.tooltip.skipped
Walk up to one of the Alpine dairy farms and enjoy a hearty cheese platter amidst fragrant herbs and grass, which true connoisseurs claim to make out even in the finished product. If you want to taste your way through the different cheeses, the region offers you should take your time – there are some 60 different varieties in Bregenzerwald alone.
Must-Sees:
media_content.tooltip.skipped
Pleasing the Palate, Nurturing the Soul
Feasting on cheese definitely is a rich sensory experience in Bregenzerwald, but so is hiking! Gurgling mountain brooks, the fragrant smell of forests, luscious pastures and meadows nurture the soul. There is a gentle, relaxed quality to this undulating landscape – but the further south you travel, the more Alpine its character becomes. Braunarlspitze peak rises to an impressive 2,590 m / 8,500 ft. Tucked in the valleys are cozy, rural villages that ooze a spirit of tranquility. The quiet is deceptive. Inside the peaceful, wood-panelled houses hides an acclaimed gourmet restaurant scene.
media_content.tooltip.skipped

media_content.tooltip.skipped

media_content.tooltip.skipped

media_content.tooltip.skipped

media_content.tooltip.skipped

media_content.tooltip.skipped
KäseStrasse Bregenzerwald GmbH
Zeihenbühl 423
6951 Lingenau
Österreich
Telephone:

Fax:
---