media_content.tooltip.skipped
Interalpen-Hotel Tyrol*****s
5-star-superior hotel & member of The Leading Hotels of the World™
Unique and secluded location in the midst of pristine nature, with breathtaking alpine surrounding
Excellent service with Tirolean hospitality and warmth
Elegant, spacious Interalpen Spa with a magnificent panorama pool as its centrepiece
Award-winning Tirolean specialities and international cuisine: Michael Hollaus was named 2021 Gault & Millau Pastry Chef
Find COVID-19 measures here
media_content.tooltip.skipped

media_content.tooltip.skipped

media_content.tooltip.skipped

media_content.tooltip.skipped

media_content.tooltip.skipped

media_content.tooltip.skipped

media_content.tooltip.skipped

media_content.tooltip.skipped

media_content.tooltip.skipped

media_content.tooltip.skipped

media_content.tooltip.skipped

media_content.tooltip.skipped

media_content.tooltip.skipped

media_content.tooltip.skipped

media_content.tooltip.skipped

media_content.tooltip.skipped

media_content.tooltip.skipped

media_content.tooltip.skipped

media_content.tooltip.skipped

media_content.tooltip.skipped

media_content.tooltip.skipped

media_content.tooltip.skipped

media_content.tooltip.skipped

media_content.tooltip.skipped

media_content.tooltip.skipped

media_content.tooltip.skipped

media_content.tooltip.skipped

media_content.tooltip.skipped
About
What does a day at the Interalpen-Hotel Tyrol look like?
It all starts with the smell of coffee and homemade bread: imagine a rich breakfast, served with beautiful alpine views. All the way down in the valley, you spot a trail winding through the untouched landscape, and you decide that's where you'll go next – courtesy of the hotel's complimentary e-bikes. Afterwards, it's time to relax: Take a dip in the panorama pool, on eye level with rugged mountain peaks, stroll through the spa garden, enjoy an infusion in the Tirolean Sauna Village at the acclaimed Interalpen Spa. When you start feeling peckish, treat yourself to an eight-course degustation menu while looking over the kitchen team's shoulders. Finish the day on the terrace and enjoy a breathtaking sunset at 1,300 metres.
Concierge Recommendation
Take a trip to Tirol's capital, Innsbruck, and visit the famous Golden Roof, Wilten Basilica, and the Olympic ski jump designed by architect Zaha Hadid. A trip to the Swarovski Crystal Worlds will add some extra sparkle to your day.
"Stayed with the family in August. It was an absolutely brilliant stay, lovely hotel and staff. Have stayed before and this visit was everything I remembered and more. All of us loved it and it was really relaxing. Can't recommend it enough."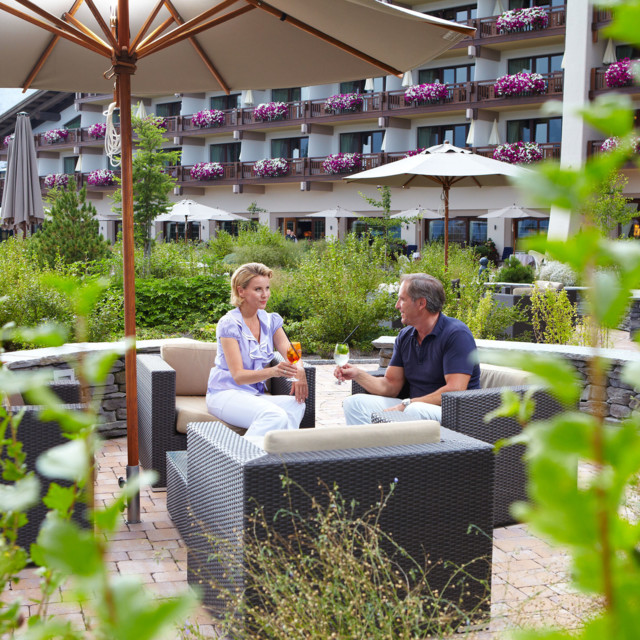 media_content.tooltip.skipped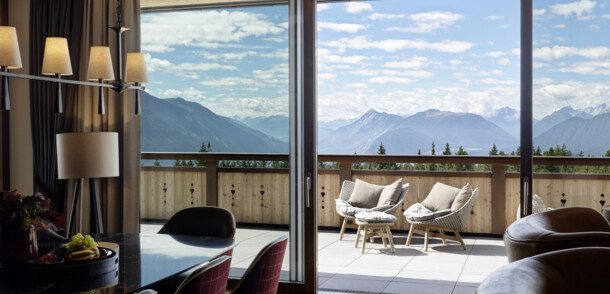 Hotel Amenities
media_content.tooltip.skipped
free for kids aged 3 and older

Gourmet restaurant, chef's table, spa restaurant, Viennese-style coffeehouse
Suites & Rooms
Premium Double Rooms: 484 sq-ft / 45 m2, bedroom with one double bed, living area, bathroom with shower.
From € 249
Deluxe Double and Twin Rooms: 732-840 sq-ft / 68-78 m2, bedroom with two queen-sized beds or one double bed, additional bedroom with one or two beds, dressing room, living area with tiled stove, bathroom with bath and separate shower, mostly with bidet.
From € 284
Lodge Rooms: 484-840 sq-ft / 45-78 m2, oak floors, furniture made of pine and walnut, and a tiled stove combine to create a modern Alpine ambiance.
From € 284
Suites: 882-1,292 sq-ft plus 926 sq-ft terrace / 82-120 m2 plus 86 m2 terrace, plenty of space for up to three/four guests: two bedrooms, up to two living rooms, two bathrooms with shower, some with bathtubs. All suites have a balcony, suites in category 2 and family suites have a roof terrace.
From € 840
Penthouse Suites: 818-2,158 sq-ft / 76-200 m2 plus 430-1,797 sq-ft / 40-167 m2 rooftop terrace, spacious and comfortable luxury for up to two/four guests: double bedrooms with living area, panorama seating niche, freestanding bathtub, lifestyle shower, dressing room and huge rooftop terrace. The Penthouse Suite Grand additionally has a second double bedroom, separate cooking facilities, sauna, electric fireplace, and an outdoor bathtub.
From € 1,090
media_content.tooltip.skipped
"Stunning in every direction. The views are amazing. The rooms are enormous, yet warm and welcoming. This hotel has the perfect balance of tradition and comfort. The dining experiences were high end and faultless. The spa and pool were a welcome luxury after a day out in the snow. This place couldn't be more perfect if it tried!"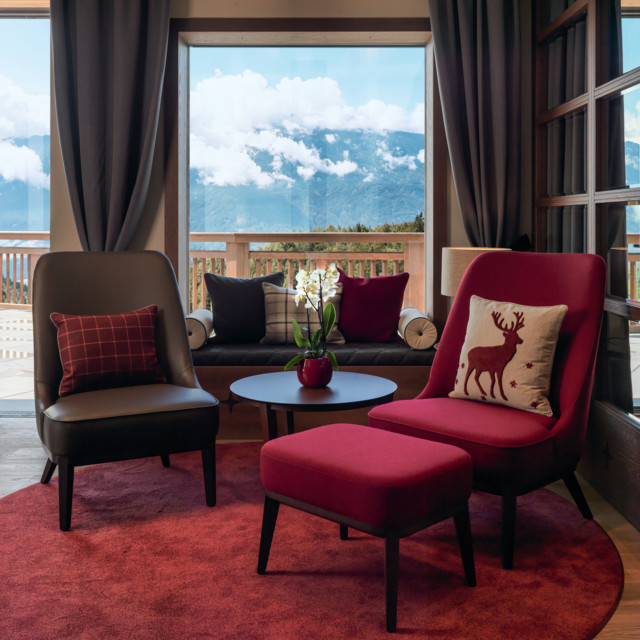 media_content.tooltip.skipped
Nearby Attractions

Getting There
Top 3 Things to Do Nearby
Interalpen-Hotel Tyrol
Dr.-Hans-Liebherr-Alpenstraße 1
6410 Telfs-Buchen/Seefeld
Telephone:

Fax:
---