Orchard with Roses Gustav Klimt 1912

media_content.tooltip.skipped
Gustav Klimt and the Promise of the Rose
He found inspiration in nature: The painter Gustav Klimt was one of the most important representatives of Art Nouveau and cofounder of the Viennese Secession, as well as a connoisseur of everything beautiful in life. Aside from the grace of his muses, he was also fascinated by the aesthetics of roses.
Klimt and the Promise of the Rose Garden
"With a woman who is in love, one can do anything she wants," is a thought-provoking quote from one of the most illustrious Austrian painters ever, the Art Nouveau artist Gustav Klimt. He knew how to capture attention, both with his art as well as his unique personality and savoir-vivre. How the painter, who preferred to spend his days dressed in a blue shift, won over so many hearts remains his secret. One can safely assume that the rose, queen of all flowers, might have played an important role not only in his paintings, but also in his courtship. Like no other flower, the rose signals love and passion - a promise the sensual artist could not withstand.
Klimt loved and admired women, and although he was never married, he had seven children with several women. Aside from his passionate affair with his muse Emilie Flöge, his "affaires d'amour" with the 19 year-old Alma Schindler (who later became Alma Mahler-Werfel) as well as numerous models such as Maria Ucicky and Marie (Mizzi) Zimmermann, are well known. His relationship with the emancipated fashion designer Emilie Flöge, however, lasted his entire life. She seems to have been his "Lebensmensch".
media_content.tooltip.skipped
Klimt revered women like Emilie Flöge - emancipated, charismatic and with a will of their own.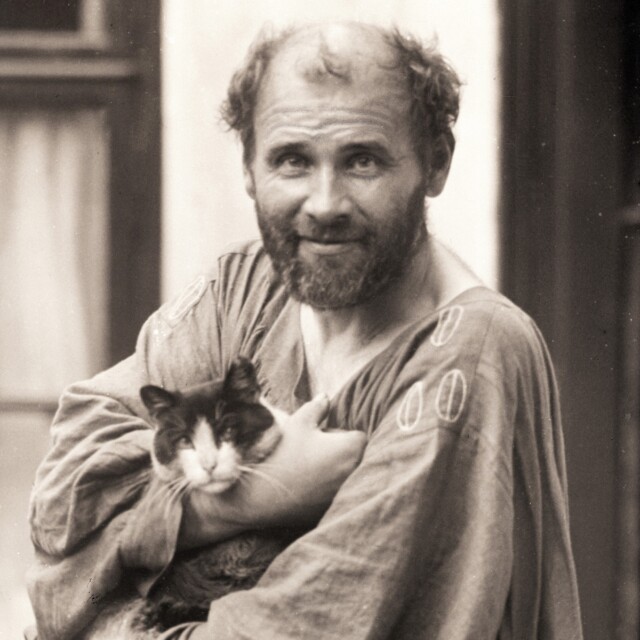 media_content.tooltip.skipped
Gustav Klimt
media_content.tooltip.skipped
Art Nouveau and Co-Founder of the Vienna Secession

"golden period" in his art (1899 bis 1910)
About the Artist
He was arguably one of the most vibrant Austrian painters ever: Gustav Klimt. Born in 1862, in Baumgarten bei Wien, he started his career with history paintings. Starting around 1890, he developed his distinct expressionistic style with the typically shaped ornaments. In 1897, he left the Künstlerhaus and co-founded the Viennese Secession – as a challenge to the state's restrictions on artistic expression. Klimt's penchant for enjoying the finer things in life is legendary and found its expression among other things in opulent dinner parties. His numerous affairs with ladies of high-society are still subject of much speculation today.
In the Footsteps of Gustav Klimt
North side of Klimt Villa

media_content.tooltip.skipped

media_content.tooltip.skipped

Orchard with Roses Gustav Klimt 1912

media_content.tooltip.skipped

media_content.tooltip.skipped

media_content.tooltip.skipped

Klimt roses - rose garden propagation Klimt villa

media_content.tooltip.skipped

media_content.tooltip.skipped