media_content.tooltip.skipped
Leopold Museum
The Leopold Museum's permanent exhibition gives exciting insights into Vienna around 1900 and invites visitors to immerse themselves in the vibrant era.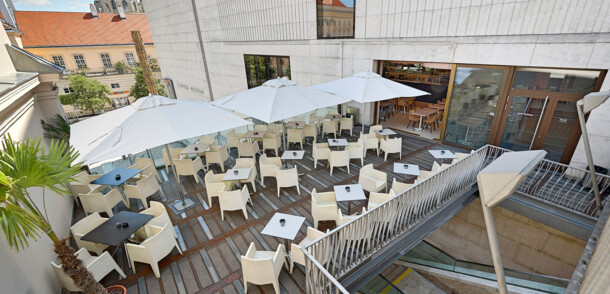 Useful Links
media_content.tooltip.skipped
For Lovers of Schiele and Klimt
With its roughly 6,000 works, Leopold Museum houses one of the world's most important collections of Austrian art from the second half of the 19th century and Modernism. Passionate collectors Rudolf and Elisabeth Leopold created it over the course of five decades and even managed to get masterpieces by the likes of Egon Schiele and Gustav Klimt – who, up until the 1960s, were considered taboo.

They created the world's most comprehensive Egon Schiele collection, with more than 220 works on display. Other highlights of their collection include masterpieces by Gustav Klimt, Richard Gerstl, Oskar Kokoschka, and Alfred Kubin as well as works from artists of the 19th century such as Ferdinand Georg Waldmüller, August von Pettenkofen, Emil Jakob Schindler, and Anton Romako. In line with his holistic approach to the arts, Rudolf Leopold also collected furniture and decorative objects from the Art Nouveau and Wiener Werkstätte (Viennese Workshops) movements by the likes of Josef Hoffmann and Koloman Moser, as well as from Africa, Oceania, and East Asia.
In 1994, a large part of Leopold's private collection, until then only accessible to Leopold's family, was moved into the Leopold Museum Private Foundation. In 2001, it found its permanent home at the newly opened Leopold Museum in the MuseumsQuartier, which, up until today, aims to further expand the collection.
Special Exhibitions at the Leopold Museum in 2023
media_content.tooltip.skipped
media_content.tooltip.skipped

media_content.tooltip.skipped

media_content.tooltip.skipped

media_content.tooltip.skipped

media_content.tooltip.skipped

media_content.tooltip.skipped

media_content.tooltip.skipped

media_content.tooltip.skipped
Discover the Leopold Museum
media_content.tooltip.skipped
You Might Also Be Interested In