media_content.tooltip.skipped
Husky Toni – a Life with Sled Dogs
Anton Kuttner, better known as Husky Toni, fulfilled his childhood dream in the picturesque Brandnertal valley. He lives there in a very large and unusual family unit - consisting of his human family and 18 sled dogs!
Toni was seven years old when he fell ill with leukaemia and had to spend about a year in hospital. Back then, his mum gave him a book about dog breeds, in which he discovered a sled dog. He immediately fell in love.
"I want one like that," he said at the time.
Today Toni counts 18 huskies amongst his best friends. Toni finds it difficult to explain the bond between him and his dogs. Communication between humans and animals takes place through looks. "When I look a husky in the eyes, it's as though I'm looking in a mirror and see myself," Toni says. "You can never fool a dog. It senses everything. It can almost read thoughts." He trusts his dogs, and his dogs trust him. That is the most important ingredient for cooperation between a "musher", a sled dog owner, and his animals. "A dog will never let you down," he says again, and you can see the affection for his four-legged friends written all over his face.
media_content.tooltip.skipped
They are the best friends that I have. A dog will never let you down.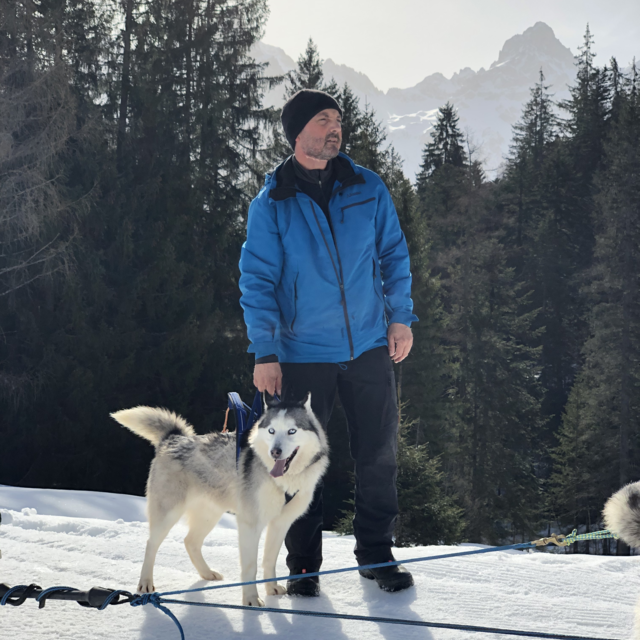 media_content.tooltip.skipped
Anton Kuttner alias Husky Toni
Where Toni is at Home
Brandnertal lies in the south of Vorarlberg and reaches up to 2,000 metres above sea level. It is the ideal place for outdoor activities – above all snowshoe walking and sledding with huskies. Brandnertal leads from the village of Bürs through the Bürser Gorge, a natural wonder from the Ice Age. It extends through the idyllic mountain village of Bürserberg, located at the foot of the Tschengla High Plateau, and ends in the municipality of Brand, often referred to as one of the most beautiful ends to a valley in the Alps. Another highlight in Brandnertal – apart from Toni and his huskies – is the turquoise-green Lünersee lake. During summer and winter, the numerous hiking trails invite to explore the impressive landscape by foot, snowshoe, or dog-drawn sled.
Find out more about the Brandnertal here
media_content.tooltip.skipped
Heading out into Nature with the Huskies
Toni enjoys going snowshoe walking with his huskies. It's an athletic activity that keeps you fit, and you're never alone when you have a dog with you. From time to time the dog will stop to seek contact with its human companion. It wants to be petted and stroked. But you can also feel the animal's incredible strength when it pulls hard on the leash because it wants to chase after a hare or squirrel.
My idea of perfect happiness is to be out with my entire family and for them to share my passion with me.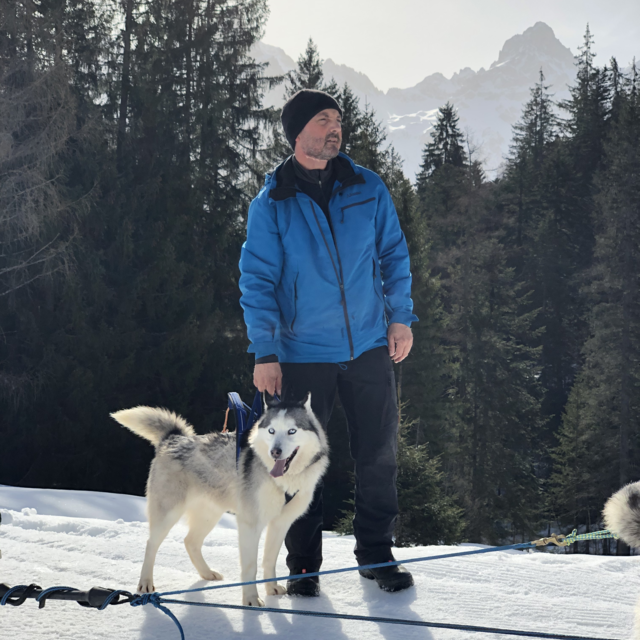 media_content.tooltip.skipped
Anton Kuttner alias Husky Toni
Toni prefers to have the whole family with him when he's on a sled ride with the huskies. The dogs are always really excited before setting off. They bark and jump about, and you can practically feel their anticipation and desire to get running. "This warms up their muscles," says Toni, and explains that the start of a sled ride is always a very energetic and noisy affair. However, it doesn't take long for the dogs to stop barking and fall into so-called "wolf trot" – a quick and continual step that brings the sled up to 12 to 15 km/hour.
The family move through Brandnertal's snow-covered winter landscape with smiles on their faces. It feels as though you're somewhere in the far north – perhaps even in Narnia. The blanket of snow over the fields and forests glistens enchantedly in the sunlight. Everyone is wrapped up warmly in winter clothes with hats, scarves and gloves, and the wind whistles past their ears.
media_content.tooltip.skipped

media_content.tooltip.skipped

media_content.tooltip.skipped

media_content.tooltip.skipped
What I'm doing now is my calling.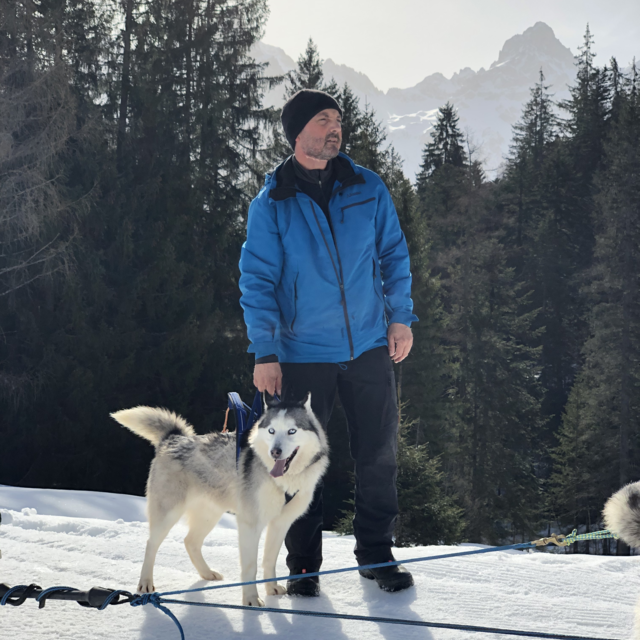 media_content.tooltip.skipped
Anton Kuttner alias Husky Toni
For all who want to experience it themselves
media_content.tooltip.skipped
Toni is incredibly proud to have found such a beautiful place to live in Vorarlberg. "You can feel the freedom in the mountains," he says. It's his idea of perfect happiness to be out with his entire family and to share his passion with them.
When I'm out and about with the dogs, I feel years younger.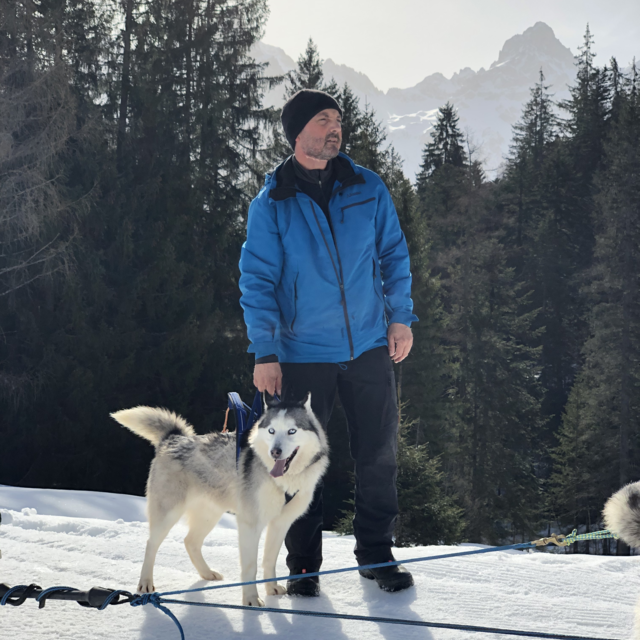 media_content.tooltip.skipped
Anton Kuttner alias Husky Toni
Toni is particularly fond of the husky "Gus". The dog has an intuition for when somebody is feeling sad, and will keep nudging them with his paw until he's stroked. And if you stop stroking him, he will simply keep on nudging. "You're a little teddy bear," Toni says to Gus – and continues to stroke him.
Toni has been living with his sled dogs for 26 years now. He could never be without a dog again. For him it's a life philosophy. "What I'm doing now is my calling." As he says this, his eyes sparkle like those of his huskies.
media_content.tooltip.skipped
What does a musher do?
A musher is a sled-dog leader. He controls his dog-sled team by calling out commands to the lead dog, who then implements them. The most important commands are:
Go or Mush: get moving
Gee: turn to the right
Haw: turn to the left
Ahead: keep straight on
Easy: slow down
Get up: go faster
Whoa, halt, stop: stop
Steh: team stays still
Over time, every musher develops their own language with the animals. However, most of them prefer English commands as these are acoustically easier to distinguish than German-language words. Certain noises are also considered commands: for example, high-pitched whistling or trilling.
media_content.tooltip.skipped
This May Also Interest You