media_content.tooltip.skipped
The Amauris Vienna*****
Located on the famous Ring boulevard near the Vienna State Opera
Historic Viennese Ringstraßen Palais, built in 1861
Member of Relais & Châteaux
Gourmet Restaurant Glasswing, offering a blend of traditional and innovative cuisine
The Amauris Spa with sauna, steam room, indoor pool and gym
media_content.tooltip.skipped

media_content.tooltip.skipped

media_content.tooltip.skipped

media_content.tooltip.skipped

media_content.tooltip.skipped
About
Located on the historic Ring Boulevard, right between the Vienna State Opera and the Musikverein concert hall, the luxury boutique hotel is a perfect gateway to explore the rich Viennese culture. Just a few steps away, you will find Vienna's opulent palaces, famous museums, renowned restaurants, coffeehouses and vibrant shopping streets.
The hotel features 62 guestrooms, including 17 suites, all elegantly, stylishly and luxuriously designed. Experience the grandeur and luxury of Vienna in these high-ceilinged rooms with elegant bathrooms and views of famous sights from your window.
Concierge Tip
Enjoy a special dinner in the gourmet restaurant Glasswing. Guests, as well as locals, experience meals with a perfect blend of innovation and tradition. Here the cultural heritage of Vienna meets bold new flavours. Executive chef Alexandru Simon's primary focus is always on the highest quality, whether the food comes from the nearby region or the sea. During summertime, the terrace invites you to dine outside.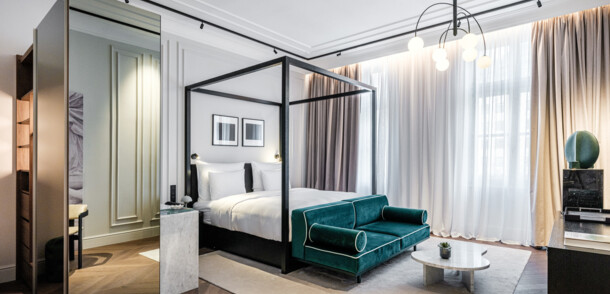 Amenities
media_content.tooltip.skipped
Elegant, modern & luxurious design

Sauna, steam room, indoor pool & gym

Rooms offer views towards the Ringstraße boulevard and the State Opera or St. Charles Church

Gourmet Restaurant Glasswing

A la carte breakfast, fine dining, adjoining bar & terrace
Suites & Rooms
Opera Suite (120 m² / 1.290 sq-ft)
The best way to experience the grace and grandeur of Vienna is from this suite's private balcony overlooking the famous Ringstrasse and the State Opera House. This spacious suite embodies Viennese luxury with its walk-in closet, dining room, separate living and sleeping area, elegant marble bathroom, and heated floors.
From € 3.000,-
Loft Suite (72 m² / 775 sq-ft)
Truly experience the elegance and beauty of Vienna with a view of the famous Karlskirche, St. Charles Church, from this suite's living room and witness the city's charm from the private terrace. The spacious suite epitomizes luxury, with its walk-in closet, Italian marble bathroom and freestanding bathtub beneath a picturesque window.
From € 1.200,-
Grand Maisonette Suite (72 m² / 775 sq-ft)
Soak up the grace and wonder of Vienna in this two-story suite's exclusive, designer bathtub, surrounded by Italian marble and located just beneath a picturesque window. The suite's views of the city rooftops are sure to inspire.
From € 950,-
Executive Suite (55 m² / 592 sq-ft)
Experience the grandeur and luxury of Vienna. These suites offer a view of the famous Ringstrasse and its historic architecture and have their own living and sleeping area and an Italian marble bathroom.
From € 700,-
Grand Deluxe Room (40 m² / 430 sq-ft)
The Grand Deluxe Rooms offer the experience of Viennese grandeur and elegance with a view of the famous Ringstrasse and its historic architecture. Each of these spacious rooms comes with an Italian marble bathroom, sumptuous bathrobes, and heated floors.
From € 500,-
*All prices per room and night
Getting There

Nearby Attractions

Restaurant Recommendations
Top 3 Things to Do Nearby
The Amauris Vienna
Kärntner Ring 8
1010 Vienna
Austria
Telephone:
---