media_content.tooltip.skipped
Margarete Schütte-Lihotzky, Famous Austrian Architect (1897 - 2000)
"I am not a kitchen", Margarete Schütte-Lihotzky famously said. And yet, Austria's first female architect was the designer of the groundbreaking Frankfurt Kitchen in the 1920s, her pièce de resistance and the pioneer of today's modern kitchen. Her influence and legacy reveal an intriguing, multi-faceted pre-and post-war Vienna, a time when male architects still shaped and controlled the housing landscape.
media_content.tooltip.skipped
The Curse of the Kitchen
"If I had known that everyone would keep talking about nothing else, I would never have built that damn kitchen!" Margarete Schütte-Lihotzky said at the age of 101. She would insist: "I am not a kitchen." 
The Austrian architect was famous as the designer of the world's first mass-produced fitted kitchen, but her socially conscious planning was just part of her overall personal goals and political beliefs. She was a stern anti-fascist and fought to improve working-class lives until the end of her life. 
Pièce de résistance
The Viennese artist Rotifer found this so inspiring, he decided to dedicate a song called "The Frankfurt Kitchen" to Schütte-Lihotzky and paint sketches of as many of her other projects as he could find to use them as a backdrop for the video. He called it affectionately her "pièce de résistance." If you look closely at the sketches, you can make out Rotifer's impressions of her fantastic micro-apartment including a disguised roll-out bed, her terraced houses at the Werkbundsiedlung, a beautiful kindergarten for a social housing project, the Viennese Communist party headquarters, as well as her architectural drawings of movements around the kitchen.

media_content.tooltip.skipped
Revolutionary Design
You might not have heard of the Frankfurt Kitchen, but if you have well-organized cabinets, a window over the sink, and an easy-to-clean tiled backsplash, in a sense, you already cook in one. Inspired by the culinary efficiency in the kitchens of railway dining cars and by the ideas of American home economist Christine Frederick, Schütte-Lihotzky wanted to make life easier for working-class people.
It was a social reform. The kitchen was small, only thirteen feet long and seven feet wide. Not a hangout-worthy place like today's open-concept kitchens, but that was kind of the point. Living rooms and kitchens used to be one room. A separated, smaller kitchen was desired since it reduced the number of steps for the lady of the house.  
A woman's place
Was the kitchen efficient? Yes. Was it a step towards gender equality? No. At the time, the Frankfurt Kitchen revolutionized housework. However, that meant the work of a housewife. A major critique in feminist literature was that the kitchen essentially assured that wives and mothers would continue to be just that. A reproach that does not do justice to the new thinking of this woman. She was infuriated to find herself cornered into a feminist discourse. Her ambition was to reduce the burden of women's unpaid labour. As she later put it: "I was convinced that the economic independence and self-realization of women would be a common good and that therefore the further rationalization of household labour was imperative." In later life, though, she maintained she had intentionally been foregrounded by the men, who could bask in the kudos of endorsing a kitchen "by women, for women". But she added that something wasn't quite right. "It worked well as propaganda back then, but to tell the truth, before creating the Frankfurt Kitchen, I never managed a household or cooked or had any experience in the kitchen whatsoever."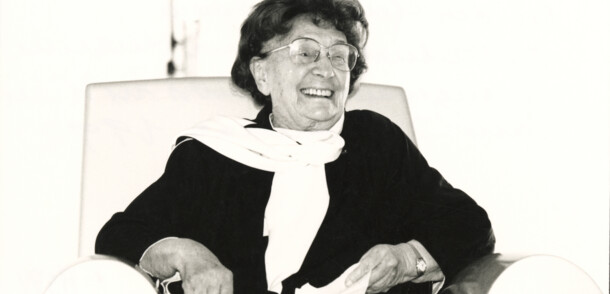 Margarete Schütte-Lihotzky
media_content.tooltip.skipped
January 23, 1897, Vienna, Austria-Hungary

January 18, 2000, Vienna, Austria

Adolf Loos, Otto Neurath, Josef Frank, Oskar Strnad, Ernst May, Maria Montessori, Frederick Winslow Taylor, Christine Frederick, Heinrich Tessenow, Carl Grünberg, Benita Koch-Otte
Trailblazing Architect
Schütte-Lihotzky believed that housework was a profession and deserved to be treated seriously. Yet, for herself, she chose a different path. Born Lihotzky in Vienna's Margareten district in 1897 (she married Wilhelm Schütte in 1927), she became the first female student at the Kunstgewerbeschule, today's University of Applied Arts Vienna. She would become a well-respected architect in what was a man's world.
Even though her family was liberal at the time, they did not initially encourage her studies. "They thought that I would starve to death. Nobody could imagine hiring a woman to build a house in 1916 – not even myself," said Schütte-Lihotzky on her 100th birthday.
592 square feet
That is how big or small her last apartment on Franzensgasse in Vienna was, which the architect lived in for 30 years until she died at the age of 102. The tiles in the bathroom are still true to the original, as is the furniture in the living room designed by her husband. And she created the apartment, of course, according to her architectural notion: efficiently.
The Margerete Schütte-Lihotzky Center
The apartment, a notable accomplishment of Margarete Schütte-Lihotzky itself, was preserved as a unique architectural jewel. It recently opened as an educational space for visitors and researchers.
A visit provides insight into the life and works of Margarete Schütte-Lihotzky and a framework for exchange on discursive and innovative topics of architecture and society.
The apartment is open to the public on Tuesday from 10 am to 2 pm and Friday from 2 - 6 pm:
Margerete Schütte-Lihotzky Center
Franzensgasse 16/40
1050 Vienna

media_content.tooltip.skipped
You can kill a person with an apartment
Coming from a middle-class Viennese family, Schütte-Lihotzky did not know the living conditions of the working class. Her teacher Oskar Strnad, who was designing affordable yet comfortable housing for the working classes, suggested she go and see for herself. It was a shock and a crucial experience. "I didn't yet know the great Heinrich Zille quote, 'You can kill a person with an apartment just as well as with an axe,' but I felt it," she recounted in her memoir.
Next to her world of middle-class intellectuals, she discovered that in Vienna there existed a social class of people living a burdened life. The sources of their misery were not yet clear to her, but she wanted to take up a career where she could contribute to alleviating their desperation. This made her decision to become an architect final.
Red Vienna and New Frankfurt

A Woman with Principles
Follow Margarete Schütte-Lihotzky's footsteps in Vienna:
The famous Frankfurt Kitchen by the architect Margarete Schütte-Lihotzky is exhibited at the MAK in Vienna. Her last apartment opens as a museum in the fall of 2022. And five buildings from her in Vienna are under monument protection. The legacy of this trailblazing woman in architecture is vast and profound. Moreover, following her heritage reveals a multifaceted post-war Vienna.