media_content.tooltip.skipped
Coffeehouse. Livingroom of the Arts
Sigmund Freud did it. Andy Warhol did it. Klimt did it. They all spent countless hours in a Viennese coffeehouse. It is easy to understand why. The comings and goings, the ritual in a coffeehouse, the friends and colleagues you meet all contribute to this unique atmosphere.
The History of Coffee
Coffeehouses and the culture around it, is synonymous with Vienna. However, to really tell the story we have to go back in time: 1683 to be precise. The Ottoman Empire was - again - trying to capture Vienna. This epic battle was fought by the Holy Roman Empire, led by the Habsburg Monarchy and the Polish-Lithuanian Commonwealth against the Ottomans. Once the Ottoman army was defeated bags of strange beans (some even thought, those could be camel feed – or worse camel dung) were found in the abandoned Ottoman encampment by a general of the Polish-Lithuanian Commonwealth. He experimented with the then bitter brew, added sugar and milk, and eventually created a new beverage: coffee.
The new drink was so well received that in 1685 coffeehouses opened quickly all over Vienna and the now-famous coffeehouse culture was born. During its hey-days in the 1910s, Vienna was home to about 600 coffeehouses.
What makes a coffeehouse Viennese?
While there are coffeehouses in many European cities, the laid-back atmosphere found in a Viennese coffeehouse is unmatched worldwide. Nowhere else is coffee served on a silver tray, always with a glass of water, and the spoon resting on the rim. The social etiquette, the rituals, the elegance of waiters dressed in black vests, always a bit terse, create the very atmosphere of the Viennese coffeehouse.

Even the interior of a coffeehouse has changed very little: marbled tables, upholstered sofas, the famous Thonet chair #14, and local as well as international newspapers in their own bentwood holders. However, there are always great exceptions: the design of the Café Prückel, across the street from the Museum of Applied Arts (MAK) is 1950s inspired, very unique indeed. Or the Aida coffeehouse chain, which was founded in 1925, is easily recognized by its candy color pink exterior and interiors.
media_content.tooltip.skipped

media_content.tooltip.skipped

media_content.tooltip.skipped

media_content.tooltip.skipped

media_content.tooltip.skipped

media_content.tooltip.skipped

media_content.tooltip.skipped

media_content.tooltip.skipped

media_content.tooltip.skipped
A coffeehouse is a place, where time & space are consumed, but only the coffee is found on the bill.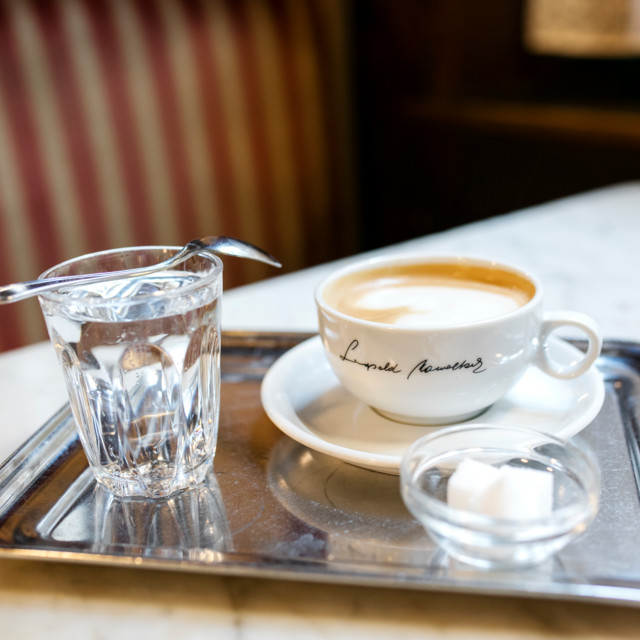 media_content.tooltip.skipped
Stefan Zweig (1881 - 1942)
Apartments were small, cold, and dark at the turn of the 19th century and writers, painters, musicians, intellectuals, and their financiers met in the coffeehouse instead to chat, play games, work, read, and make deals. And since coffeehouses offered free local and foreign papers, they quickly became the place everyone could get their information.

Around 1890 Café Griensteidl became the favorite meeting place for a group of literary figures called "Jung Wien" (Young Vienna). Writers such as Hugo von Hofmannsthal, Karl Kraus, and Arthur Schnitzler met at the café and gave birth to Coffeehouse Literature. The writer Friedrich Torberg famously said, that his book "Tante Jolesch" is basically a book about coffeehouses. However, it is also a book of melancholy depicting Jewish bourgeoise life in the Austria-Hungarian monarchy in a witty and humorous way.
media_content.tooltip.skipped
Where Artists met then...
While writers met at the infamous Café Griensteidl before moving to the Café Central and Café Herrenhof; the Café Landtmann was regularly frequented by famous psychoanalyst Siegmund Freud, as well as Leon Trotzky before his departure to the US.
Artists, such as Klimt, Kokoschka, Schiele, Loos and Wagner, could be found at the Café Museum. A great café, around the corner from the University of Applied Arts, designed by Josef Zotti, a student of Josef Hoffmann, who created half-round booths to create a livingroom atmosphere. After extensive renovations in 2010, the Café Museum is back in its original splendor and now offers reading by writers and poets. Even during the great depression, the visit to a coffeehouse was unimaginable, so Stefan Zweig apparently said to the waiter at his favorite coffeehouse: "Please keep my spot while I go home to have a cup of coffee". This clearly shows the status the coffeehouse played in people's lives.
media_content.tooltip.skipped
...and now
The Vienna art scene of the 1960s famously met at the Café Hawelka, which has barely changed since its opening in 1939, as well as the Café Korb, where its eccentric owner Susanne Widl presides over her little empire.
Patrons sat (often for hours) next to artists like the fantasic realist Ernst Fuchs, allround artist and environmental protector Friedensreich Hundertwasser, surrealist Rudolf Hausner, or actor & comedian Helmut Qualtinger, actor Oskar Werner (think Guy Montag in Ray Bradbury's Fahrenheit 451), or even pop artist Andy Warhol, writer Arthur Miller and actor Peter Ustinov.
To this day the Viennese coffeehouse is an institution held high. It still is a place to meet, discuss, and enjoy great company while having a cup of coffee. Today, you'll most likely bump into ministers of government at the Zum Schwarzen Kameel, or find artists and art students at the Café Prückel (across the street from MAK), or sit next to actors, directors at the Café Landtmann right next to the nearby Burgtheater. It is still considered an extension of your living room, where you pop in, meet friends, have a cup of coffee before you go about the rest of your day. A little break offered at every corner in Vienna.
media_content.tooltip.skipped

Our favourite Coffeehouses

media_content.tooltip.skipped

What coffee should you order?
Our favourite Coffeehouses

What coffee should you order?