media_content.tooltip.skipped
Tradition and sustainability down to the joints
"We might not be in Scotland, but in Styria our herbs are just as capable of making good gin," says Manfred Mayer, manager of the Kohlröserlhütte. All around the Ödensee, botanicals flourish that are used to make the restaurant's own gin. But this is not the only surprising product created in the "Genusswerkstatt" of the Kohlröserlhütte …
The Kohlröserlhütte is situated in the middle of the Ödensee Conservation Area. This is why it was important to Manfred Mayer to create a place that fits into its natural surroundings and doesn't seem out of place. "We completely renovated the restaurant in 2015, using only natural materials: The joints, for example, are insulated with moss, as was customary in the Alpine huts in the old days," explains Mayer, a native of Bad Aussee. Since the renovation, the Kohlröserlhütte is thus much more than just a hut. The "Genusswerkstatt" (culinary workshop) is where the house pasta is produced, the perfect match for Manfred Mayer's famous pesto varieties, made with ingredients that grow around the lake and in the restaurant's own herb garden. 
media_content.tooltip.skipped
"Cooking should never become boring"
The fascination for cooking international dishes using local ingredients grew out of the Mayers' passion for travelling, which is what took the Styrian chef to a wide variety of countries. "I was very fascinated by China, Scotland, and England, as well," he says enthusiastically. He lived for a year and half in London with his wife, Christina, where he worked as a chef in a five-star hotel. But ultimately they were drawn back to Austria. Manfred got a job offer as head chef in Bad Aussee, where he stayed for twelve years, and where he and his staff even cooked their way up to a prestigious Gault-Millau toque. "In this period, I learned a great deal and took a number of classes in order to keep growing as a chef. Today, I am a master chef, grill master, and a certified meat and wine sommelier," he says proudly. Manfred Mayer has always recognised and seized opportunities, as he did in 2011 with a project dear to his heart. "At the time I had just turned 30 and thought: 'Now you still have at least 30 years until retirement.' I wanted to build up something of my own where I could live out my ideas," says the trained cook. The result was Mayer's "Genussladen", which is still part of the Kohlröserlhütte to this day. In addition to Mayer's speciality, char pesto, the shop also features selected wines, spices, oils, and culinary treasures from the fresh-produce counter. 
media_content.tooltip.skipped

media_content.tooltip.skipped

media_content.tooltip.skipped

media_content.tooltip.skipped

media_content.tooltip.skipped

media_content.tooltip.skipped

media_content.tooltip.skipped

media_content.tooltip.skipped
A culinary world trip with regional roots
"We have Styrian sushi. Instead of salmon, we use our Aussee char, the rice comes from eastern Austria, and we replace the nori sheets with local lettuce leaves," says Manfred Mayer about his international approach. His teriyaki dishes also have an Austrian touch, as the char cooked in it comes right from the region. "We enjoy experimenting, which is why every week there is a different culinary surprise at the menu of the Kohlröserlhütte." Fans of schnitzel and Kaiserschmarren will also find many things to their liking. In his cooking, Manfred Mayer always uses sustainable and regional products that he selects himself. The tomatoes come from the farm store and fresh Demeter-quality vegetables from the organic farm, which even uses a horse for ploughing. Manfred's big dream is to build a facility for raising livestock next to the herb garden. "There are no concrete plans yet, but I have been flirting with this idea for a while," says the chef with a grin. 
media_content.tooltip.skipped

media_content.tooltip.skipped

media_content.tooltip.skipped

media_content.tooltip.skipped

media_content.tooltip.skipped

media_content.tooltip.skipped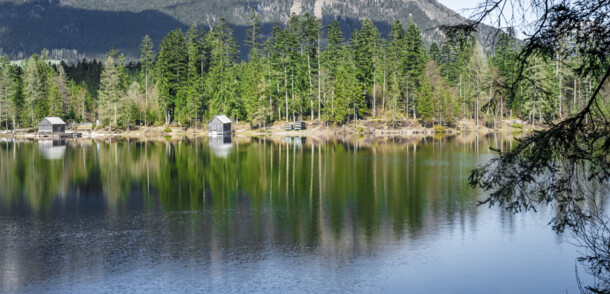 Nature Reserve Ödensee Lake
media_content.tooltip.skipped
780 m / 2,560 ft above sea level
Fine food and natural beauty
Even when there is no longer snow lying anywhere else, the Ödensee lake is a genuine "snow magnet". "There are times when getting to work can be quite an adventure," laughs Manfred, who doesn't live at the Kohlröserlhütte himself, but enjoys taking advantage of the recreational opportunities in the conservation area in his free time: "Whether you merely watch the snowflakes fall from the cosy dining room or take a walk outside and try out the cross-country ski trail—it is simply gorgeous when everything is covered with snow." When temperatures warm up in spring, even the fair-weather day-trippers are lured back to the Ödensee lake. Then, operations at the Kohlröserlhütte go into full swing. On hot days, the Ödensee lake is a popular destination for avid swimmers. "And after you work up an appetite swimming, quick refreshment is available in the garden, where you can enjoy home-made snacks and ice cream," says Manfred. "We combine this with solid, unpretentious food as well as gourmet meals in order to offer something to the foodies as well," explains the chef.
The Kohlröserlhütte is also a popular spot for couples to tie the knot. "Particularly in summer, we have a lot of celebrations here," says Manfred happily. From the civil service and the banquet to the exuberant celebration afterwards: the entire wedding day can be spent at Ödensee lake. "Even the wedding cake is made at our own pastry shop," explains Manfred Mayer proudly. "I want everything to be as uncomplicated as possible for the guests, so we handle everything ourselves." But Manfred Mayer is not one to rest on his laurels—he is already working on his next project …
Weddings at the Kohlröserlhütte
media_content.tooltip.skipped
Here you can find the Kohlröserlhütte
Unterkunft in Österreich buchen
This could interest you as well
Styria

Called the 'Green Heart' of Austria with large forests throughout the province and inviting vineyards.

Discover Styria

media_content.tooltip.skipped

Wine in Styria

From a historic perspective and a culinary one, the province of Styria is well worth discovering. Just two hours south of Vienna you'll find rolling hills lined with vineyards, orchards and bright pumpkin patches. Sprinkled throughout is the perfect mix of medieval castles and manufacturers of local delicacies.

Read more

media_content.tooltip.skipped