media_content.tooltip.skipped
DAS EDELWEISS Salzburg Mountain Resort
Family-run hotel with 14 family members working in the hotel
Brand new 7,000 m2 (75,347 sq ft) spa area for families and adults
Ski-in ski-out in winter and perfect starting point for hiking in summer
New, modern architecture based around wood, glass, and stone
In the heart of the Grossarltal Alps, and 55 minutes from Salzburg airport
Award-winning cuisine - from steaks to sushi
Find COVID-19 measures and cancellation policy here
Includes the Edelweiss Mountain Cuisine and the whole Mountain Spa area
Book Now
media_content.tooltip.skipped

media_content.tooltip.skipped

media_content.tooltip.skipped

media_content.tooltip.skipped

media_content.tooltip.skipped

media_content.tooltip.skipped

media_content.tooltip.skipped

media_content.tooltip.skipped

media_content.tooltip.skipped

media_content.tooltip.skipped

media_content.tooltip.skipped

media_content.tooltip.skipped

media_content.tooltip.skipped
About
DAS EDELWEISS is above else a family-run hotel, lovingly managed by the third generation of Hetteggers. At this point, 14 family members are working in the stunning Alpine hotel and make it a home for their guests. Sweeping windows offer panoramic views of the mountains and the property's spacious and clean interior design ensure a visually beautiful experience. DAS EDELWEISS places special value on enjoyment and relaxation for adults travelling alone and families alike: the heart of the hotel is the Mountain Spa and an indoor slide park.
Foodies will love the brand-new on-site steakhouse "Sirloin Grill & Dine" serving local meats and the authentic sushi creations at the "Kork & Gloria" wine bar.
Concierge Recommendation
Watch the sunset from the outdoor infinity pool that faces Grossarl's iconic mountains. Then indulge in traditional Alpine cuisine at the hotel restaurant!
New and renovated, but it hasn't lost any of its family-run charm. The breakfast buffet is by far the largest and most lavish I have ever seen. Dinner, the wine list, and the staff are of the highest quality! We'll be back.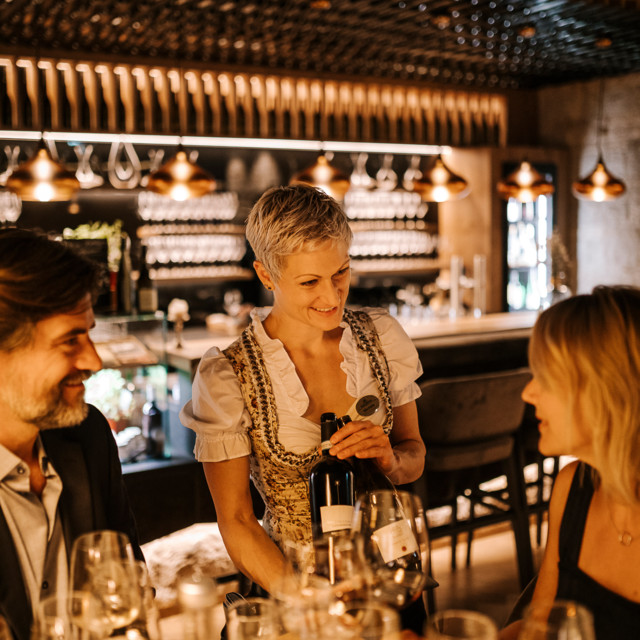 media_content.tooltip.skipped
TravelPfi84 / Tripadvisor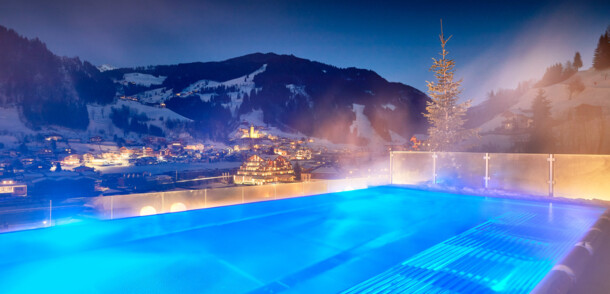 Hotel Amenities
media_content.tooltip.skipped
Alpine 4-course evening menu and first minibar included

Infinity Pool and Sports Pool and a big indoor aqua park and separate sauna areas for family and adults

(E)bikes, walking sticks, smooveys, hiking poles, backpacks

Free underground parking garage with e-charging stations (incl. TESLA charging stations)
Suites & Rooms
Double Room "Alpenrose deluxe" (25 m2 / 269 sq-ft)
Alpine comfort room with stylish, feel-good details. Newly renovated and furnishes in an Alpine chic.Bathrooms and toilets are not separated. All rooms have a balcony.
From € 170
Junior Suite 'Melisse' (38 m2 / 409 sq-ft)
Feature a unique charm of traditional and modern design. High-quality materials harmonize and are complemented by the magnificent view. Bathroom and toilet are separated. All rooms have a balcony.
From € 185
Junior Suite 'Margerite' (45 m2 / 484 sq-ft)
Traditional, modern furnished rooms with high-quality materials and great attention to detail. Offer plenty of space and a place to relax in peace. The bathrooms feature a shower and bathtub. Bathroom and toilet are separated. All rooms have a balcony.
From € 200
Suite 'Silberdistel' (58 m2 / 624 sq-ft)
Ideal for families as they have a separate bedroom. Relax in a homely, familiar atmosphere. The bathrooms feature a shower and bathtub. Bathroom and toilet are separated. All rooms have a balcony.
From € 210
Premium Suite 'Lavendel' (70 m2 / 753 sq-ft)
Wonderful panoramic view and prime location. Furnished in an Alpine modern style, the deluxe suites have exquisite oak floors and are finished with premium-quality natural materials. The spacious rooms are equipped with a mobile wooden partition wall and an open cabinet space. Includes two separate bathrooms. All rooms have a balcony.
From € 225
media_content.tooltip.skipped
Nearby Attractions

Getting There
Top 3 Things to Do Nearby
DAS EDELWEISS Salzburg Mountain Resort
Unterbergstraße 65
5611 Großarl
Telephone:
---