media_content.tooltip.skipped
Chalets by The Kaprun Edition
A collection of luxurious chalets in the Alpine village of Kaprun
Built from logs with organic, untreated wood
Spacious chalets with private saunas, hot tubs, or outdoor bathtubs
Access to football (soccer), basketball, and volleyball courts
Located in the hiking and ski region of Zell am See - Kaprun
media_content.tooltip.skipped

media_content.tooltip.skipped

media_content.tooltip.skipped

media_content.tooltip.skipped

media_content.tooltip.skipped

media_content.tooltip.skipped

media_content.tooltip.skipped

media_content.tooltip.skipped

media_content.tooltip.skipped

media_content.tooltip.skipped

media_content.tooltip.skipped

media_content.tooltip.skipped

media_content.tooltip.skipped

media_content.tooltip.skipped
About
The chalets by The Kaprun Edition are located along the Achen river in the village of Kaprun in the Salzburg region and invite you for a relaxing holiday with hiking or skiing in this beautiful Alpine region at Lake Zell. The chalets form their own self-contained village and offer complete privacy, high-quality service with a focus on regionality, exclusivity, and personal attention, and numerous amenities, such as football, basketball, and volleyball courts.
The owner and Managing Director, Mrs. Susanne Fischer, has realized her dream and shaped The Kaprun Edition with much attention to detail and devotion into what it is today: a charming chalet village. During your stay, you will notice her dedication to creating a memorable holiday for you as well as a respectful and pleasant work environment for her employees.
Concierge Tip
Explore high mountain massifs, crystal-clear mountain lakes, and broad valleys with Lake Zell as their centerpiece on some of the numerous hiking, cycling, and mountain bike trails through the heart of the region.
The modern interior and equipment of the old-style building offer a feel-good atmosphere without neglecting the local culture.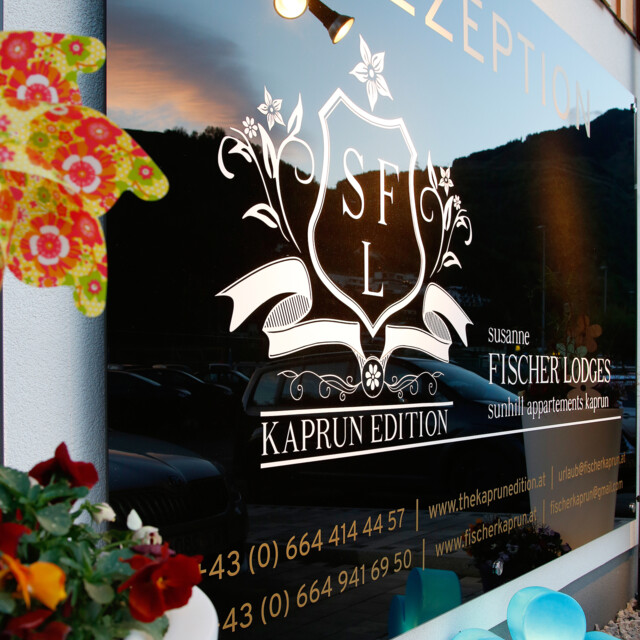 media_content.tooltip.skipped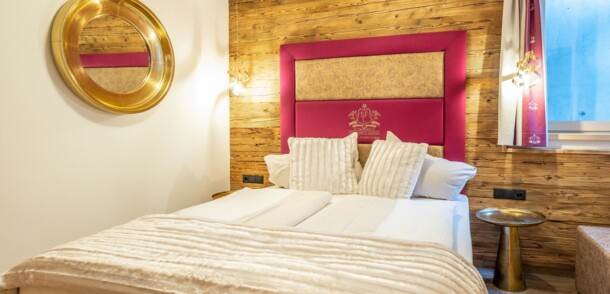 Amenities
media_content.tooltip.skipped
Fresh bread rolls delivered to the door daily

Each chalet has its own private terrace

Each chalet offers a private sauna or wood-fired hot tub

Access to football, basketball and volleyball courts
Accommodation
Organic Chalet with 3 bedrooms (100 m2 / 1,076 sq-ft)
Chalet with 3 bedrooms, 2.5 bathrooms, living/dining room, and kitchen; features a private terrace, a private outdoor sauna, and a wood-fired hot tub; sleeps up to 10 guests.
From € 500
Riverside Chalet with 4 bedrooms (120 m2 / 1,292 sq-ft)
Chalet with 4 bedrooms, 3 bathrooms, living/dining room, and kitchen; features a large private terrace, an outdoor bathtub (extra charges), and a private sauna; sleeps up to 16 guests; views over the crystal-clear mountain river, Kapruner Ache.
From € 700
Riverside Chalet with 5 bedrooms (120 m2 / 1,292 sq-ft)
Chalet with 5 bedrooms, 3 bathrooms, living/dining room, and kitchen; features a private terrace, an outdoor bathtub (extra charges), and a private sauna; sleeps up to 16 guests; views over the crystal-clear mountain river, Kapruner Ache.
From € 740
Adventure Chalet with 5 bedrooms (110 m2 / 1,184 sq-ft)
Chalet with 5 bedrooms (2 in special sleeping huts outside), 1.5 bathrooms, living/dining room, and kitchen; features a large terrace, a private food-fired hot tub, and a private outdoor sauna; sleeps up to 14 guests.
From € 650
Organic Deluxe Chalet with 7 bedrooms (200 m2 / 2,153 sq-ft)
Chalet with 7 bedrooms, 4 bathrooms (2 ensuites), living/dining room, and kitchen; features a large terrace, a private wood-fired outdoor hot tub, and a private sauna; sleeps up to 18 guests.
From € 800
More Lodges with Suite Rentals available (see all)
*all prices per chalet and night, excl. taxes and final cleaning
Getting There

Nearby Attractions

Restaurant Recommendations
Top 3 Things to Do Nearby
The Kaprun Edition
Schulstrasse 15
5710 Kaprun
Austria
Telephone:
---