Andaz Vienna Am Belvedere*****
Contemporary local art and design throughout the hotel
Rooftop bar Aurora, located on the 16th floor, with stunning views over the most liveable city in the world, spirited cocktails, fire pit, and DJ
The finest roast pork in town at the Eugen21 restaurant
Try the Andaz lager, specially brewed by the Ottakringer brewery in Vienna
Environmental sustainability through local suppliers, organic ingredients, and eco-friendly processes
Focus on traditional Viennese craftsmanship: a hand-drawn map in your closet shows traditional handicraft businesses such as tailors or shoemakers in the area
may vary depending on season and availability
Book now
About
Andaz is Hindi for "personal style", a name that celebrates the individuality of every guest and represents the uniqueness of each property. Andaz Vienna Am Belvedere offers the curious and creative traveller an authentic upscale hotel experience – one you can see, hear, smell, taste, and feel. The luxury lifestyle hotel is inspired by the spectacular art and architecture of the city, the diverse cuisine, the outstanding quality of life, and the irresistible charm. The atmosphere at Andaz is vibrant yet relaxed – the hotel reflects the unique cultural scene and spirit of the surrounding neighbourhood. All rooms have floor-to-ceiling windows with some of the best views of Belvedere Palace, which is just down the street. The Andaz' health & wellness area, restaurant, eatery, and stunning rooftop bar on the 16th floor round out the cosmopolitan experience.
Concierge Recommendation
Take advantage of the hotel's incredible location across from the Belvedere 21 museum of contemporary art - entry is free with your Andaz Vienna room key card.
"We visited Vienna for 4 days and luckily decided to stay at this brand new hotel. The Andaz was opened 6 months ago and tis located right next to the main station. Within 10 min by tram, you are right in the city centre. The rooms leave nothing to wish for. Same applies to the staff, they help you with anything you need. We will definitely stay in this hotel again when we return to this beautiful city and strongly recommend you to do so as well!"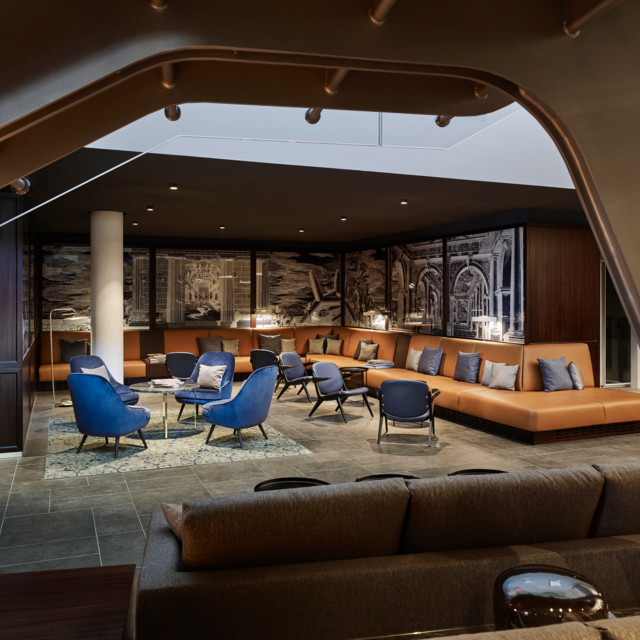 Hotel Amenities
views over Vienna and Belvedere Palace

"Very Important Baby", "Very Important Dog"

Aurora rooftop bar on the 16th floor

drinks, food, and a breathtaking panorama

newly interpreted Austrian classics

sandwiches, salads, grilled dishes

Austrian wine and light snacks
Suites & Rooms
Standard-King Bedroom: 30 m² / 322 sq-ft; urban room with locally inspired design, outfitted with a king bed and featuring floor-to-ceiling windows. Views over the city, the park, the neighbourhood, or the train station. Stylish bathroom with walk-in shower and bath amenities by Saint Charles Apothecary. Non-alcoholic mini-bar beverages and welcome snacks, wireless Internet, local phone calls, and access to the hotel's spa and wellness area are complimentary.
From € 190
Deluxe-King Bedroom: 33 m² / 355 sq-ft; extra lounging space and an iconic view of the city or the park. King bed, floor-to-ceiling windows, and a spacious bathroom with walk-in rain shower.
From € 260
Andaz Suite: 41 - 44 m² / 441 - 473 sq-ft; separate spacious living area, large bathroom with walk-in shower and bathtub.
From € 390
Andaz Deluxe Suite: 63 - 65 m² / 678 - 699 sq-ft; suite with a separate bedroom and living room, a walk-in closet with a dressing table, and a clothes valet. Bathroom with bathtub and walk-in rain shower.
From € 490
Belvedere Park View Suite: 61 m² / 657 sq-ft; corner suite with a stunning view over the famous Belvedere Palace. Separate living room, bedroom with walk-in closet, and large bathroom with walk-in shower and separate bathtub.
From € 590
Executive Suite: 108 m² / 1,162 sq-ft; loft-like suite with oversized bathroom. Walk-in rain-forest shower, double sinks and a bathtub, rounded off with bath amenities by Saint Charles Apothecary.
From € 790
Penthouse Suite: 194 m² / 2,088 sq-ft; loft-like and light-flooded suite with floor-to-ceiling windows providing views over the entire city and the surrounding areas. The one-bedroom suite is outfitted with a plush king bed, a separate living and dining room, a kitchenette with pantry, a balcony, and an oversized bathroom featuring a bathtub and walk-in rain shower.
From € 2,400
Rates may vary depending on season and availability
"The Andaz is exceptional - wonderful rooms with the most comfortable beds (I haven't slept this well in a hotel ever before), great breakfast and very friendly and helpful staff. Just 5 mins walk from the U1."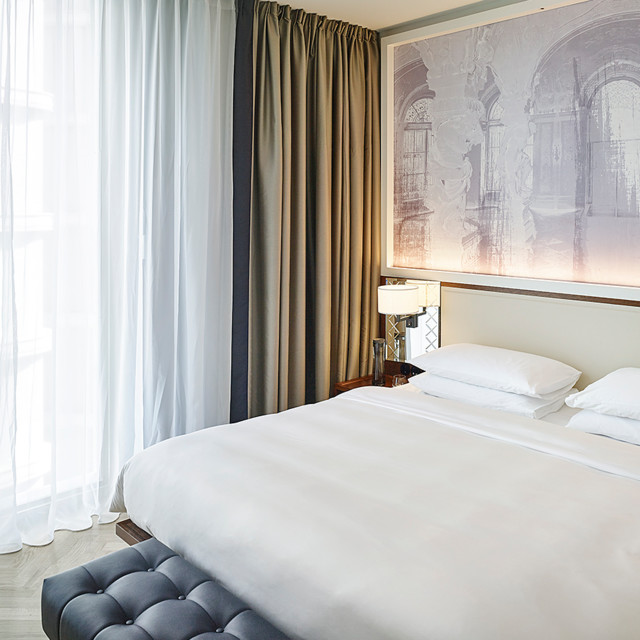 Top 3 Things to Do Nearby
Andaz Vienna Am Belvedere
Arsenalstraße 10
1100 Wien
Telephone:
---