media_content.tooltip.skipped
Hotel Schloss Dürnstein*****
The only 5-star hotel in Lower Austria
Historical castle from 1622 located on the shores of the Danube
Located in the picturesque wine region and UNESCO World Heritage site Wachau
A family-owned hotel run by two generations of the Thiery family
Indoor and outdoor pools
Wine cellar with a wide selection of local wines
media_content.tooltip.skipped

media_content.tooltip.skipped

media_content.tooltip.skipped

media_content.tooltip.skipped

media_content.tooltip.skipped

media_content.tooltip.skipped

media_content.tooltip.skipped

media_content.tooltip.skipped
About
Feel at home in the beautifully tended 400-year-old palace. A smile greets you upon arrival, and you'll be taken to your room. Each room is uniquely decorated with historic vaulted ceilings, fine parquet floors, and antique furniture. Open the window to see the Danube and the vineyards stretch in front of you and realize you have arrived in one of Austria's oldest and most historic regions.
For centuries, Schloss Dürnstein was owned by the aristocratic Starhemberg family. The palace's recent history has been in the hands of the Thiery family. Today, Christian Thiery and Maria Katharina Thiery-Schroll manage the hotel and restaurant together with their parents, Johann and Rosemarie. It is a family business in the best sense. The Thierys and their staff spare nothing to ensure that you enjoy a perfect stay.
Concierge Tip
Take a boat trip along the Danube to experience the Wachau from an exceptionally beautiful perspective. Starting in Dürnstein, you can choose a romantic private tour for two or a group tour for up to 13 people.
Gorgeous property, excellent throughout – The best hotel we stayed in during our visit to Germany and Austria. Gorgeous property with beautiful pools (2!), fresh flowers everywhere, wonderful restaurant overlooking the Danube. Pleasant and helpful staff.T
media_content.tooltip.skipped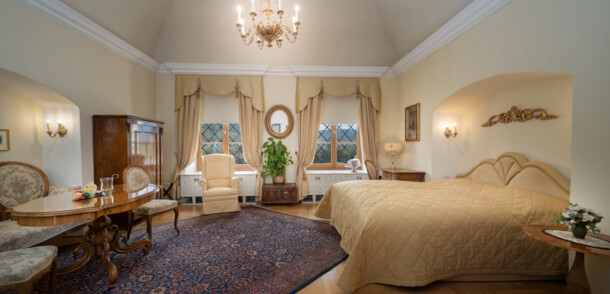 Amenities
media_content.tooltip.skipped
Historical features and furniture fitting the charm of the building

Indoor & outdoor pools, sauna, steam bath & infrared cabin

Rooms offer amazing views towards the ruins of Dürnstein, the town of Dürnstein, or the Danube river
Suites & Rooms
Double room Basic (20-22 m² / 215-236 sq-ft)
Cosy rooms fitting the charm of the building, view towards the ruins of Dürnstein / town of Dürnstein, shower or bathtub, span carpet or parquet, small seating area.
From € 300*
Superior room (25-32 m² / 269-344 sq-ft)
Furniture fitting the charm of the building, view towards the ruins of Dürnstein / town of Dürnstein / monastery, shower or bathtub, span carpet or parquet, seating area, space for 4 people max. with rollaway bed.
From € 350*
Superior Plus room (22-26 m² / 215-279 sq-ft)
Furniture fitting the charm of the building, view to the Danube river, shower or bathtub, span carpet or parquet, seating area.
From € 380*
Deluxe room (45-60m² / 484-645 sq-ft)
Spacious rooms, view to the Danube river/town of Dürnstein, shower or bathtub, span carpet or parquet, seating area, space for 4 people max. with rollaway bed:
Alternative apartment options available with separate bedrooms.
From € 510*
Balcony Suite (50m² / 538 sq-ft)
2 floor-suite with a balcony facing the Danube river, separate bedroom and living room, shower and bathtub, parquet, newly renovated in 2023
From € 650*
*All prices per room and night
Villa Schönthal (130m² / 400 sq-ft)
Rent the entire two-level country house with exclusive service for the highest 5-star expectations. The villa offers 2 bedrooms, a spacious living room with an open fireplace, a fully equipped kitchen, and a sauna, as well as a private garden and terrace. Accommodation for up to 8 people.
From € 421
Getting There

Nearby Attractions

Restaurant Recommendations
Top 3 Things to Do Nearby
Hotel Schloss Dürnstein GmbH
Dürnstein 2
3601 Dürnstein
Austria
Telephone:
---