Enjoying Nature at Asitz Mountain

media_content.tooltip.skipped
From Wreck Diving to White-Water Swimming: 5 Unexpected Aquatic Adventures in Austria
Austria's rivers and lakes aren't just for swimming. You can also dive down under the waves to see a submarine made of concrete, or glide across the water's surface while practicing yoga.
It's early summer, the first really hot day of the season. You enjoy your first ice lolly of the year, bought barefoot from the kiosk. You bake yourself in the sun for a while, and then it's time for your first dip into the cool, refreshing water! Pure summer bliss. Alongside classic summer fun, Austria's waters have some surprising activities on offer. For example, did you know that it's possible to go diving for concrete submarines in Lake Attersee, or paddling in an underground river in Carinthia?
Wreck Diving for Curiosities: What's a Concrete Submarine Doing Here?
Imagine going diving, but instead of finding corals, you come across a wooden outhouse with a heart door, a bathtub, and an Austrian car from the 1930s. If this is the situation in which you find yourself, you can place your bets on being out and about in Lake Attersee. Those who don an oxygen tank here can marvel at prehistoric lake dwellings (a UNESCO World Heritage Site!) - complete with underwater information boards, just as one would see in a museum.
At the same time, there are also curious relics waiting to be discovered - above all, a sunken submarine. The submarine, however, doesn't date back to wartime, but was built in the 1990s by a private inventor, as a prototype for a luxury underwater yacht innovatively made out of concrete. Years later, when its constructor emigrated to South America, the submarine was left behind to stay swimming in the lake. For reasons unknown, it sank, and in doing so became a sight worth seeing for divers.
Find out more
media_content.tooltip.skipped
Travel by Canoe into an Underground Grotto
The water seems simultaneously crystal clear and deep turquoise. It's the middle of the day, but the only light here comes from the glow of the adventurers' headtorches. A cool breeze rises up from the depths of the tunnels to greet them as they cautiously cast off, and paddle along the underground river, which was once a mine. Finally, they reach a lake lying almost 700 m (2,300 ft) below the earth's surface, from which a subterranean labyrinth of flooded tunnels and excavation site can be explored.
Grab your passport and take the bus across the border, from Lake Klopeinersee in Carinthia to Mežica on the Slovenian side of the Petzen, to experience the unique excursion. Ore was mined here until 1994. Once the mine closed, the water was no longer drained - and a magical, underground world of water was created as a result. A magical world that can now be explored by kayak.
Off to the netherworld
Canoe trip in the mine in the region Klopeiner See, Carinthia
media_content.tooltip.skipped
White-Water Swimming: For Those Who Find Rafting Humdrum
"You have to go with the flow - literally. If you try to work against it, you've got no chance", says Nicolas Moser, one of the four white-water swimmers featured in the film "Seekers of the Element". The adrenaline junkies launch themselves into the white, foaming water of a wild alpine river, and swim over rocks, rapids, and shoals with the roaring current.
Equipped with only helmets and wetsuits, it's hard to get much closer to untamed nature than one does while white-water swimming: "A kayaker will never get there!" This is both an extreme sport and, at the same time, an unexpected team sport. Each swimmer needs to act as the safety net for another: "Because if something goes awry, it's essential that you can work together and bail each other out."
To the film: "Seekers of the Element"
media_content.tooltip.skipped
You have to stay present in the moment when practicing SUP yoga, because when your thoughts wander, that's when your balance is quick to go.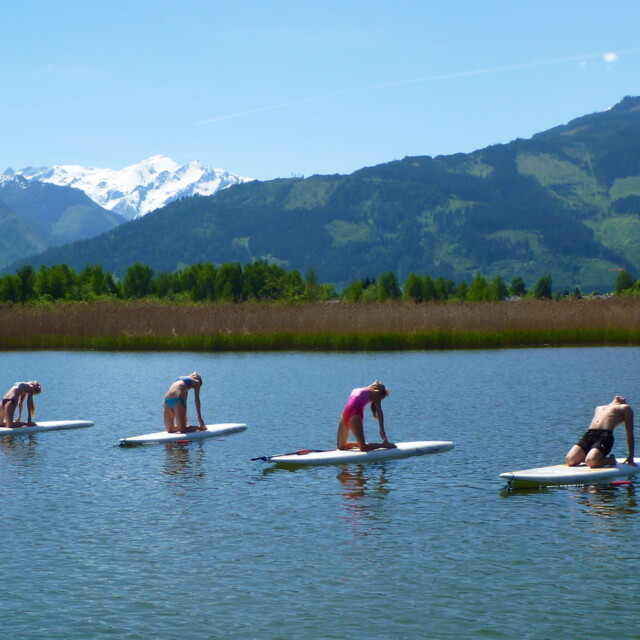 Yoga on the Stand Up Paddleboard
media_content.tooltip.skipped
Yoga on a Stand-Up Paddleboard: Unexpected Plunges and Sweet Baby Swans
You can do yoga anywhere, people say, even on water. Julia, who teaches stand-up paddleboard yoga in Vienna, ascribes to this theory: "SUP yoga is the perfect combination of yoga, nature, water and summer." On one hand, it's a challenge physically (try to keep your balance!) and it engages your core muscles. On the other, it's a mental exercise in which you have to concentrate hard, "because when your thoughts wander, that's it for your balance, and you end up going headfirst into the water". Even so, Julia says that, in a group of 15, just one person on average falls into the water. Most of the participants surprise themselves, finding that SUP yoga isn't as difficult as they'd expected.
Anything can happen when you're practicing SUP yoga in the middle of nature. Alongside spots of involuntary swimming, one might sometimes encounter a group of baby swans swimming by. "No one experience is like another", say Julia. "But they all do have one thing in common: at the end of the session, the yogis return their SUP board with a smile, and say that they feel as though they've taken a break from the stresses of the everyday".
Want to give it a go yourself?
Yoga on the Stand Up Paddleboard
media_content.tooltip.skipped
Winter Kayaking: When the Kayak Becomes an Icebreaker
Do you have a desire to go kayaking, but an aversion to crowds? Then winter kayaking could be just the thing for you: whether on secluded lakes that are as smooth as glass, or icy rivers that wind through snow-covered forests - experienced(!) paddlers can experience the sport they love in a whole new way during the cold winter season.
As your paddle cracks through the layer of ice for the first time, instead of diving effortlessly into the water as expected - that's when you know you're about to experience something extraordinary. And upon looking around and seeing only the winter sun as it's reflected back to you by the waves, you get the feeling of having the whole lake all to yourself. Your only companions: the swans, which glide over the water's surface as silently as you do.
More about winter sports in Austria
Kayaking in winter at Lake Weissensee
media_content.tooltip.skipped