Hedy Lamarr, Girl On The Moon

media_content.tooltip.skipped
Hedy Lamarr, Hollywood Goddess and Lady Bluetooth
Legendary actress Hedy Lamarr was known in Hollywood as "the most beautiful woman in the world." Her career in film started in Vienna, her birthplace. There you can wander in the footsteps of Hedwig Kiesler, as she was known in her youth.
Scandalously smart and beautiful
Born in 1914 in Döbling, Vienna, the young Hedwig Eva Maria Kiesler already loved to experiment as a little girl. She also discovered her love for film at an early age. And so she made history with her very first foray into the film business: A screen-filling nude scene in the Czech arthouse film "Ekstase" was a full-blown scandal. Later, she played Empress Elizabeth at the Theater an der Wien in Vienna. In 1933, the actress married the much older, and quite jealous, weapons manufacturer Fritz Mandl, whom she ran away from to New York in 1937. She changed her name to Hedy Lamarr upon the recommendation of legendary MGM-Studio head Louis B. Mayer. Billed as "the world's most beautiful woman," Lamarr was known more for her androgynous, European style than her acting skills. In the late 1930s, fellow actresses copied her style, coloured their hair brunette and wore it parted in the middle. Like Lamarr, they wore hats, turbans and scarves. Neither the movie "Algiers" nor the history drama "Samson and Delilah" directed by Cecile B. DeMille were smash hits.
Apart from acting, Lamarr was interested in technological innovations. Together with experimental musician George Antheil, who also had immigrated to the US, she developed a patent for frequency-hopping spread spectrum communication which is used today - in a slightly different form - in wireless communications such as Bluetooth. For this invention, she was awarded the technological equivalent of an Oscar, the EEF-Pioneer Award. Hedy Lamarr died in 2000, in Florida, in relative obscurity. Today, her reputation as "Lady Bluetooth'' is her most important legacy.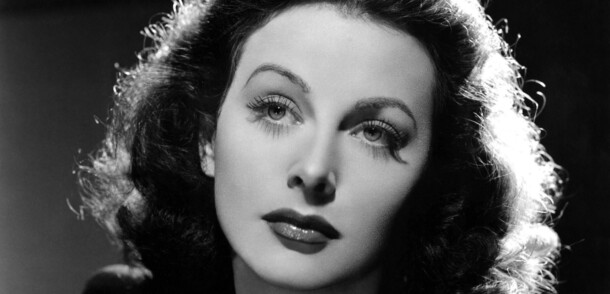 Hedy Lamarr
Hedy Lamarr in the film "The Heavenly Body", Film Still, 1944
media_content.tooltip.skipped
Vienna, Paris, London, New York City, Los Angeles

1933 the first naked scene in film history, film "Ecstasy"

1942 co-invented an early version of frequency-hopping spread spectrum communication for torpedo guidance
A life as Hollywood star and inventor
Hedwig Eva Maria Kiesler grew up in a culturally minded, bourgeois family in Vienna and emigrated to New York in 1937. There, taking the advice of studio executive Louis B. Mayer, she changed her name to Hedy Lamarr. Mayer promoted her as "most beautiful woman in the world," and as such, she had an enthusiastic audience among both men and women. While men daydreamed of marrying her - which six of them actually managed to do - women were eager to copy her style.
Aside from her acting, the mother of three children was also an inventor: In 1942, she registered a patent for frequency-hopping spread spectrum communication. This technology is the foundation of today's wireless communication. When it was discovered decades later that Lamarr and composer George Antheil came up with a version of this technology, the erstwhile "most beautiful woman in the world" was honoured for her invention and recognised as "Lady Bluetooth." The Vienna Central Cemetery has dedicated an honorary grave to Hedy Lamarr.
How was frequency-hopping spread spectrum communication discovered?
Together with the American composer George Antheil, Hedy Lamarr developed a version of frequency-hopping spread spectrum communication in 1942 for the allied forces, which was used for guiding torpedoes. Changing frequencies made the signals hard to locate and to interfere with. This new way to transfer data in wireless communication was the basis for future communication systems such as Bluetooth. 
This is how data transfer works today
Bluetooth was developed in the 1990s to enable the transfer of data between different devices within a short-range. Each device has a reception and broadcasting unit which enables mutual transfers. In addition, each Bluetooth device has a 48 digit number that identifies the unit. For the actual data transfer, today's devices use ISM-bands.
media_content.tooltip.skipped
Want to Experience Science? Start here:
Hedy Lamarr as Inspiration for Young Scientists
Hedy Lamarr was once celebrated as "the world's most beautiful woman," but today she is mostly known as a pioneer of Bluetooth technology. The screen goddess was born in 1914 in Vienna. Since 2018, the city of Vienna has been awarding the Hedy Lamarr Prize. It is not an award for acting, but rather a way of honouring women who shape(d) the digital world. In 2020, the recipient was Italian scientist Laura Nenzi. The computer scientist hails from Venice and works at the Technical University of Vienna at the Institute for Computer Engineering, where she is concerned with the logic of artificial intelligence and aims to explain models of machine learning and to predict the behavior of cyber-physical systems. We asked Laura Nenzi about her life as a scientist in Vienna.
Hedy Lamarr Award 2020, Laura Nenzi

media_content.tooltip.skipped
Interview with Laura Nenzi
austria.info:
You got to know Hedy Lamarr for the first time at the awards ceremony. You are a scientist and pursue acting in your spare time?
Laura Nenzi:
Yes, but until now, I have always kept these two areas completely separate, like Hedy Lamarr (laughs). I have to admit that I have not been at the theater much in Vienna because of my Italian background. I did go to the opera, though.
austria.info:
Why is it important to have an award that is specifically designed for female scientists?
Laura Nenzi:
I think that when it comes to technology, gender discrimination starts much sooner than at the work place. In our society, it starts in childhood, when girls are given completely different toys than boys.
austria.info:
You are from Venice, and are now commuting between Vienna and Triest. Where does Vienna remind you of Italy?
Laura Nenzi:
Don't laugh: at the Heurigen. Because we have Osmize in Trieste, too - restaurants which serve their own wine. This tradition goes back to imperial times when in 1784 - much like in Vienna - farmers were allowed to serve their own wine. The wine is accompanied by local specialties.
austria.info:
What do you like about Vienna?
Laura Nenzi:
I really like that you can meet people from all over the world here.
austria.info:
Where do you like to hang out?
Laura Nenzi:
My favorite museum is the Leopold Museum. I also like the Burggarten very much. Then, of course, at the Kaffeehaus (coffeehouse). I love the Vollpension close to the Technical University or the Café Schopenhauer.