media_content.tooltip.skipped

A Time-Out in Austria's Nature

A bit of peace and silence in Austria's most tranquil places.
The Experiment
What happens if you take three busy Londoners, send them to Austria and let them catch their breath for a change? We decided to do a little experiment. Brits Joanna (35), Joe (26), and Sian (28) were given the opportunity to explore landscapes where they could focus on themselves, far from the disturbances and disruptions of daily urban life: Ötztal in Tirol and the Zell am See-Kaprun region in SalzburgerLand. Discover what they experienced along the way.
It was like I was really breathing again for the first time.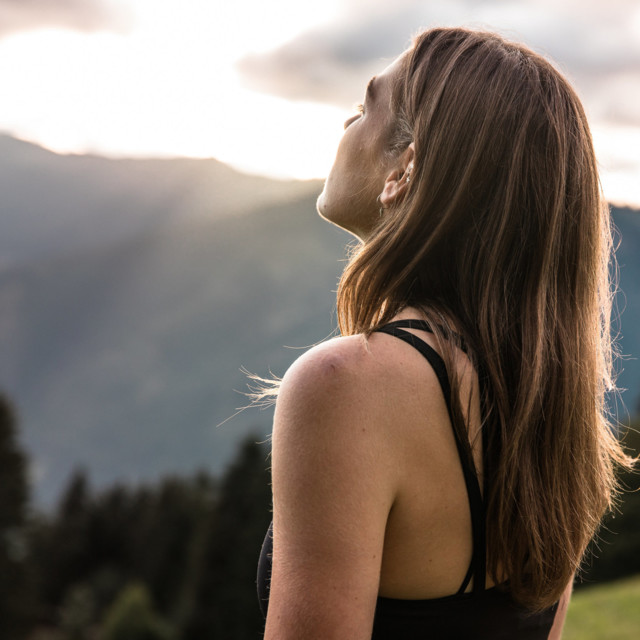 media_content.tooltip.skipped
When you visit Austria, joy lies in the little things of life. You might wander across an Alpine pasture and hear nothing but the wind sweeping over the slopes. Let the silky-smooth water of a mountain stream whirl around your toes. Notice every sparkling dewdrop while walking along a forest path in the morning fog. You might realise that the great things in life are to be found in the small details.
What Joanna Experienced in Ötztal in Tirol
media_content.tooltip.skipped
Joanna in Ötztal in Tirol: "Like Having Gorgeous Postcards in My Head"
London is overcrowded. The Ötztal, on the other hand, is a region where one can go for hours without encountering another person. For Joanna, this was more than just a holiday: "It was simply lovely to hike, to clear your head and to let your thoughts run free." She enjoyed the luxury of not having to think of anything at all for once, instead taking in the colours of nature, touching the bark of a tree, breathing in the clear mountain air. "I was able to treat myself to a time out here and recharge my batteries," says Joanna. And when things get to be a bit too much back in London, she closes her eyes and thinks back on her time in Austria: "It's like having these gorgeous postcards in my head."
media_content.tooltip.skipped
Ötztal in Tirol
The Ötztal Alps are ruled by nature. It is a landscape that is at once wild and tranquil, untamed and alluring. Discover the Stuiben Waterfall in the Naturpark Ötztal, Tirol's highest waterfall, plunging down more than 150 metres, and feel the spray of the mist on your skin. Or visit Lake Piburg, relax along its shores and cool down in its waters.
Learn more
What A London Couple Experienced in Zell am See-Kaprun
media_content.tooltip.skipped
Joe in Zell am See in SalzburgerLand: "Nature Infuses You with Energy"
At home in London, one day is pretty much like the next for Joe – even though he is very active. But it's difficult for him to break out of his daily routines. Then, he got to know the tranquillity and gentleness of summer in the Pinzgau region. "Nature infuses you with energy", Joe says, "for the very reason that it is so immense and we feel so small." Joe rented a boat in Zell am See and started rowing – out onto the middle of the lake, where he was surrounded only by the sounds of the waves and nature. He pulled off his shoes and stuck his feet in the water. "I had time to reflect on how I wanted to live my life." The landscape around him calmed him: the green hills, the dense forests, the snow-capped mountains. This is how life should be: full of variety and at the same time harmonious. A bit like Austria, where no two places look alike.
media_content.tooltip.skipped
Sian in Zell am See in SalzburgerLand: "Like Breathing Again for the First Time"
"Chaos" is the word that occurs to Sian when she thinks of London, where she works in the financial district. Sensory overload is part of her daily life. When she reflects on her time in Austria, she thinks of the wonderfully clear air: "It was like I was really breathing again for the first time." During this summer on a Salzburg Alpine pasture, something opened up in Sian – she listened to her inner voice, found her own rhythm. And she took it back with her to London. Now she knows that in a fast-paced world, one must occasionally pause for a moment to get back into one's own rhythm. "I want to return to Austria as soon as possible", says Sian, "because I learned an incredible amount about myself there."
media_content.tooltip.skipped
Zell am See-Kaprun in SalzburgerLand
Nature has its own rhythm. People in Zell am See-Kaprun know this: While on stormy days the waters of Lake Zell can be rough, in midsummer it lies still and peaceful, nestled between the mountains. This is a great time to rent a boat and enjoy the lake.
The hills and mountains here are a paradise for explorers, hikers and walkers. On the lake promenade, a gentle hike, with the lake always in view, awaits. There are also guided hiking tours to the surrounding summits and hikes for families aplenty.
Learn more about the region
media_content.tooltip.skipped

5 Ways to Practice Mindfulness in Austria

Take a walk over fields and through forests, swim in crystal clear lakes, or see more stars than ever before under a brilliant night sky. Here are five ways to practice mindfulness in Austria's nature.


Take a break