media_content.tooltip.skipped
Next stop: culinary highlights along the rail
You want to experience culinary highlights on your holidays and protect the environment in the process? There are many ways to travel to and around Austria—and the train is the most comfortable and eco-friendly of all. Accompany us on three rail journeys to Austria's kitchens, whose regional culinary delicacies are always worth a tasty stopover.
It's only six hours on the train from Berlin to Linz and eight to the Austrian capital, Vienna. From Zurich even a bit less. Train travel is so simple and convenient that travel by bus or car can scarcely top it. Why it's worthwhile arriving in Austria by train? Very simple: you avoid traffic jams and stress and gain time that you could use in better ways, like getting ready to explore your destination. After all, your holidays begin the moment you board the train.
A climate-friendly and relaxing alternative
Admittedly, sometimes a train trip seems like something from another time, but you don't have to be a nostalgic train freak to love this stress-free way of travelling. Although an ÖBB Railjet can cruise along at up to 230 kilometres an hour / 145 miles per hour, so there is no wasting time. In addition, rail travel is a climate-friendly alternative to the bus or car and thus not only a relaxing way to reach your destination but also good for the environment. 
… the Austrian Railways are genuinely eco-friendly? 100% of the traction energy supply of Austria's largest climate protection company comes from renewable energy sources.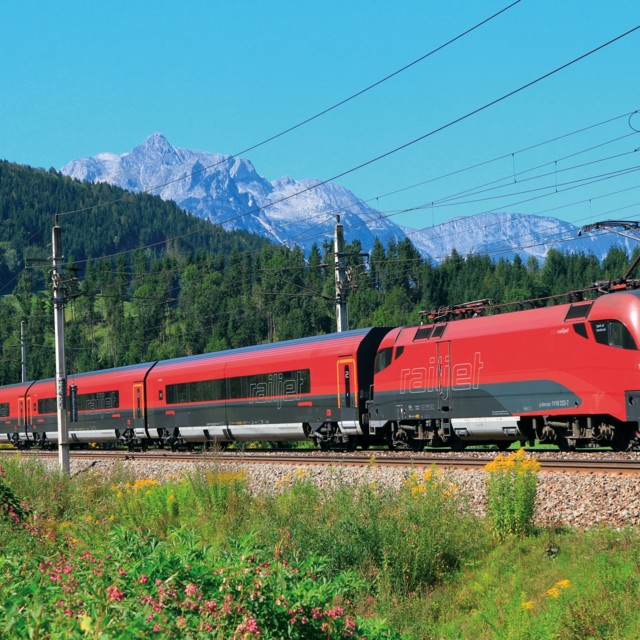 media_content.tooltip.skipped
But it is not only about getting around in the country; it is also worthwhile in culinary terms to stay on track in Austria. Come along on three rail trips where unique manufacturers, extraordinary restaurants, and authentic producers invite you to make a culinary stopover along the way. Nächster Halt, next stop: Linz. 
From Linz to Salzburg in 1 hour 6 minutes
Linz is known not only for its architecture but also for its "Mohnflesserl", a plaited bun sprinkled with poppyseeds that no proper breakfast is complete without. It is the traditional breakfast roll of the Upper Austrians and is lovingly plaited by hand at the Brandl bakery, located in the heart of the provincial capital, Linz. There's no better way to start your culinary journey from Linz to Salzburg.
In Neumarkt am Wallersee, a bit less than an hour from Linz by train, Gasthof Gerbl also places great importance on tradition. Even Wolfgang Amadeus Mozart is said to have stopped over at the former Post Tavern on his way to Vienna as an eleven-year-old in 1767 and later in 1773. Innkeeper Antonia Gerbl has been running this "Gasthaus" for 30 years and shoots the local game she serves at her restaurant herself.
Meat is the order of the day for Julian Grössinger as well, who at his "Weiserhof bei Jules" in Salzburg processes the animals from nose to tail. Menu selections: "Sausage Trilogy" and "Fiery Paprika Tripe". Our next point of departure: St. Pölten. 
From St. Pölten to Mariazell in 2 hours 17 minutes
Hot times in the Lower Austrian capital: Just a few kilometres and a short bus ride from St. Pölten's Alpenbahnhof, Richard Fohringer grows the world's hottest chilli peppers. He cultivates these spicy fruits over a space of 400 square metres, and guests can take a tour of the fields and visit the "chilli cinema". The product line of Fireland Foods ranges from pastes and chilli sauces to grill sauces and spice mixes, from mild to "infernally" hot. If you want to experience "End of Sanity" and "Devil's Choice" first-hand, this is the place for you. And there are many more things that make St. Pölten, the Lower Austrian capital, worth a visit. The historic city centre, which is best explored on foot, is impressive for its well-preserved, lovely buildings by the renowned Baroque architect Jakob Prandtauer.
Wild herbs and Slow Food
From the Alpenbahnhof in St. Pölten, we now take the Mariazellerbahn train towards Obergrafendorf to visit Naturhotel Steinschalerhof. Owner Hans Weiß gives us a personal tour through his herb garden and shows what his Steinschal "wild-herb cuisine" is all about. From fresh bear-leek seeds to corn-poppy blooms, tangy herbs and decorative blossoms form the basis for the Steinschalerhof's all-natural vegetarian and vegan cuisine, although regional meat specialities are also to be found on the menu. A little tip: You absolutely must try the wild-herb salad, the restaurant's signature dish!
After another hour and a half on the train, it's time to kick back with a well-deserved beer: The Brauhaus in Mariazell is located directly by the rail station and is Austria's smallest 4-star establishment. Here you can enjoy their own house beer and Styrian slow food. Fresh draught beer specialities are also featured on our next journey, from Vienna to Carinthia. Did you know that Mariazell is regarded as Austria's most important pilgrimage site? Every year, some one million people make a pilgrimage to the basilica, which contains the Magna Mater Austriae statue of grace. 
From Vienna to Villach in 4 hours 21 minutes.
Quality that even TV chefs make an extra trip for. Word of Robert Buchberger's quality products has even spread as far as northern Germany. Celebrity chef Tim Mälzer, of the TV show "Kitchen Impossible", has even made the trip to Leoben to check out the regional products here. Top quality can also be found in Velden, at the steakhouse run by the Goritschnigg family: they serve only the best cuts of meat from their own butchery. After your meal, take a stroll down to Carinthia's largest lake, the Wörthersee. It is only a few minutes by foot from the Velden rail station and Goritschniggs' steakhouse.
Regional culinary treats and fresh draught beer round out your trip to Carinthia: At the Villacher Brauhof, you can enjoy the delicious house beer along with Carinthia's classic vegetarian dish, Carinthian cheese-filled pasta—a must for any visitor here. 
… you can be sure at arriving punctually at your destination? In 2020, the ÖBB had an on-time record of about 97%, making it one of the most punctual railways in Europe.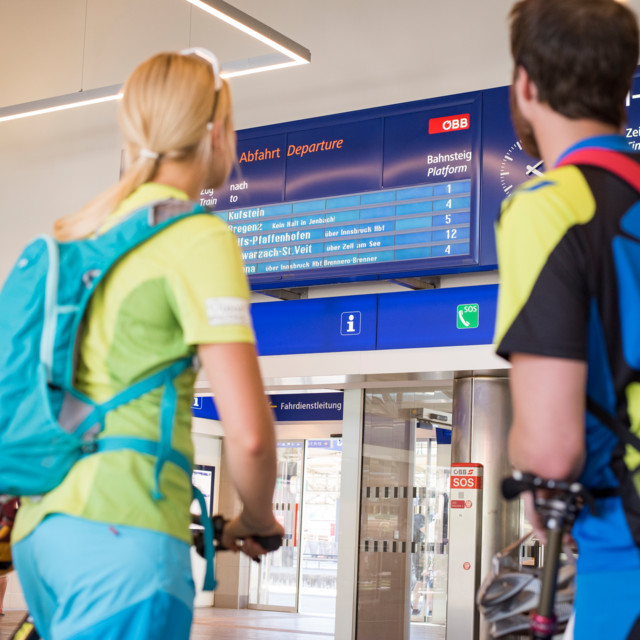 media_content.tooltip.skipped
Practical tips for your holiday journey with the train
With direct from all neighbouring countries every day, Austria is a very easy-to-reach holiday destination. Because: Most of the rail stations are located in the downtown area and thus provide the ideal starting point for your trip. Do you prefer the tranquillity of the countryside? With simple transfer options, Austria is perfect for a short trip or a longer leisure holiday.
And if you go overboard at a farm shop or on a city shopping binge, don't worry: on the train, you can bring as much luggage as you can carry, and at no extra charge. To make your arrival even more convenient, take advantage of the ÖBB's door-to-door luggage service. Your luggage is picked up at your home and delivered to your destination. Your suitcases, bags, and even bikes are there waiting for you when you arrive so your holidays can begin immediately. 
A tip for saving money: All holders of an ÖBB Vorteilscard can reserve their favoured seat for almost nothing: Until 12 September 2021, seat reservations made at the time of online or mobile bookings with an ÖBB account cost only 1 euro*.
media_content.tooltip.skipped
* Valid in first and second class ...

... in all long-distant ÖBB trains in and outside of Austria, except Nightjet. The fare regulations and General Terms and Conditions of ÖBB-Personenverkehr AG apply, available at oebb.at. 
Discover Austria by train